Regular price
$0.00 USD
Sale price
$9.00 USD
Unit price
per
Sale
Sold out
PRODUCT DESCRIPTION: 

The Worker Talon Short Dart Magazine Clip is the most popular magazine design available for 1/2 length darts.  Featuring a 15-round capacity.  This clip is narrow yet durable and pairs well with the Talon clip (sold separately) for easy reloading. Available in three transparent color options.
FEATURES:
• 
Available in 8 colors
• 
Short darts only (1/2 length: 
36×13mm)
• 
Does not include darts.
• Compatible with the Worker Talon, Wildcard adapter, ESPER, Caliburn, TalonClaw, and dozens of other homemade blasters
• 
Compatible with the Adventure Force Nexus Pro out of the box

SPECS:
• Material: ABS Plastic + Stainless Steel Spring
• Weight: 105g
• Model: W0346

ADDITIONAL LINKS:
• Talon Adapter
• Short Darts

Share
View full details
Great mag
Bought a couple and they work great in my nexus pro and caliburn. Will probably end up buying more!
Beautiful and smooth (purchased red and purple, OOD exclusives)
Shipping was smooth and fast. Shipping price was reasonable and packaging was good.
This is my first time ever using Talon mags, and I definitely see why they're the community de-facto standard. They feed and insert/ remove so much more smoothly than Dart Zone mags I've used previously. Also since most community-based/ worker blasters are based around the talon mag system it makes compatibility much easier.
I have not had a chance to use these in a high ROF blaster yet but they work flawlessly in my springer blasters and in my DZ MK 3 *with the OOD mag insert*. The compatibility issue with the MK 3 is in the blaster itself rather than the magazine.
One very minor and admittedly picky thing is that the seam on mines came ever so slightly cracked. I don't know if this was a production issue or shipping issue but it did nothing to affect its performance, so it was just a visual blemish.
Overall I am very happy with my purchase. At the time of this review OOD is the cheapest US-based seller of talon mags and are offering 10% off for 6 pack bundles. Asia based sellers like those on TaoBao may sell talons for cheaper but shipping times and/or costs are nowhere near as competitive plus seller trustworthiness and customer service (at least in English) is nowhere near that of OODs.
Plus Worker makes the red and purple Talons exclusively for OOD as well; no other retailer has these 2 gorgeous colors.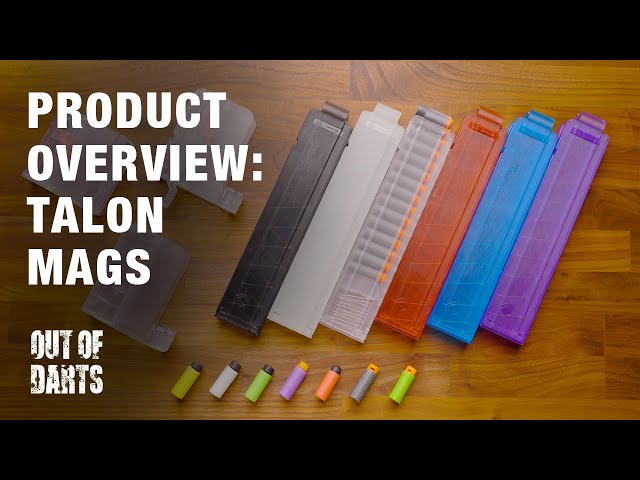 Worker 15-Round Straight Talon Short Dart Magazine Nexus Pro Compatible (9 colors!)
15 round strait talon mag
They work great and look as good as they work, running them in my max stryker