Regular price
Sale price
$80.00 USD
Unit price
per
Sale
Sold out
PLEASE NOTE: Blasters can only be shipped to customers within the United States and Canada, we are no longer able to ship blasters to international customers.

*Do not use hard tipped or wide head darts with this blaster 
PRODUCT DESCRIPTION:
The Nightingale Blaster is a new offering from Worker in a small size ideal as a secondary blaster during gameplay. This blaster fires short darts and features a new magazine style, a mini angled talon magazine.  Not compatible with standard slated/angled talon magazines. On a 3s XT30 LiPo, the blaster averages 90 FPS for the low power variant and 110 FPS in high power variant. Battery sold separately recommendations linked below. Our Tattu 450 LiPo is the recommended LiPo as it is XT30 compatible and fits an alarm as well. Check out our blaster review below for more details! 

Full-auto version also available here
FEATURES:
• Includes new mini slanted 15-round talon mag
• Not compatible with standard talon mags
• Includes 10 darts

SPECS:
• Material: Precision PC

ADDITIONAL LINKS:
• Recommended LiPo 
• Alternative LiPo (tighter fit)
• Nightingale Mini Slanted Mags
• Worker Nightingale Stainless Thumbscrew
• Recommended Darts
Share
View full details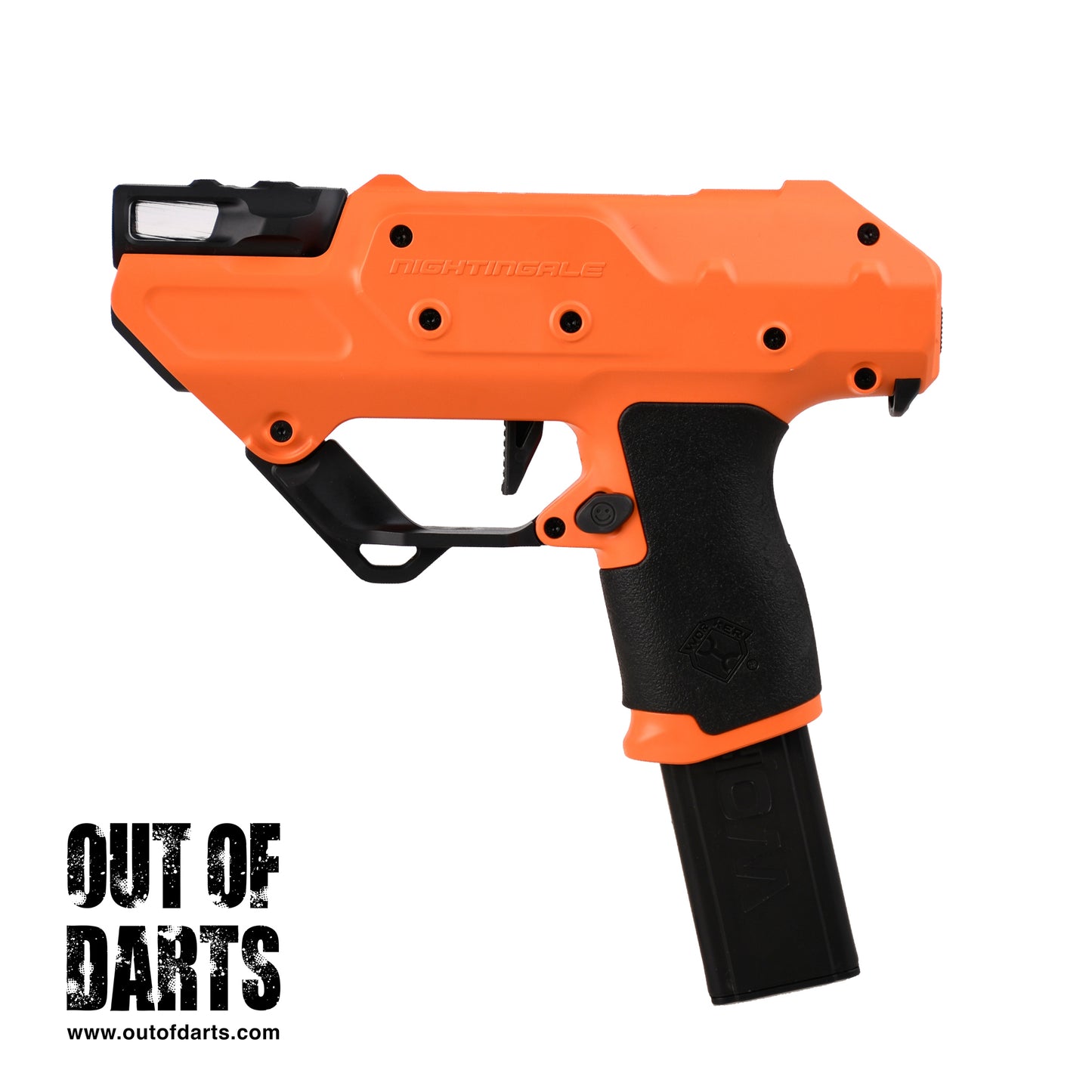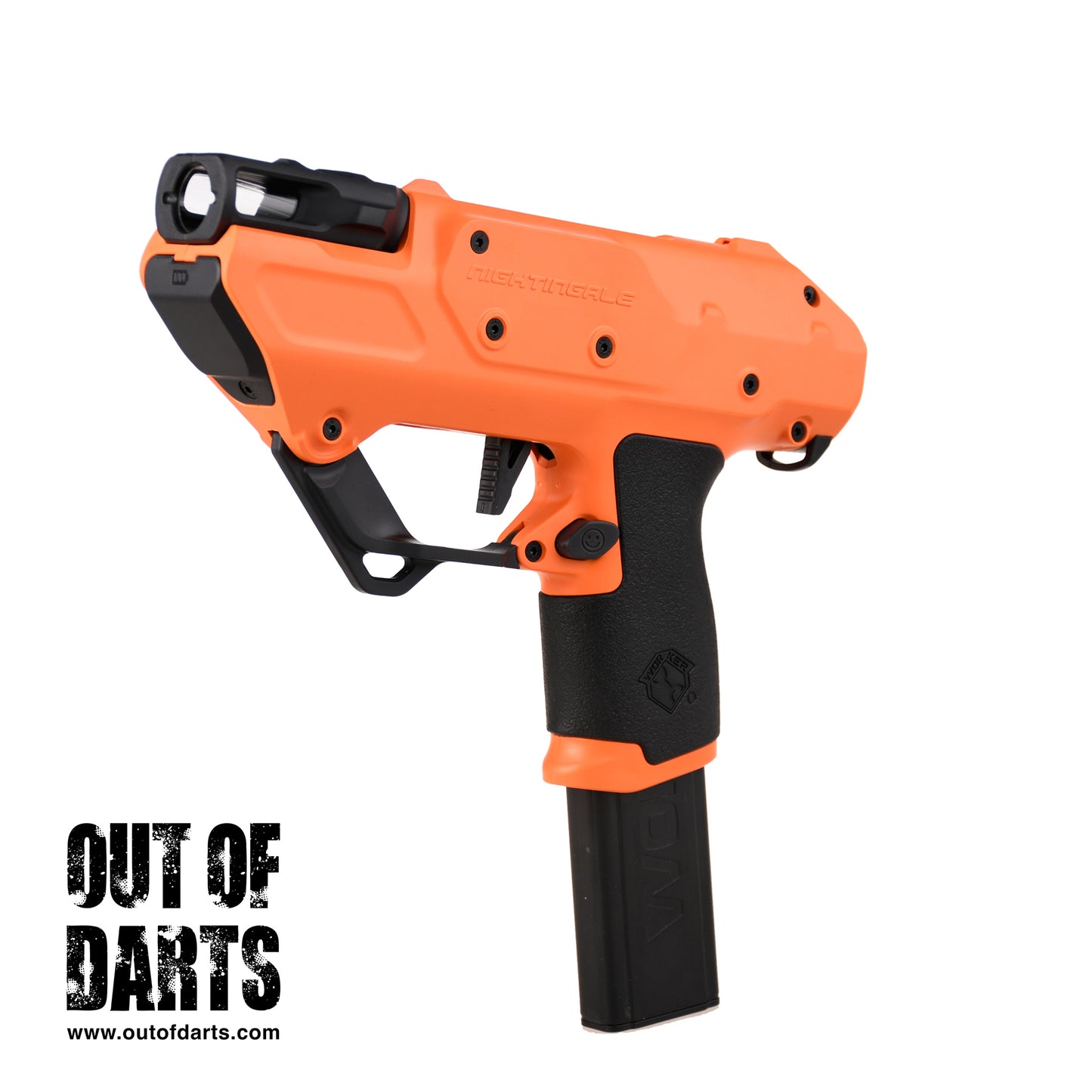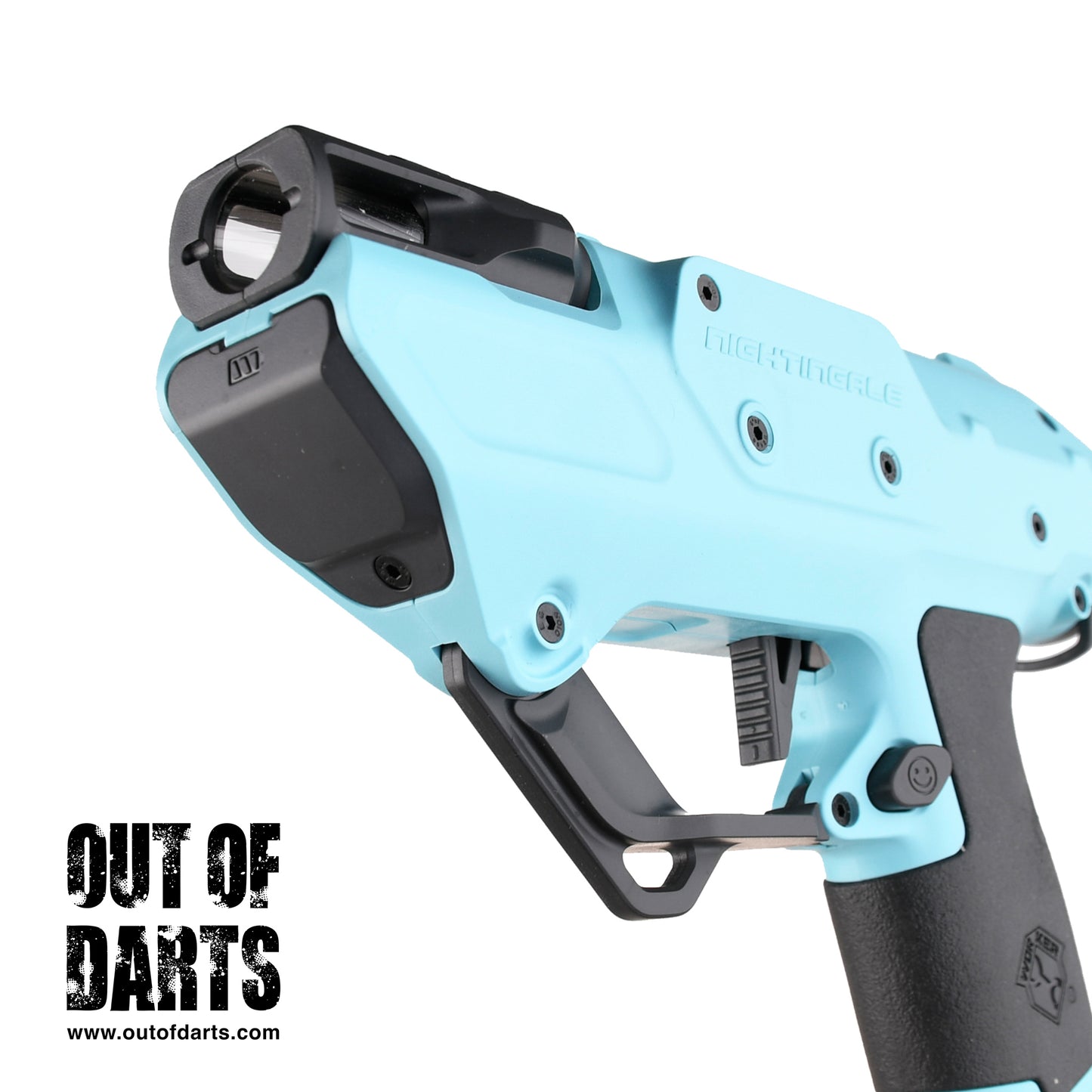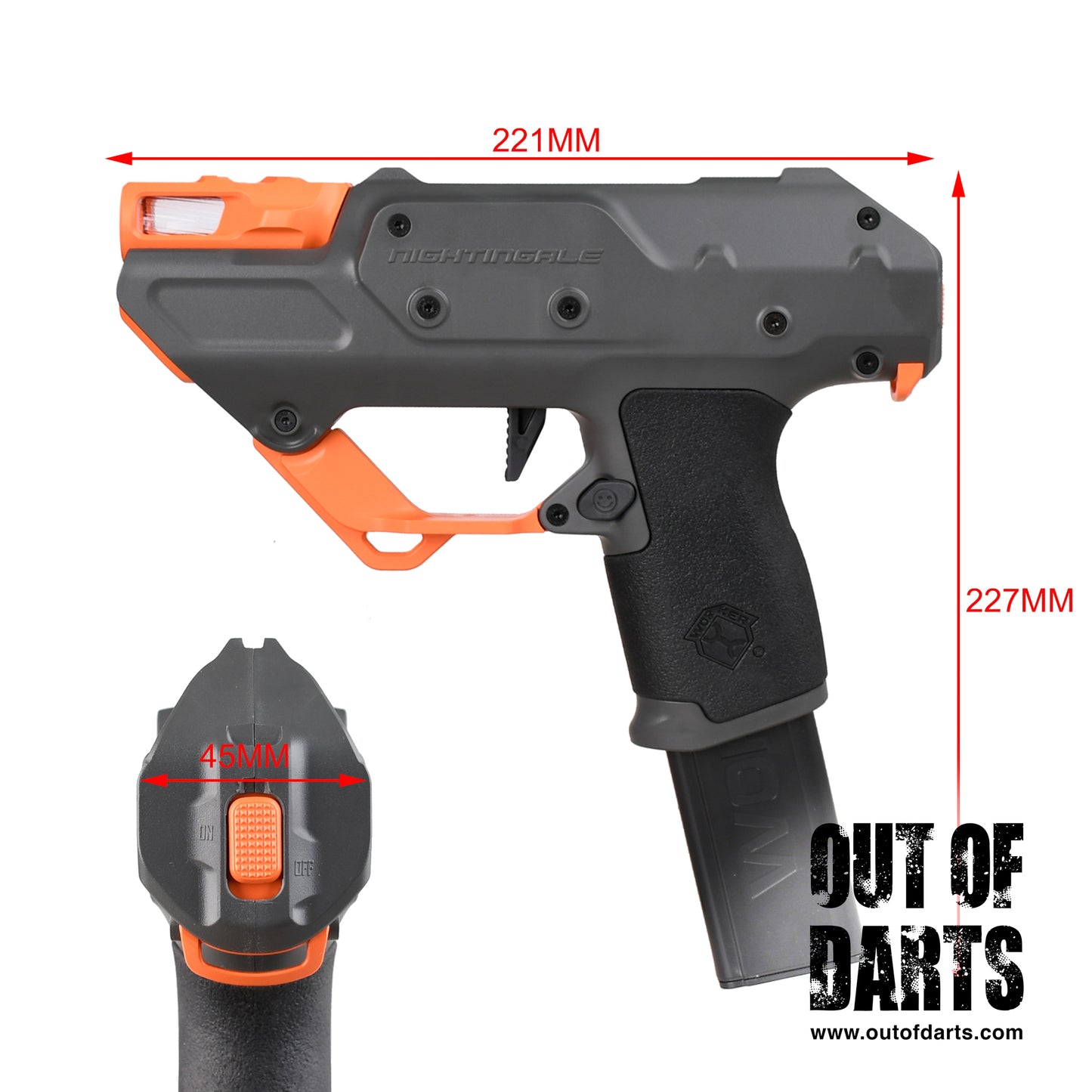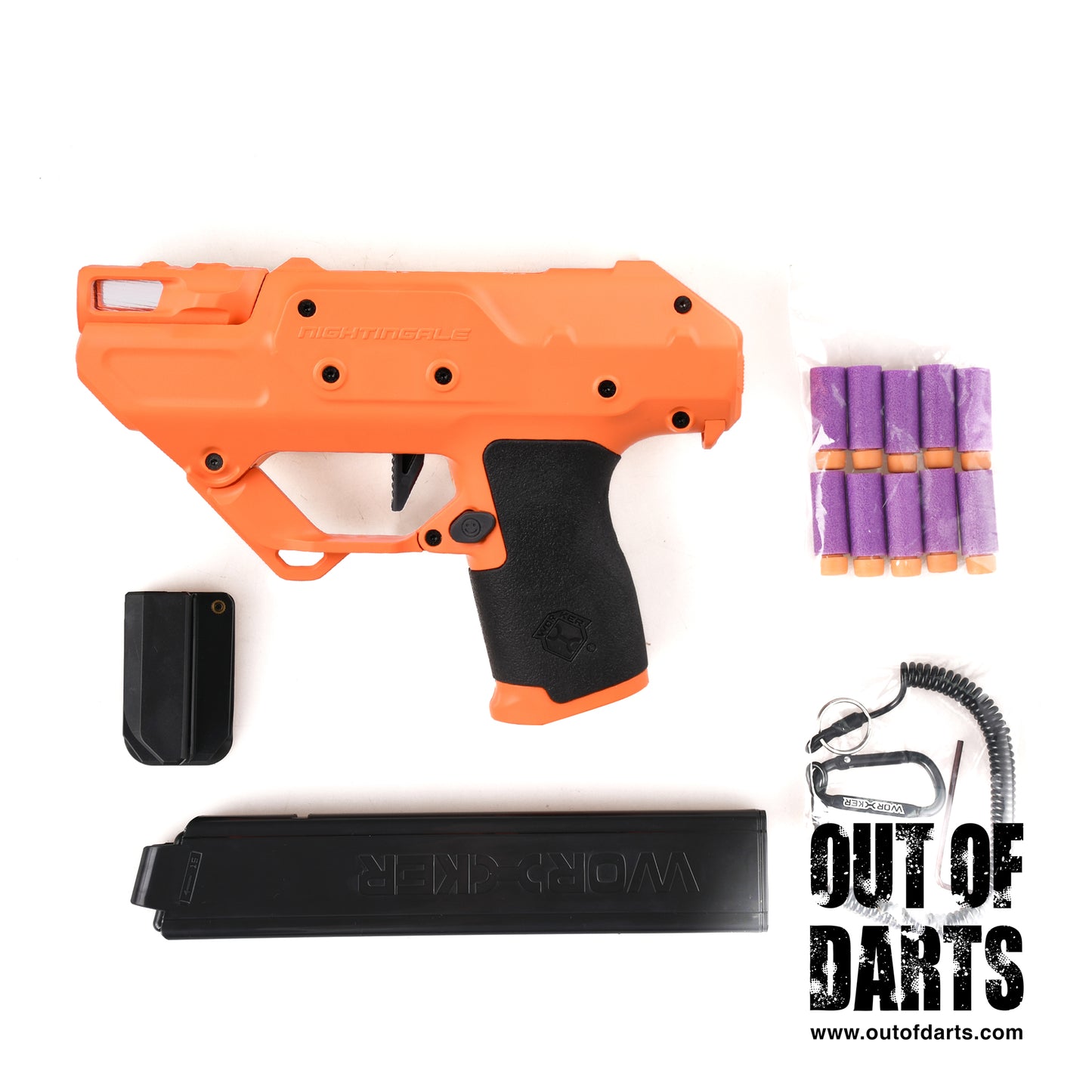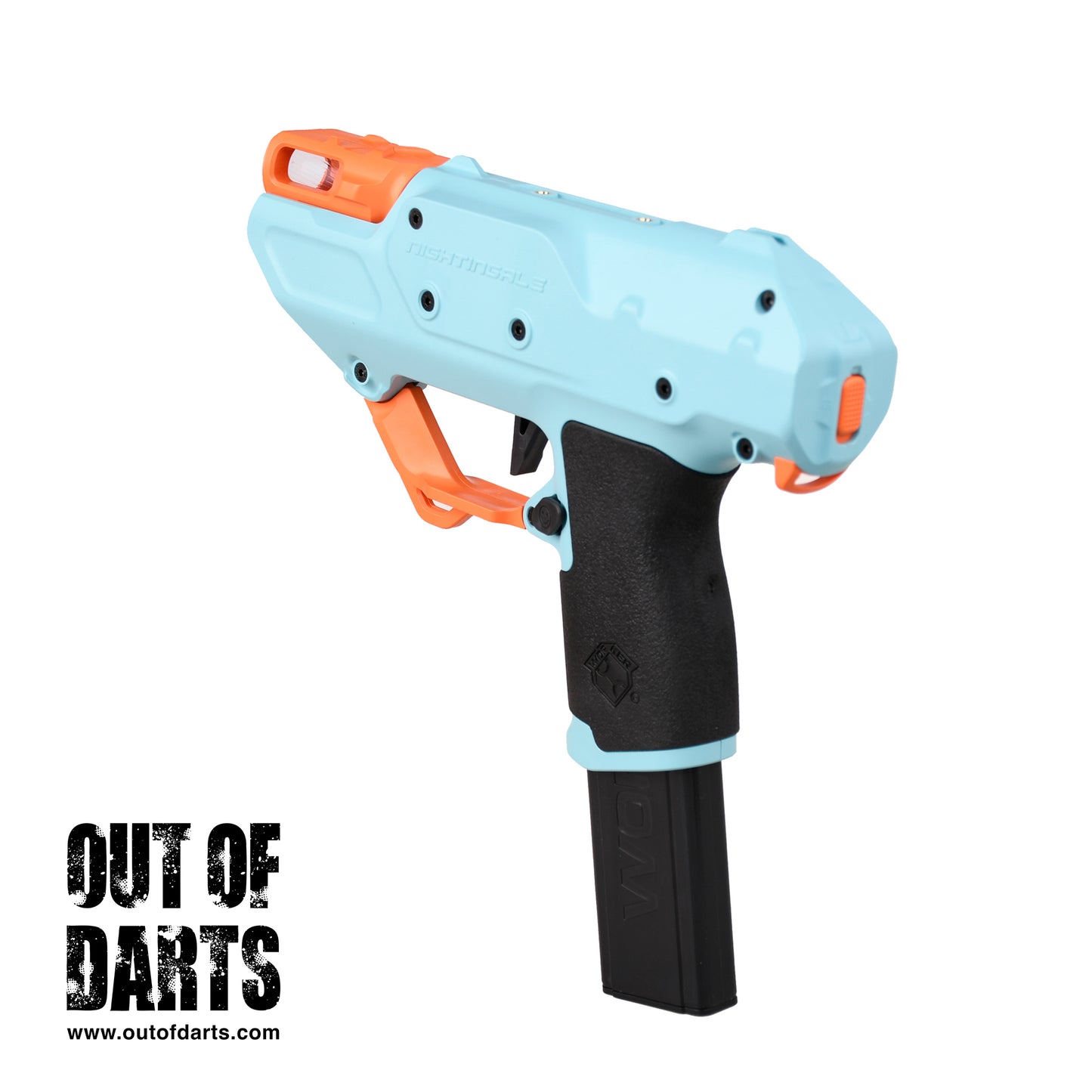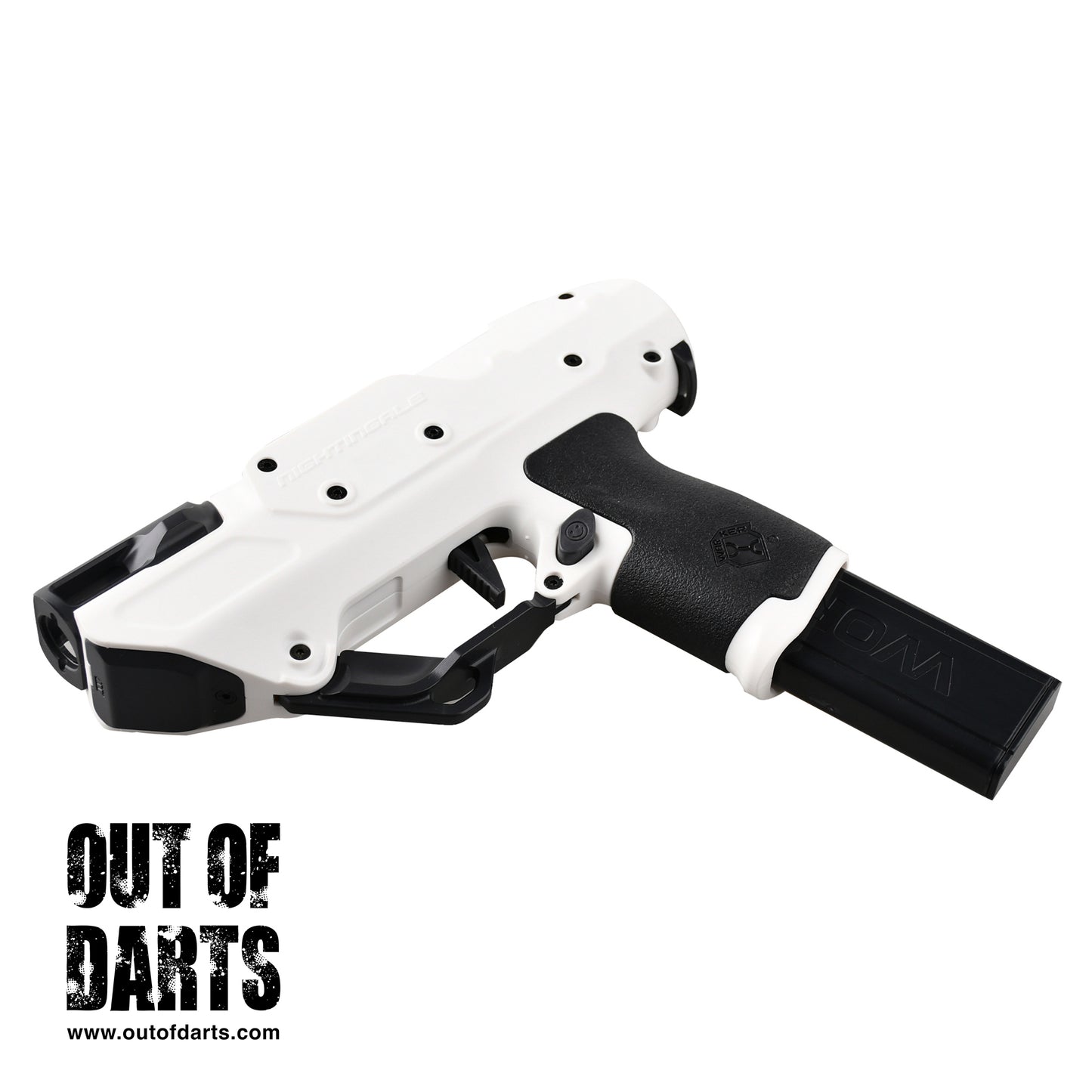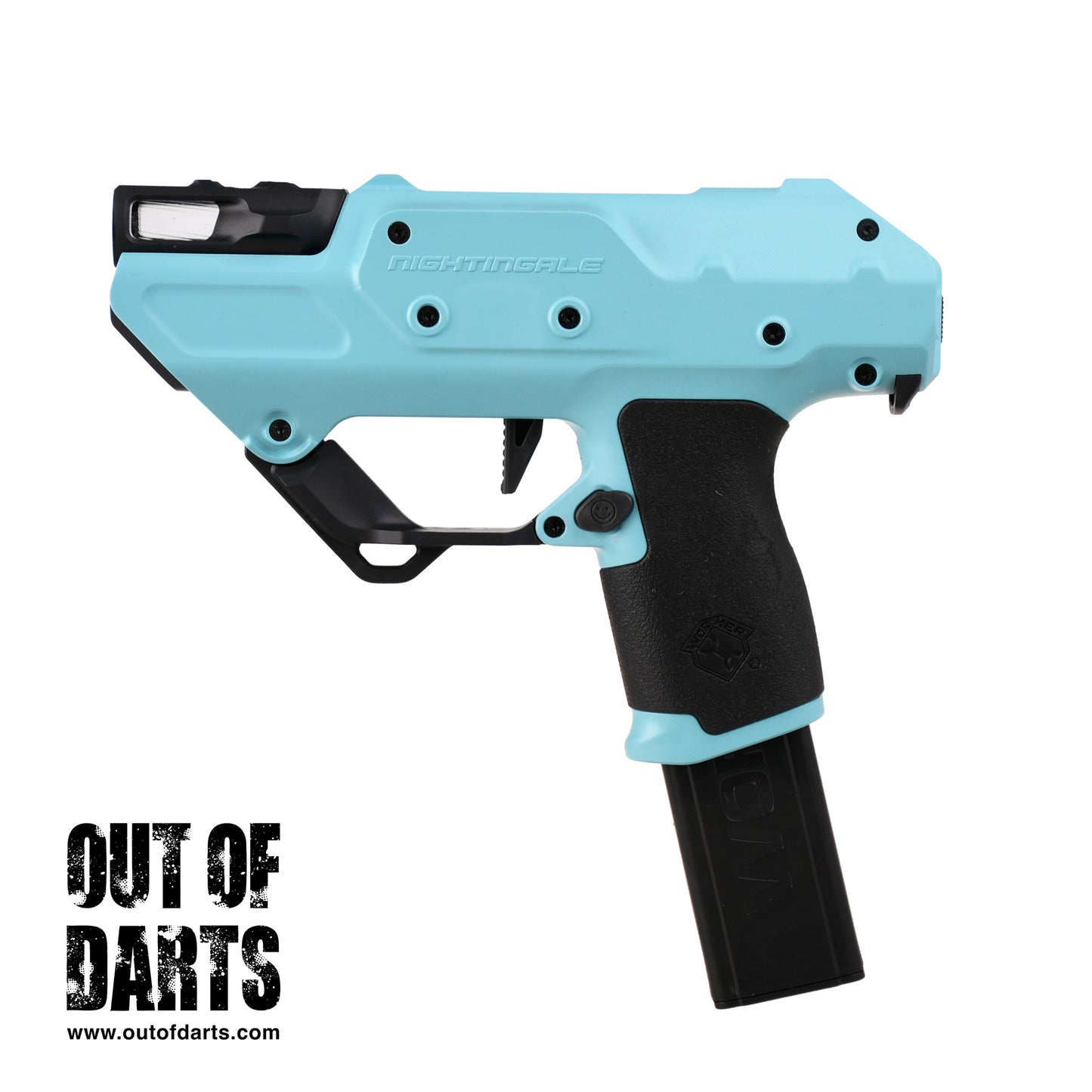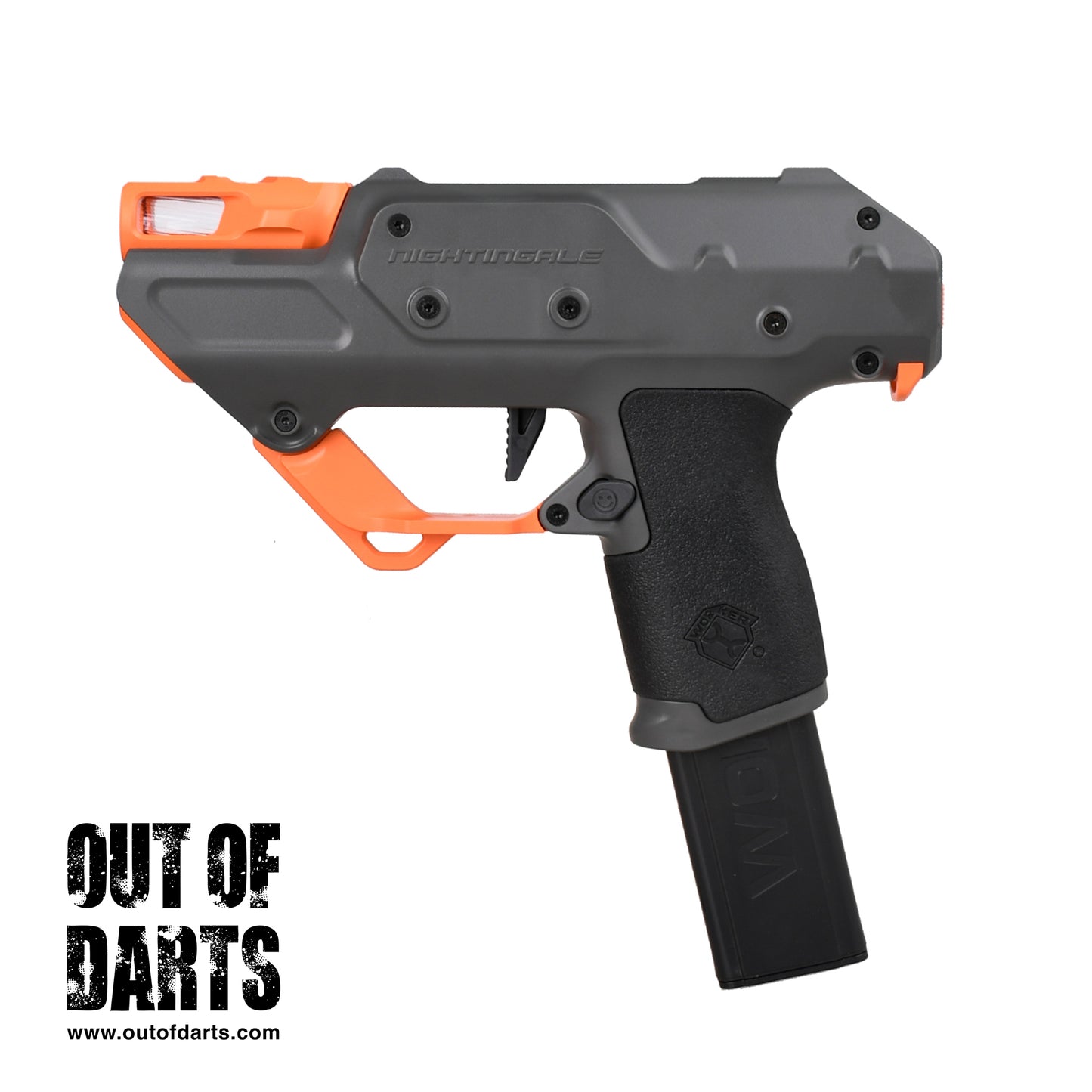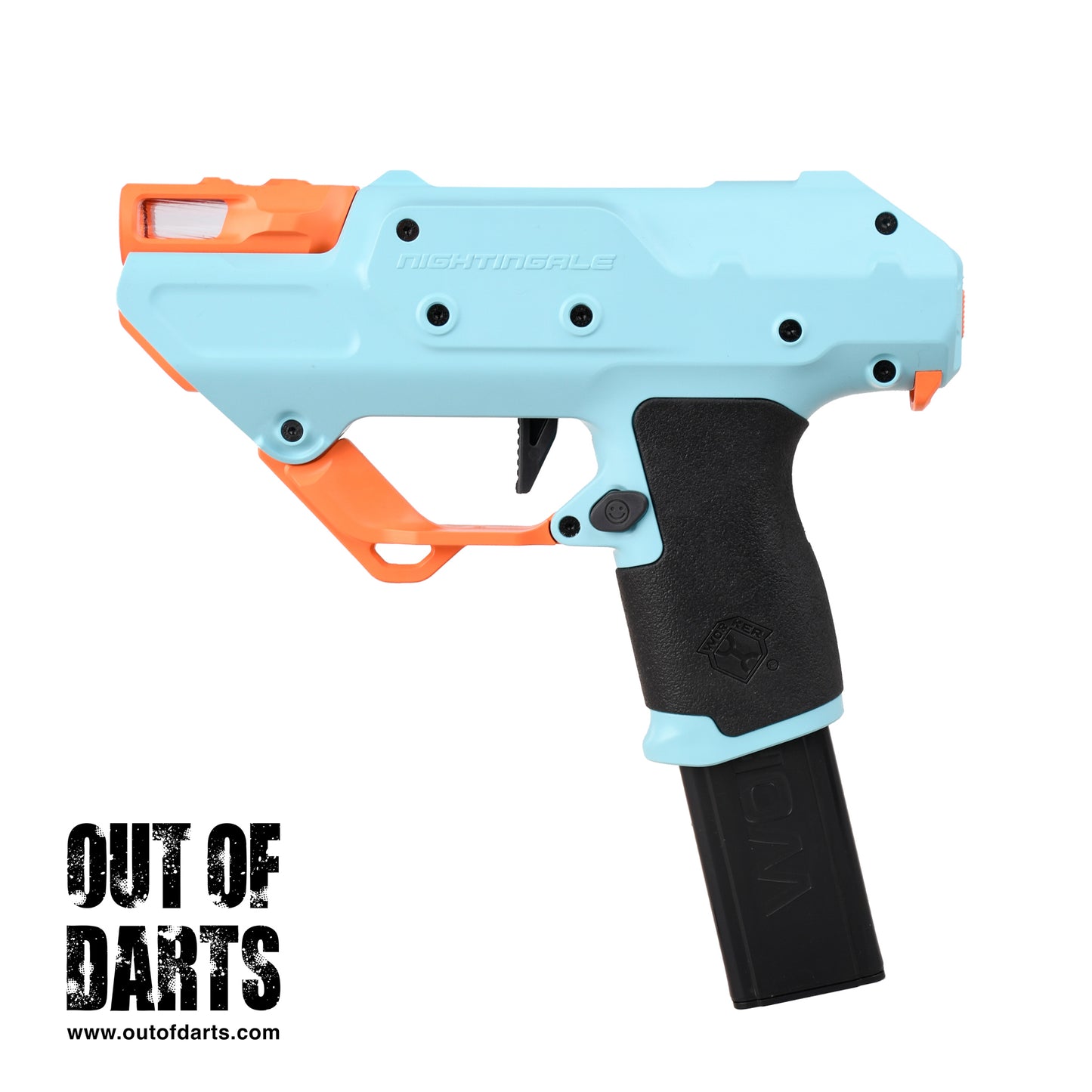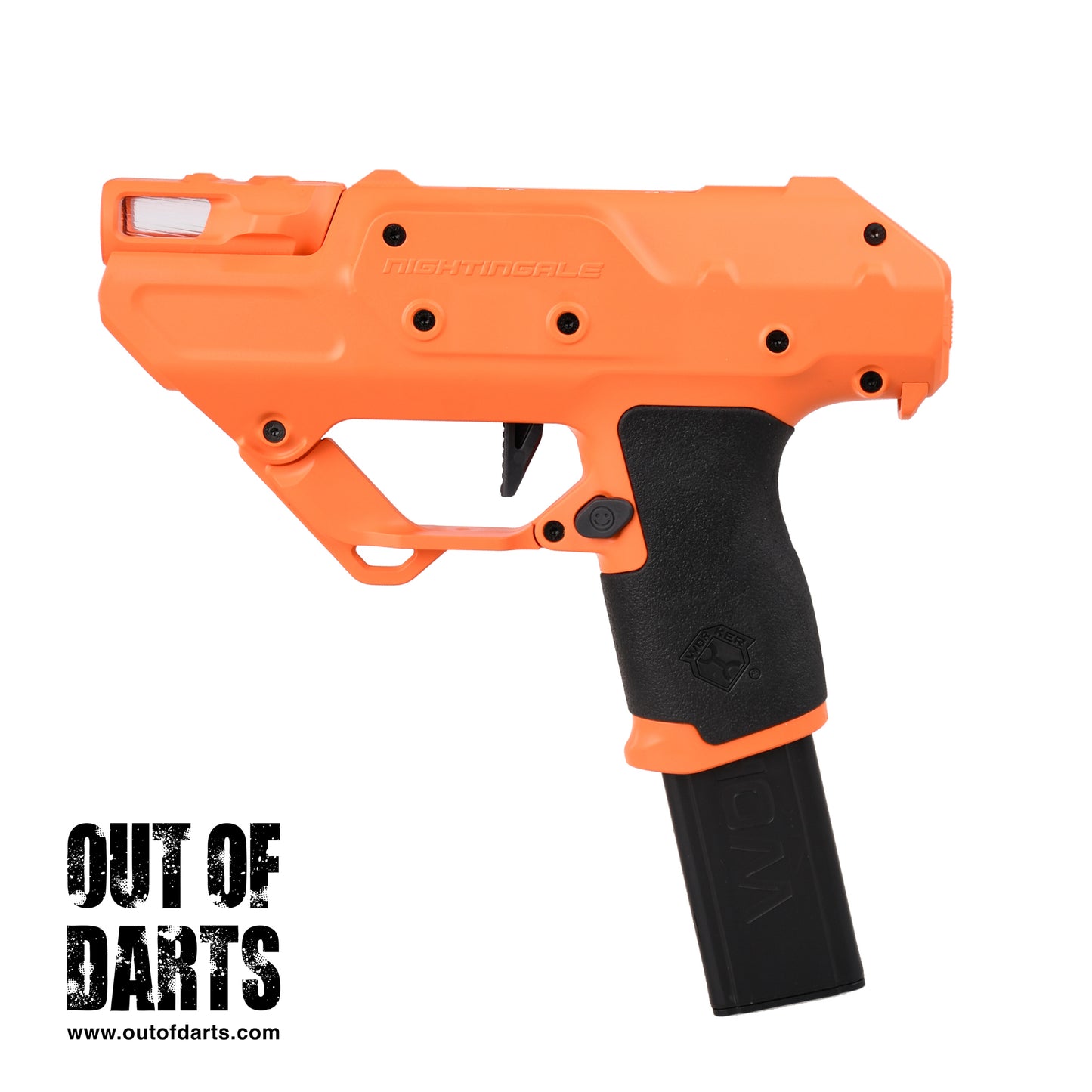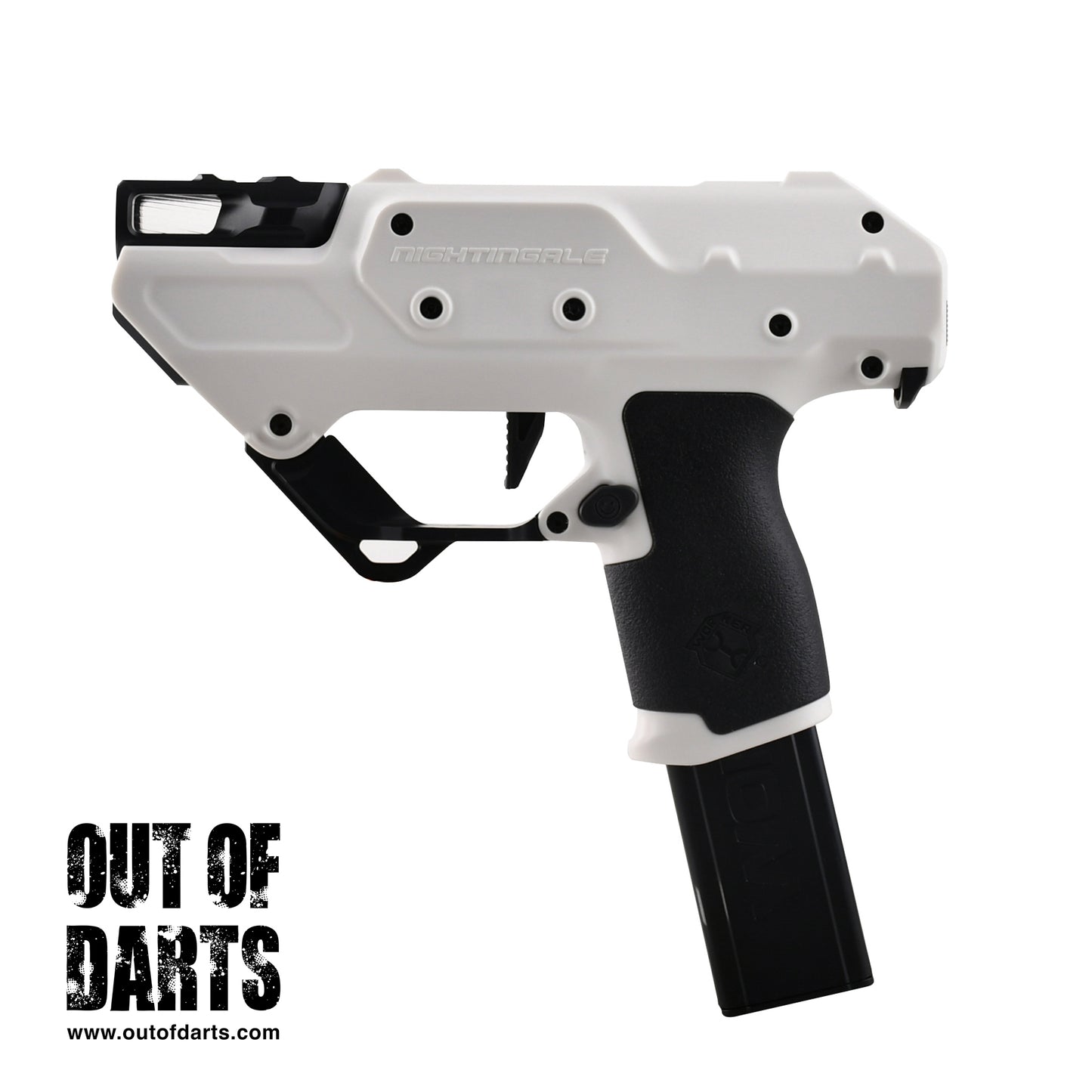 Worker Nightingale
i bought the 100 FPS version and it is very nice. well made and put together very nicely. arrived in nice dense foam packing material....also snappy trigger...I LOVE IT!!!
First time order
Brilliant service from the out of darts team, from the online reviews to delivery of the order everything was fantastic. The product itself is also top quality and getting lots of use. Highly recommend both the nightingale as a product and out of darts as a supplier.
Fantastic blaster for my mom!
My mother-in-law suffered a stroke 10 years ago leaving her very limited use of her left hand. She loves shooting blasters with me, but she can't work the action on my springers. I talk her through loading the darts into the clip of her Nightingale, forcing her to concentrate on using her left hand. Excellent and fun physical therapy!
Ton of fun
First blaster into the hobby side of these and it was awesome stepping up the nerf wars in my house and becoming unstoppable when my family is still stuck with slide action 6-shooters :)
I got the larger LiPo (Tattu R-Line 550) since the smaller one was sold out and the reviews are correct that it's a tight fit. I only found one way to fit it and the alarm in there but it can be done!
Magazines are smooth as butter and accuracy is great for the size of it. Bought 3 extra magazines and had a spring pop out of one, but nothing a spot of glue can't fix.
Overall it's been a solid purchase, if a little impractical since I'm only having wars with my family, but glad I got it!
Works great
Fantastic little dart blaster. There has been a systematic up arming of others in the office since this little guy was introduced to the work space, haha.