Regular price
Sale price
$3.25 USD
Unit price
per
Sale
Sold out
PRODUCT DESCRIPTION:
Everyone should be using these at all times when operating a Lithium Polymer battery (LiPo). These work on 2-8s battery packs. Save yourself from a ruined battery with the large (#3) LiPo Voltage Alarm with LED Display for safe operation.

FEATURES:
• Save yourself from a ruined battery!
• These work on 2-8s battery packs. 
• Loud audible alarm sounds when your battery drops below 3.5 volts
• No additional soldering required
• Set voltage of 3.3v for low alarm
SPECS:
• Connects via balance port connector on your LiPo
• 2-8s Compatibility
ADDITIONAL LINKS:
• LiPo Safety Information
• LiPo Balance Plug Extension

Share
View full details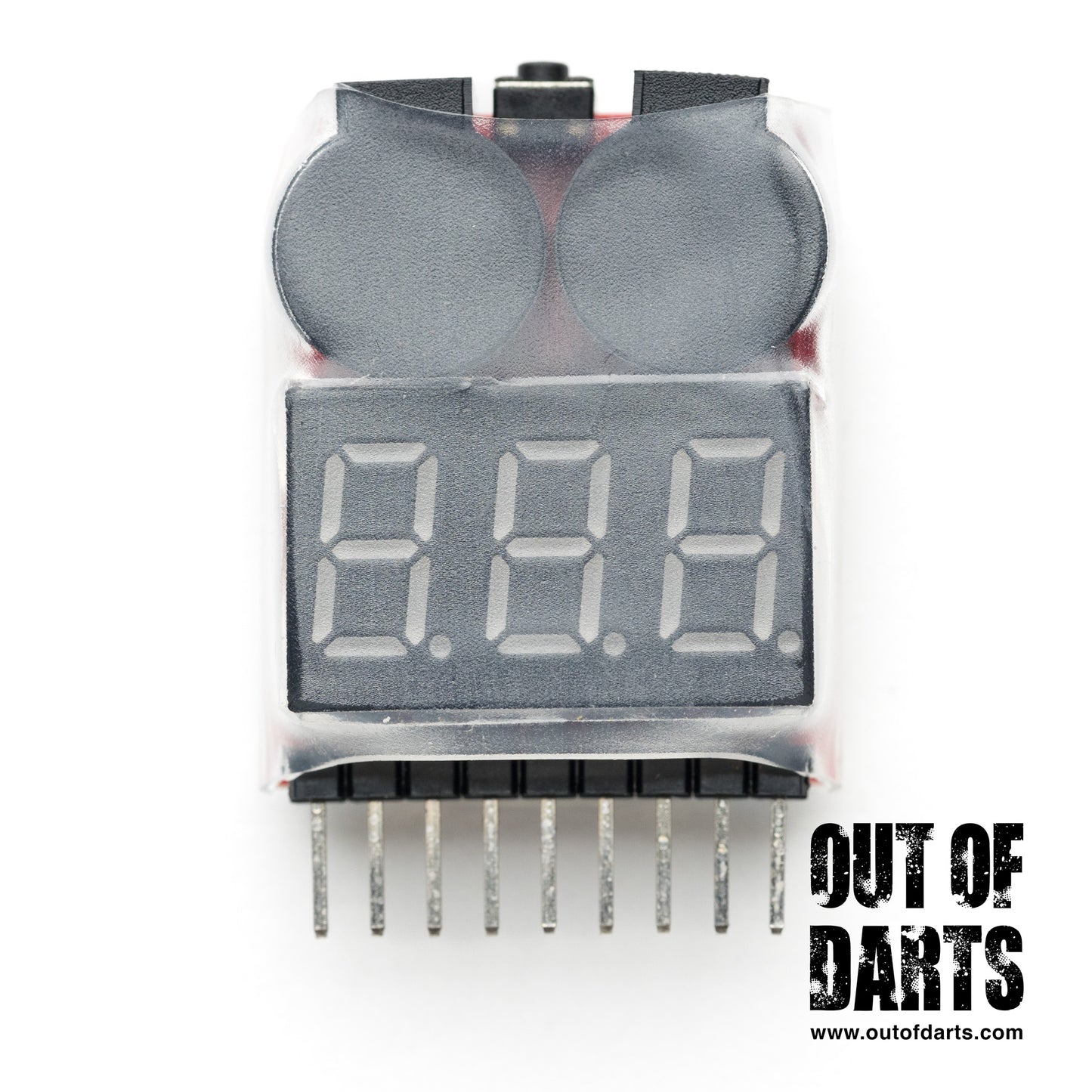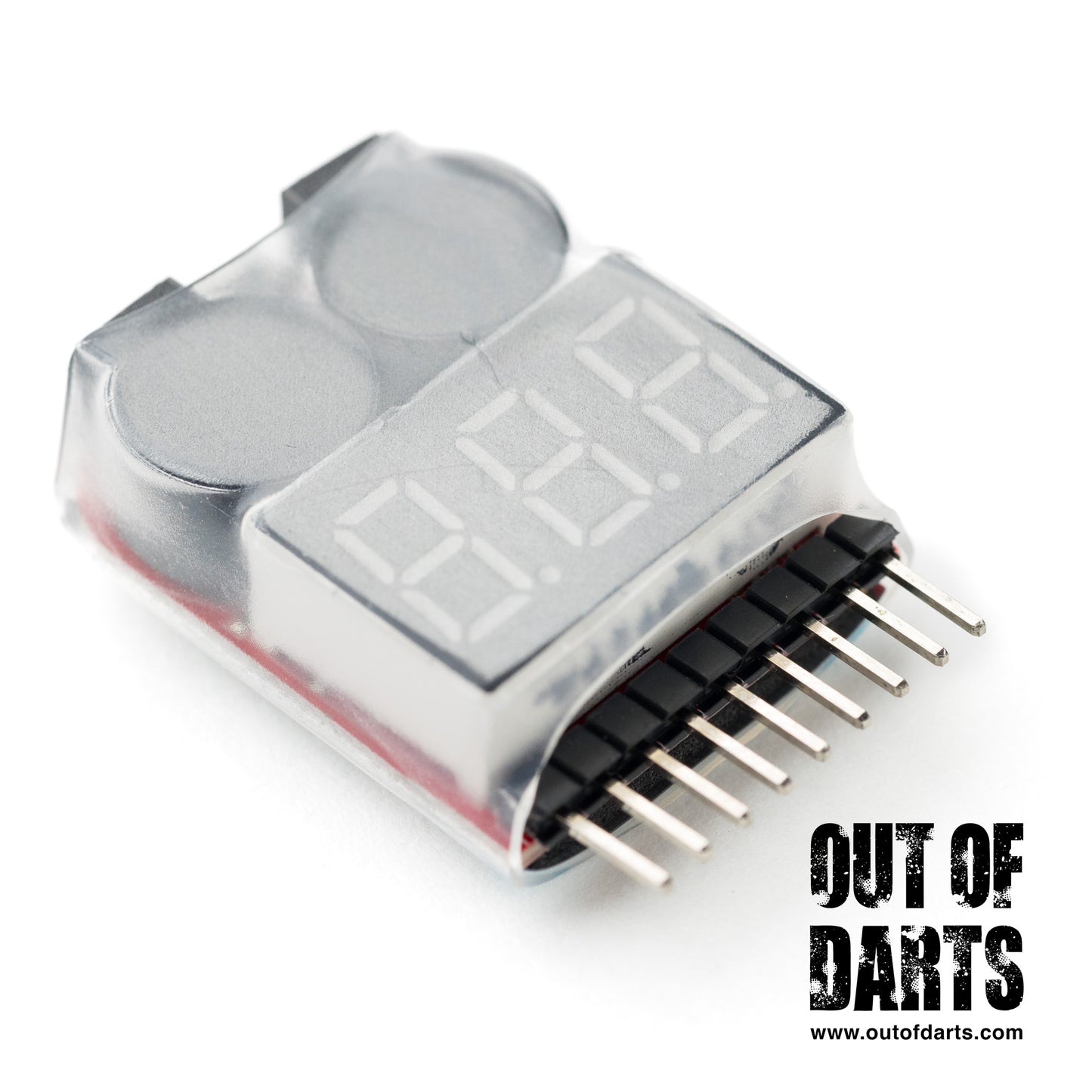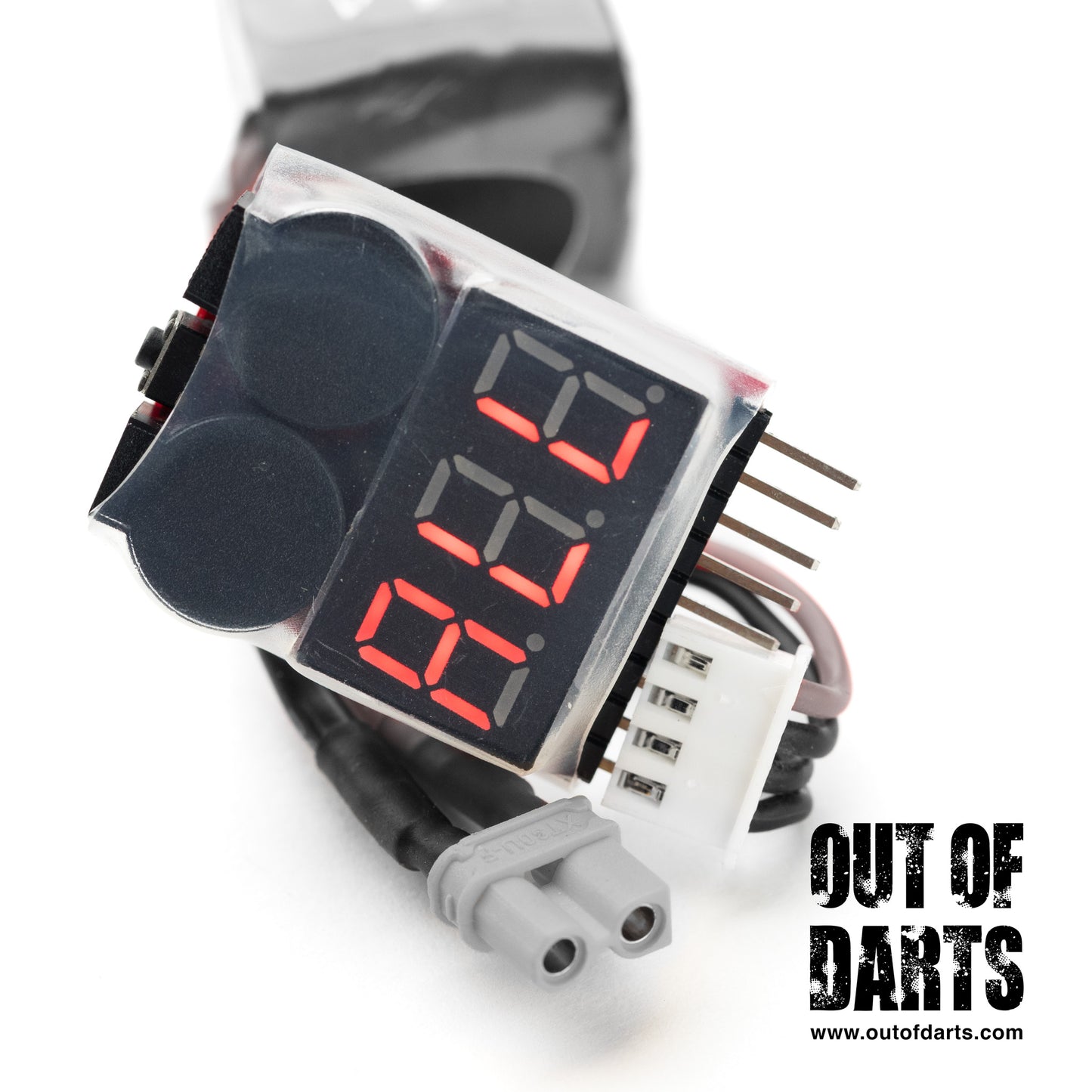 Works perfect, just not the right fit
I bought this alongside a nightingale as my first purchase from Out Of Darts, as well as my first blaster that runs on a lipo. I'm very happy with how simple everything was to install, as well as all the warnings and labels detailing how to safely operate and maintain the batteries. Unfortunately, I could not get this alarm to fit in the full auto nightingale, but I'm willing to accept that as part of a growing pain of getting into a new hobby, and I have ordered the mini alarm without the display which should fit with no issue. I can't wait to find a blaster and battery to fit this alarm with, as it worked fine apart from not fitting in the battery tray.
These are handy to have in your Nerf kit to check cell voltage of batteries outside of blasters whereas the mini voltage alarms are great for when the blaster is in use.
Seriously just use one !!!
Its easy to use and gives you one less thing to worry about at an event, or while plinking.... until out of darts can make a lipo battery connector/adapter with a built in lipo cut-off switch, this is the next best thing to keep your batteries safe.
Simple device but works great!
It works perfectly as designed. I do have a couple personal notes to add that might be helpful to others:
1. It alarms very loudly. To many, especially those using it outdoors, this may be a good thing but for my purposes, I found it annoying. That said, I don't think there are any available that don't have this same issue.
2. There is a slightly newer version available that is fully encased in hard plastic. I find it a bit more aesthetically pleasing and better for my application because it gives more surface area to glue it into place. I can see why many might like this (unencased) version better as it is smaller and so may fit into battery compartments, etc. more easily.
For the right application I would 100% buy this again.
Lipo alarm
Works really well but can take up more space in a strfye if you don't clear out the tray.