Regular price
Sale price
$22.00 USD
Unit price
per
Sale
Sold out
LEAD TIME: 2-4 Business Days
PRODUCT DESCRIPTION:  
3D printed Little Rocket Blaster, designed and engineered by Tarik.  This is the mountable version of the Little Rocket and can be mounted on blasters or arm mounts. Proud Papa comes with a Picatinny base. The blaster includes 2x barrels you  can select within the customize button on the product listing. 
INTERNATIONAL ORDERS:
Please confirm with your customs about importing a 3D printed blaster. 

FEATURES:
• Hot-swap to any ammo type
• Highly customizable to your preferred playstyle
• Small and compact with a strong kick
• Can Fire all major ammo types(Short Dart, Elites, Rivals, Mega, Boomco, Ultra)

Adapters:
Proud Papa comes with a Picatinny base. The adapters are a separate 3D printed part that allows the Proud Papa to be placed on Nerf-Style or Rival rail.

Notes on Barrels:
• Elite: Has a taper at the bottom to improve hold on Elites.
• Short Dart: Has notches on both sides to allow quicker reload and one-handed loading with SAM and AM.
• Mega: Genuine Megas perform better than fakes ones.
• Rival: Designed to fire one rival ball but can hold two at a time.
• Ultra: One of the best firing ammo types... We don't know why, either.
• Boomco: Designed to grab the notch of the first ring of the dart. Careful not to push the dart too far into the barrel.
• Inline: Holds three short Darts. Tilt barrel down between shots to make sure the dart creates a seal with the tapered front.
• Triple Elite/SD: Designed to fire three triple elites or three short darts. Can hold six shorts darts. Depending on ammo type(i.e., Orange Nipple Darts), will fire three at a time when six darts are present. 
COLORS:
Primary = Body, Bottom Plate
Accent = Trigger, Rod
Barrel = Barrel

SPECS:
• FPS Specs (Strong Spring)
-- Short Dart 113.4 FPS (5.5)
-- Elites 96.9 FPS (2.9)
-- Rival 78 FPS (3.7)
-- Mega 77.6 FPS (1.6)
-- Boomco 90.7 FPS (2.8)
-- Ultra 102.8 FPS (4.8)
-- Triple 53.6 FPS (4.2)

• FPS Specs (Standard Spring)
-- Short Dart 94.6 FPS (1.4)
-- Elites 83.3 FPS (2.3)
-- Rival 54.1 FPS (3.1)
-- Mega 62.7 FPS (1.4)
-- Boomco 59 FPS (4.2)
-- Ultra 76.3 FPS (2.3)
-- Triple 49.7 FPS (4.2)
  
KIT INCLUDES:
- 4x M3 Square Nuts (already Installed), M3x10mm Screws
- 16mm and 23mm O-Rings
- Central Screw
- Trigger Spring
- Main Spring
- M3x12mm Ball pin Rod
- Clear plastic Tubing(Already installed)
- 2x M3 Hex Nut
- 2x M3x30mm hex Screws
KIT INSTRUCTION MANUAL:
Little Rocket Manual v2
WHAT YOU NEED ASIDE FROM THE KIT:
• M3 screwdriver 
• Needle nose Pliers
• Phillips #2
• Lubricant (found here)

Share
View full details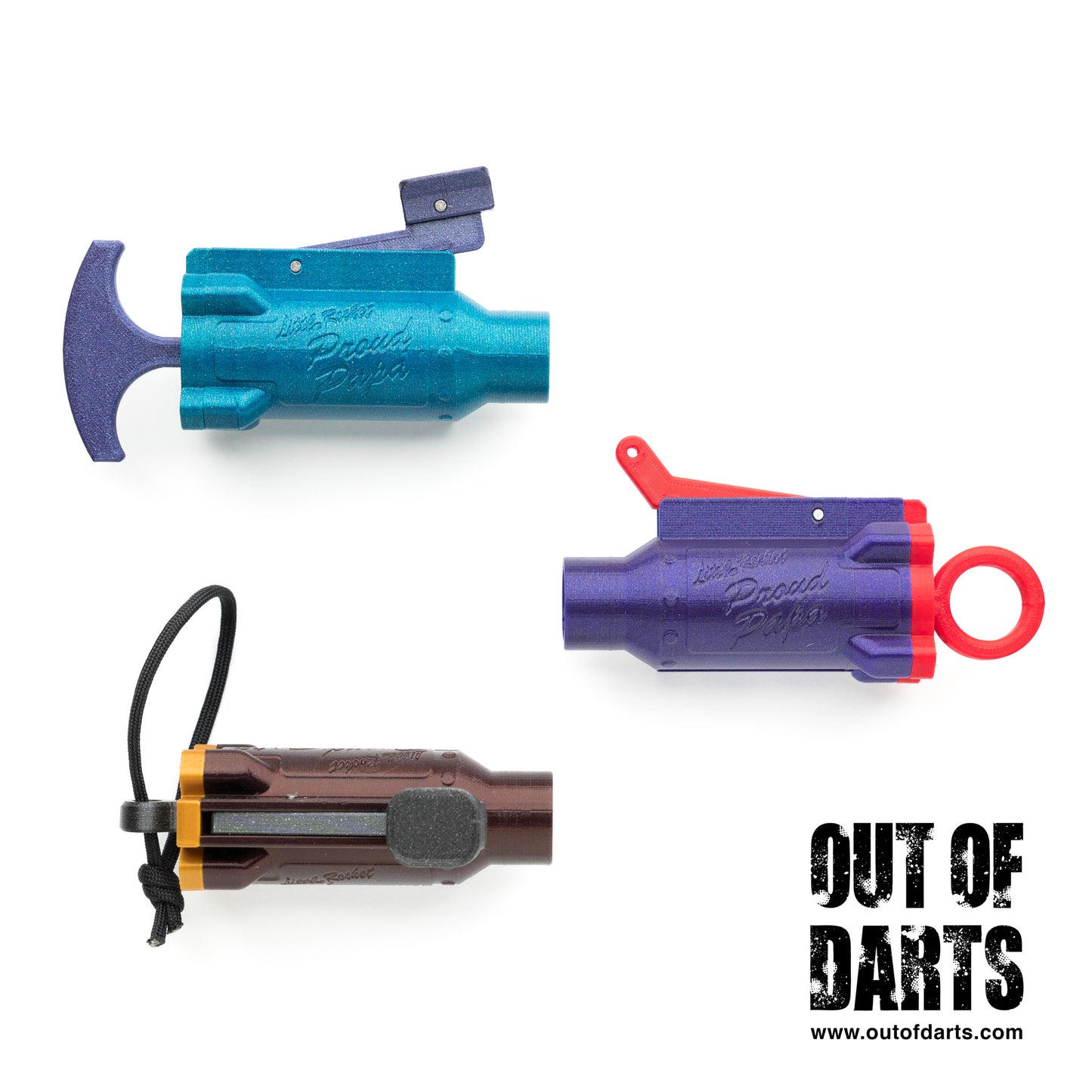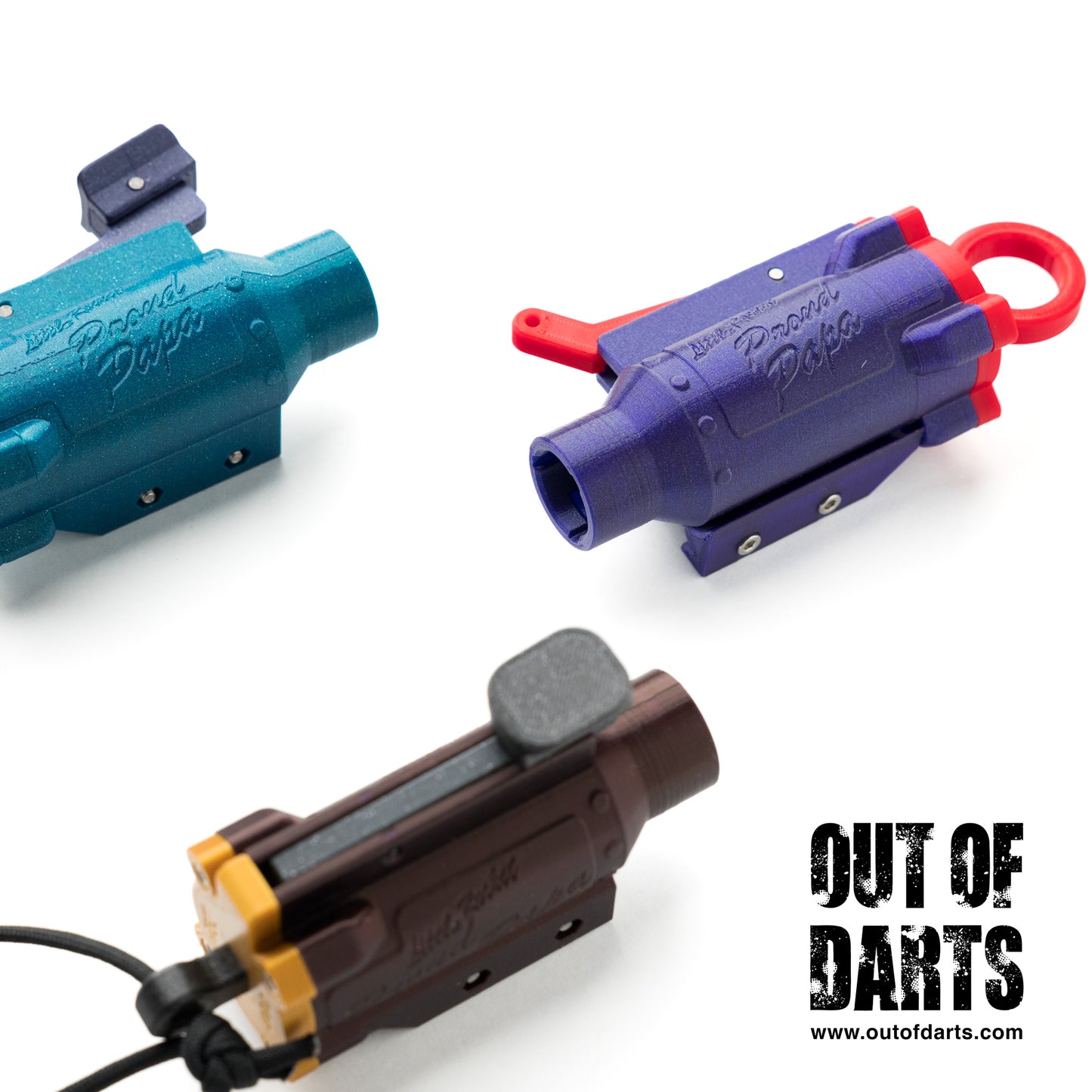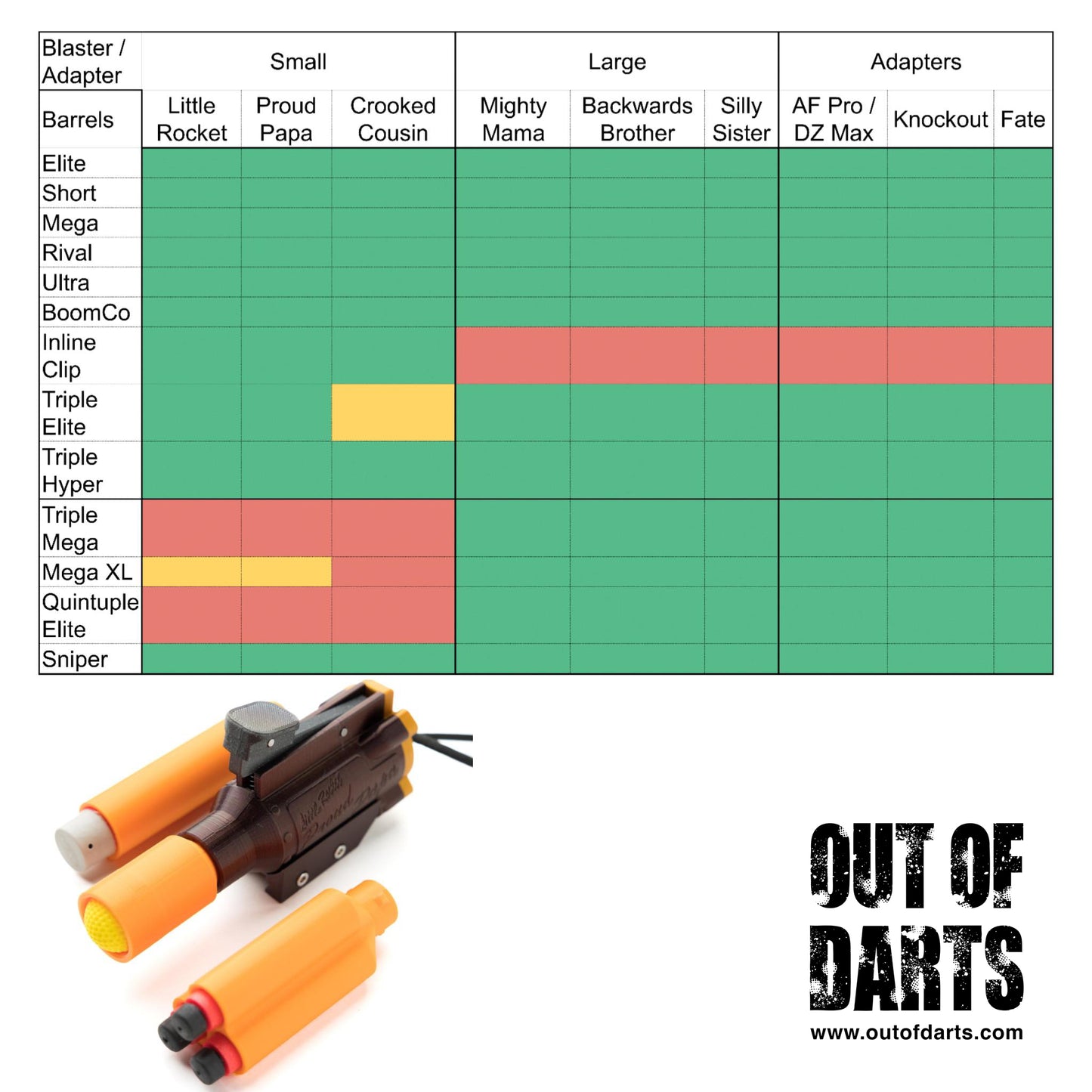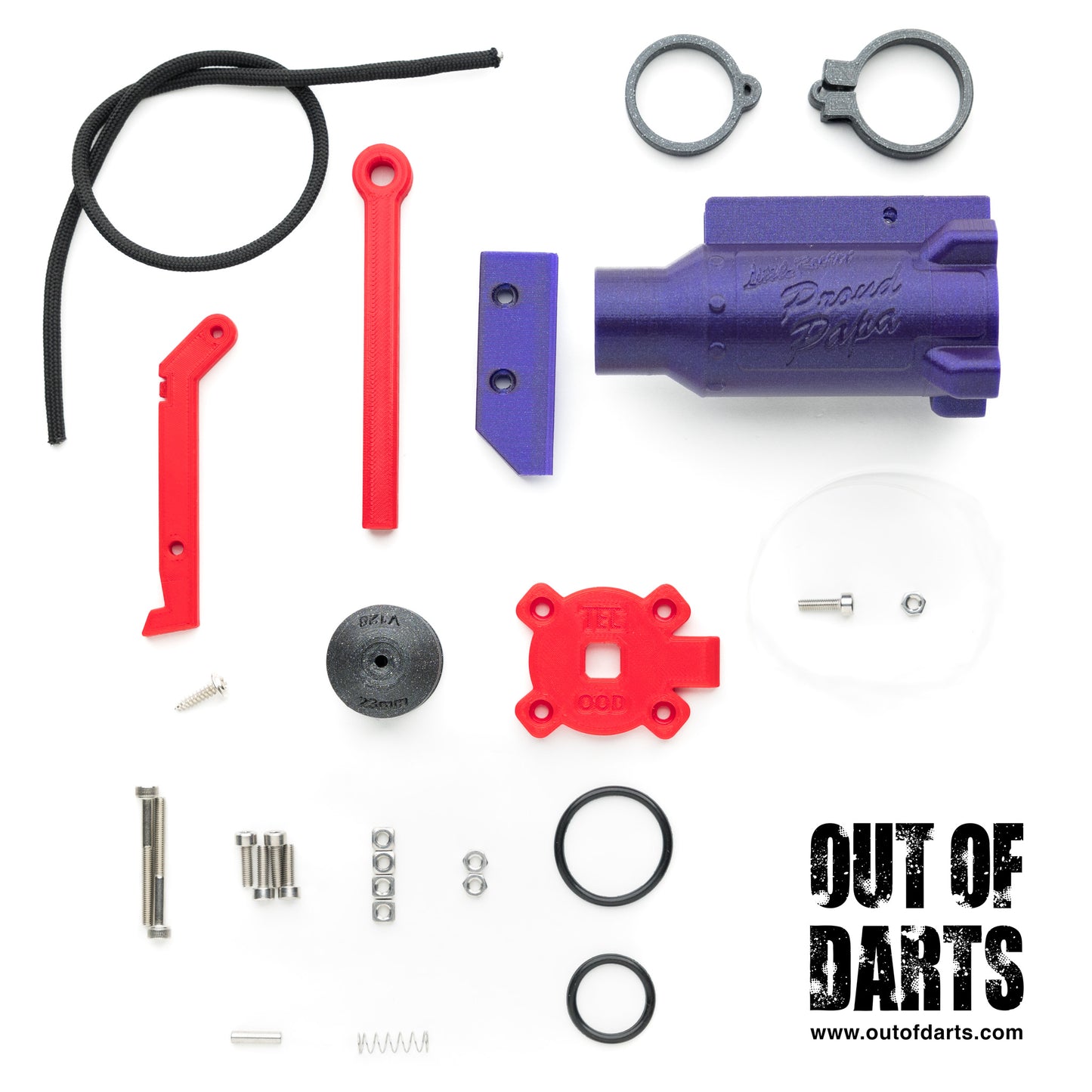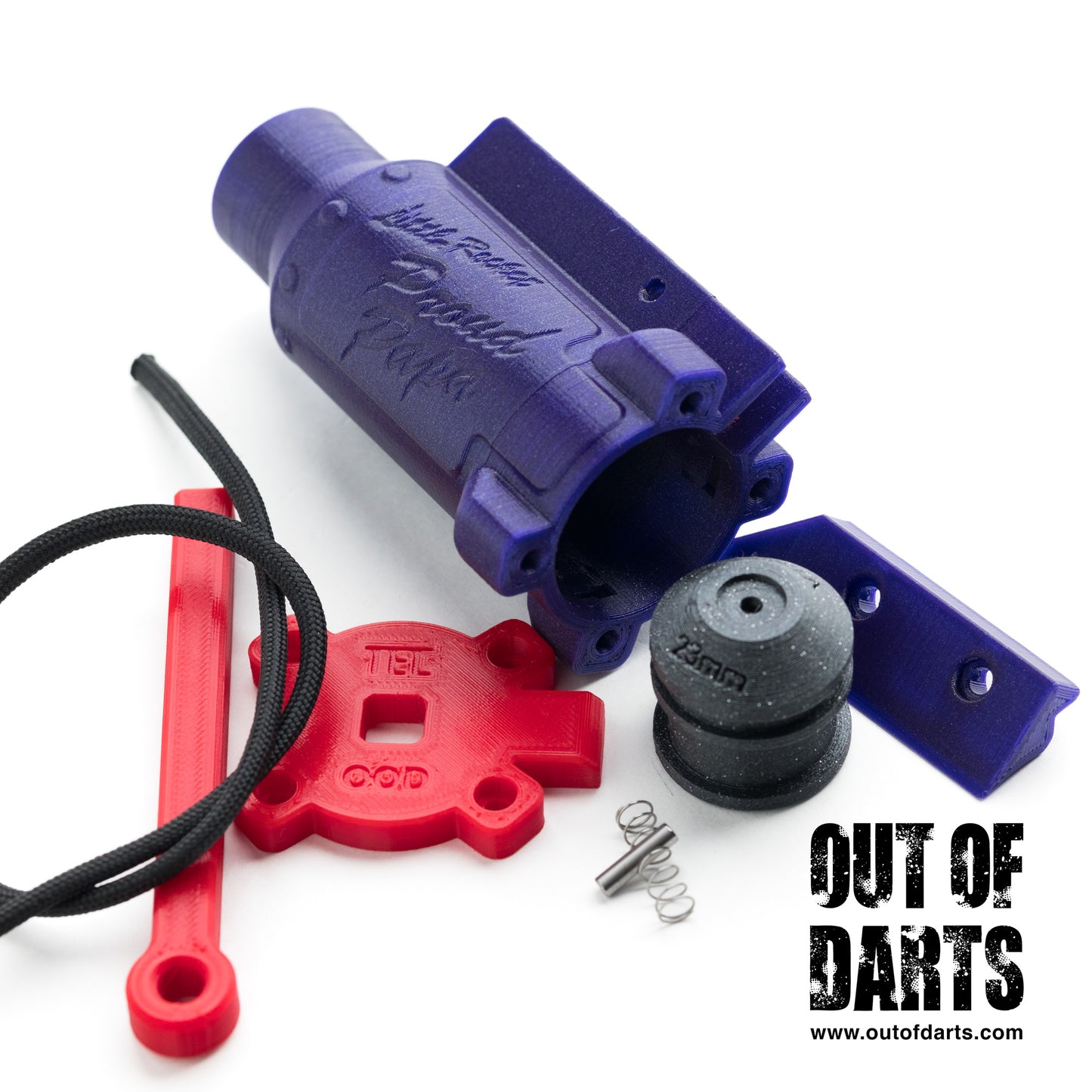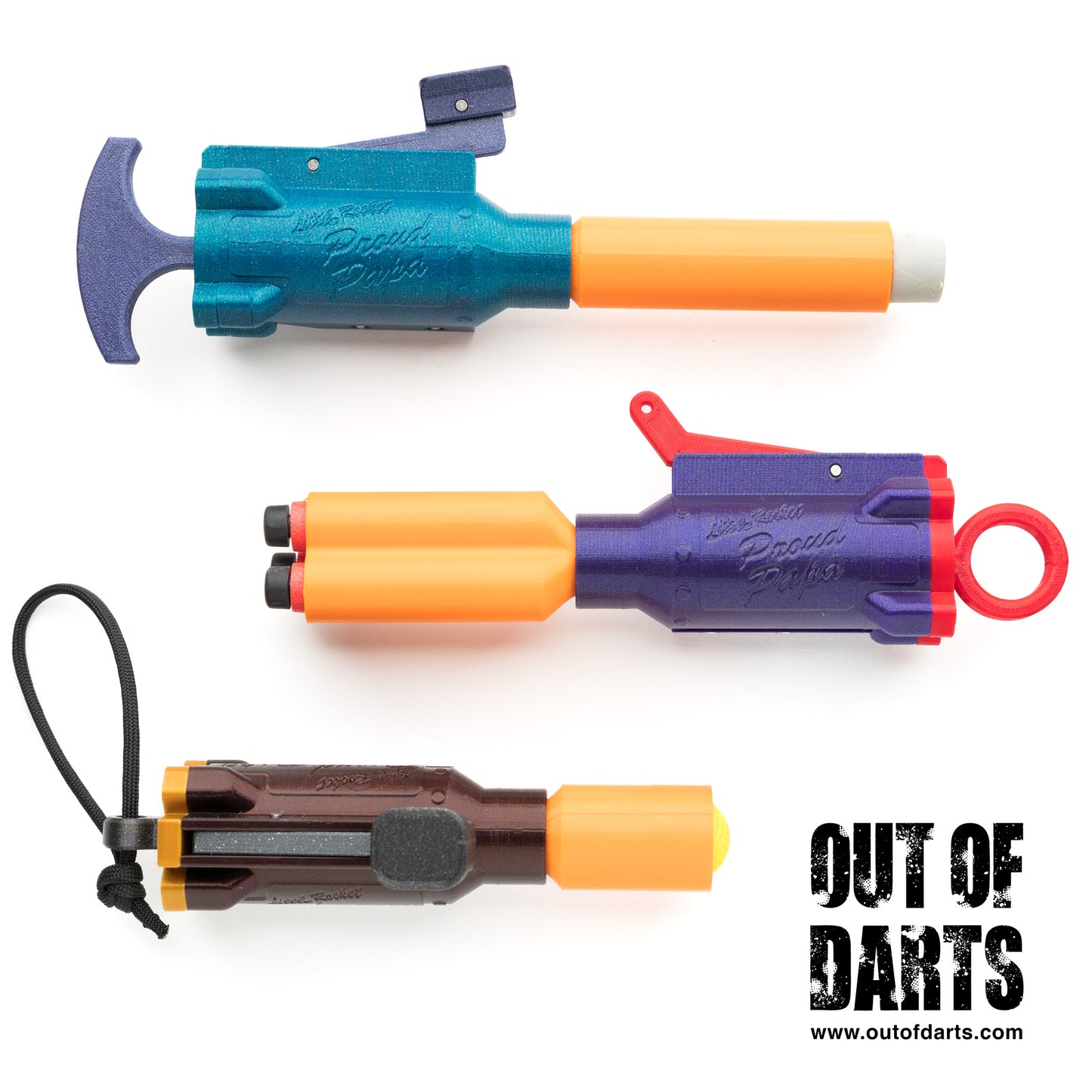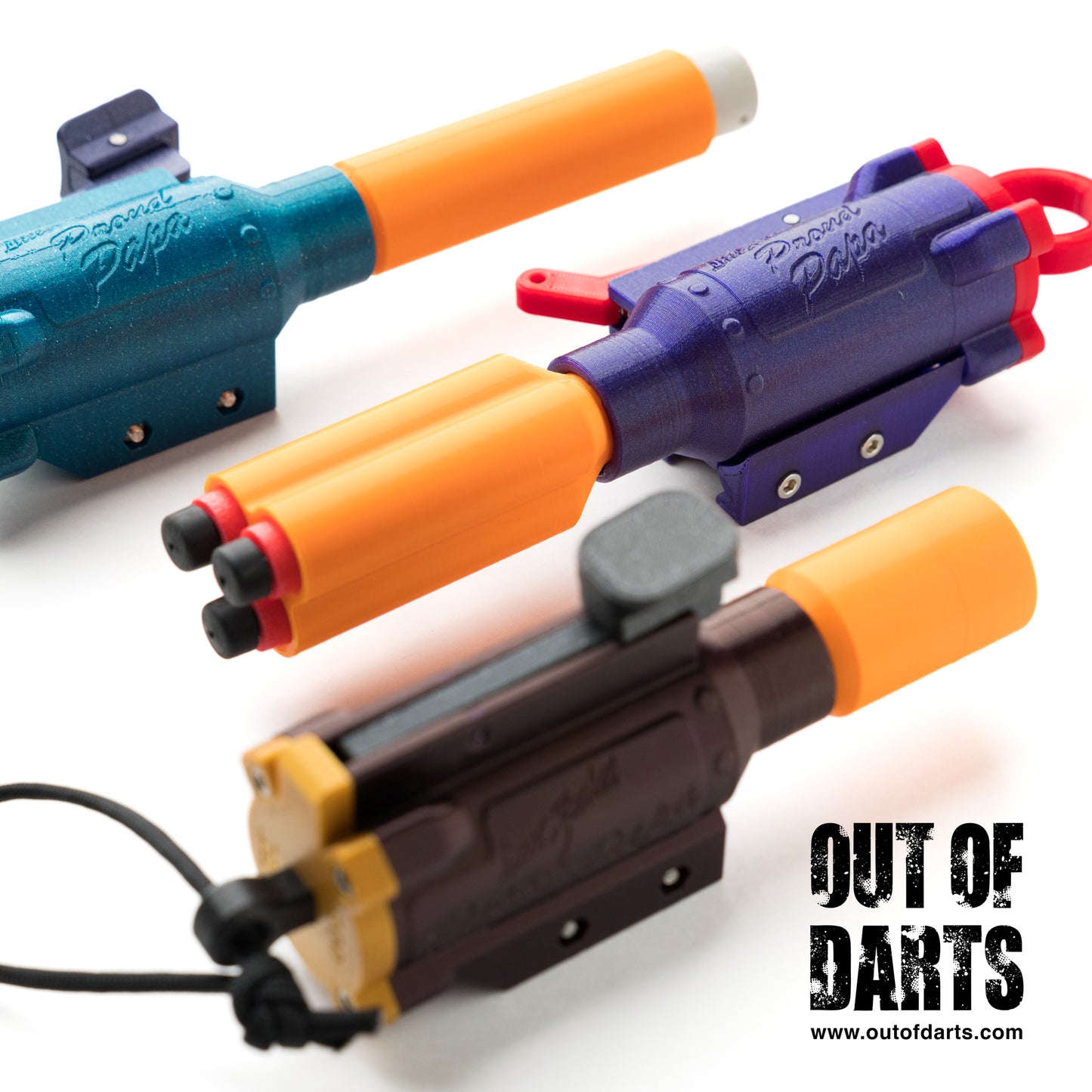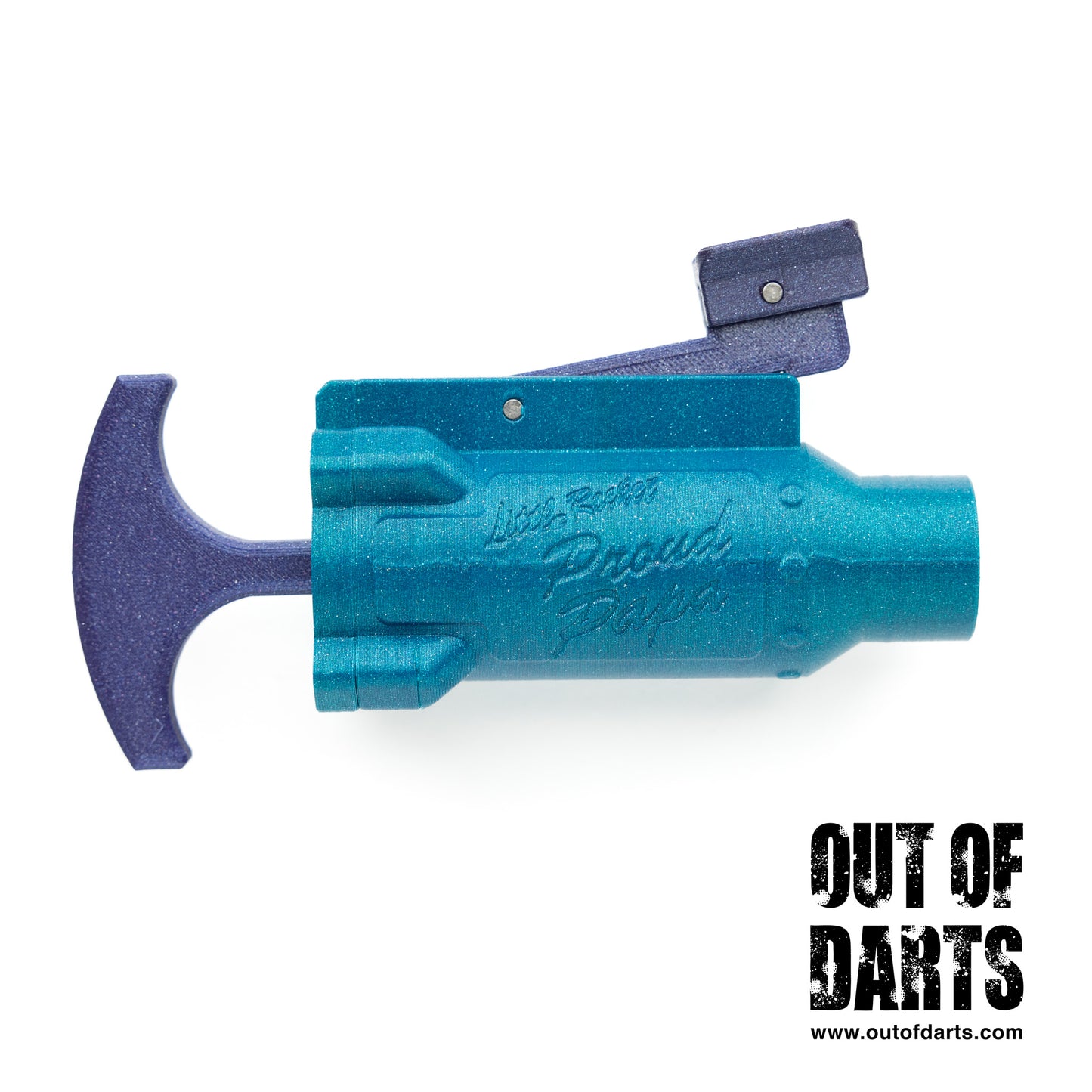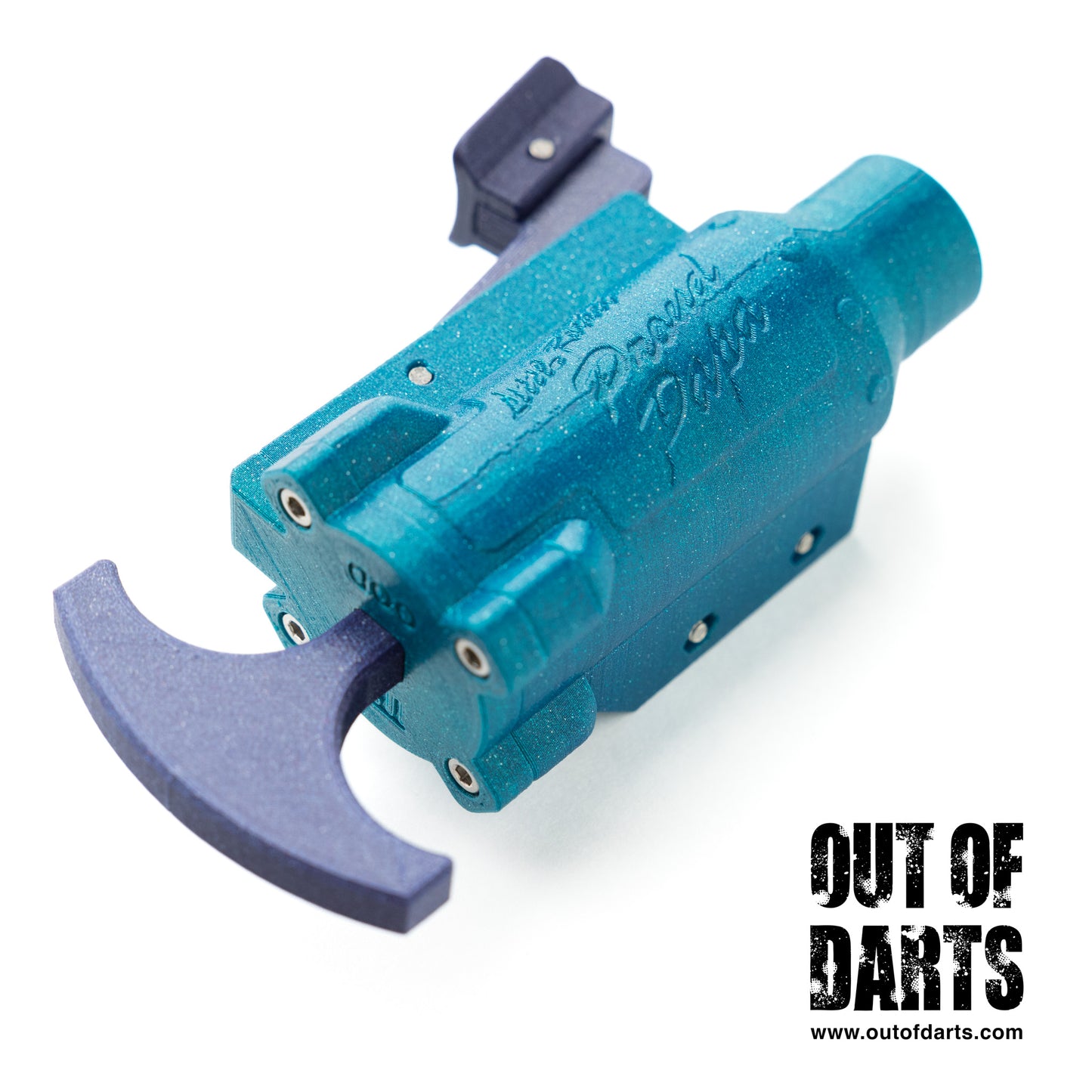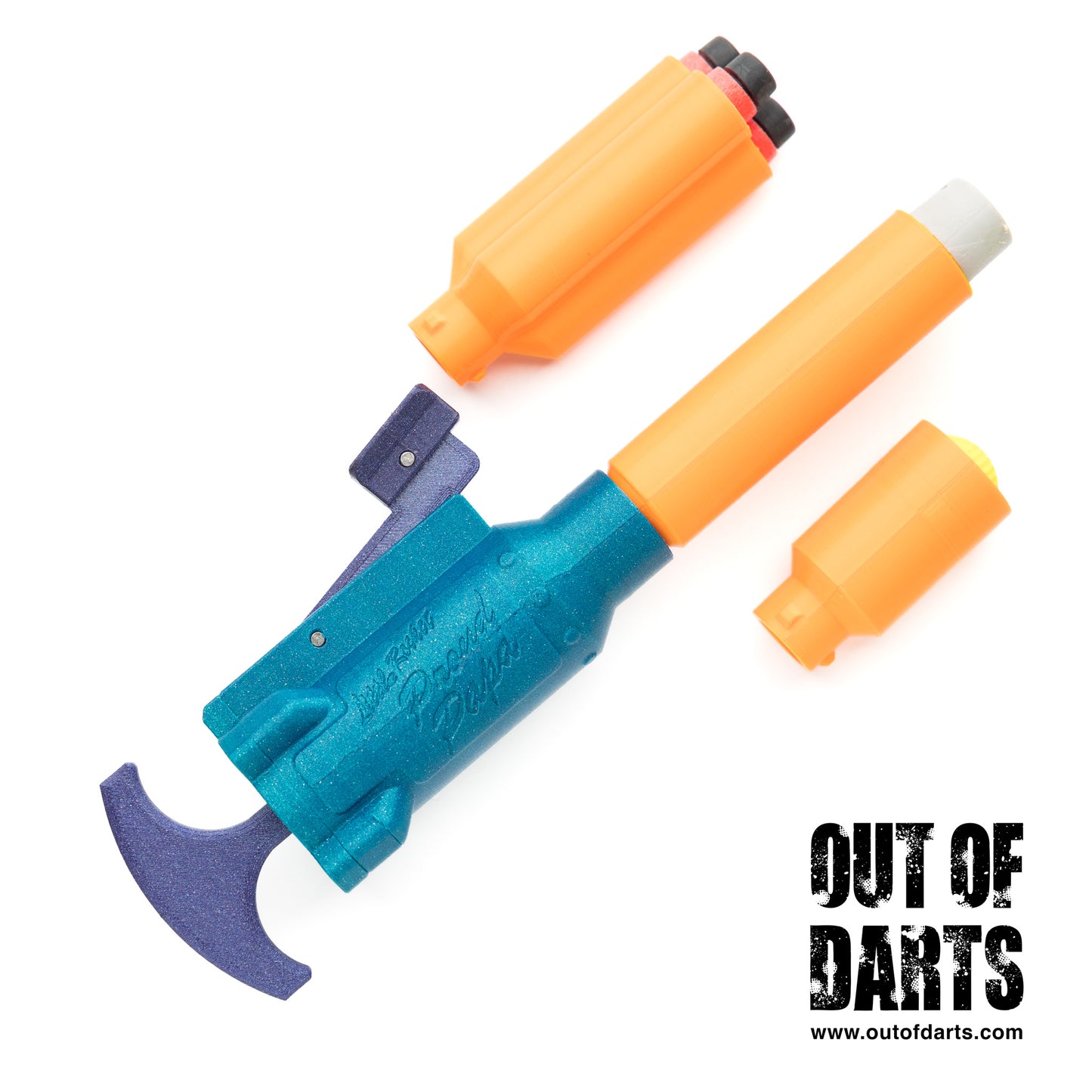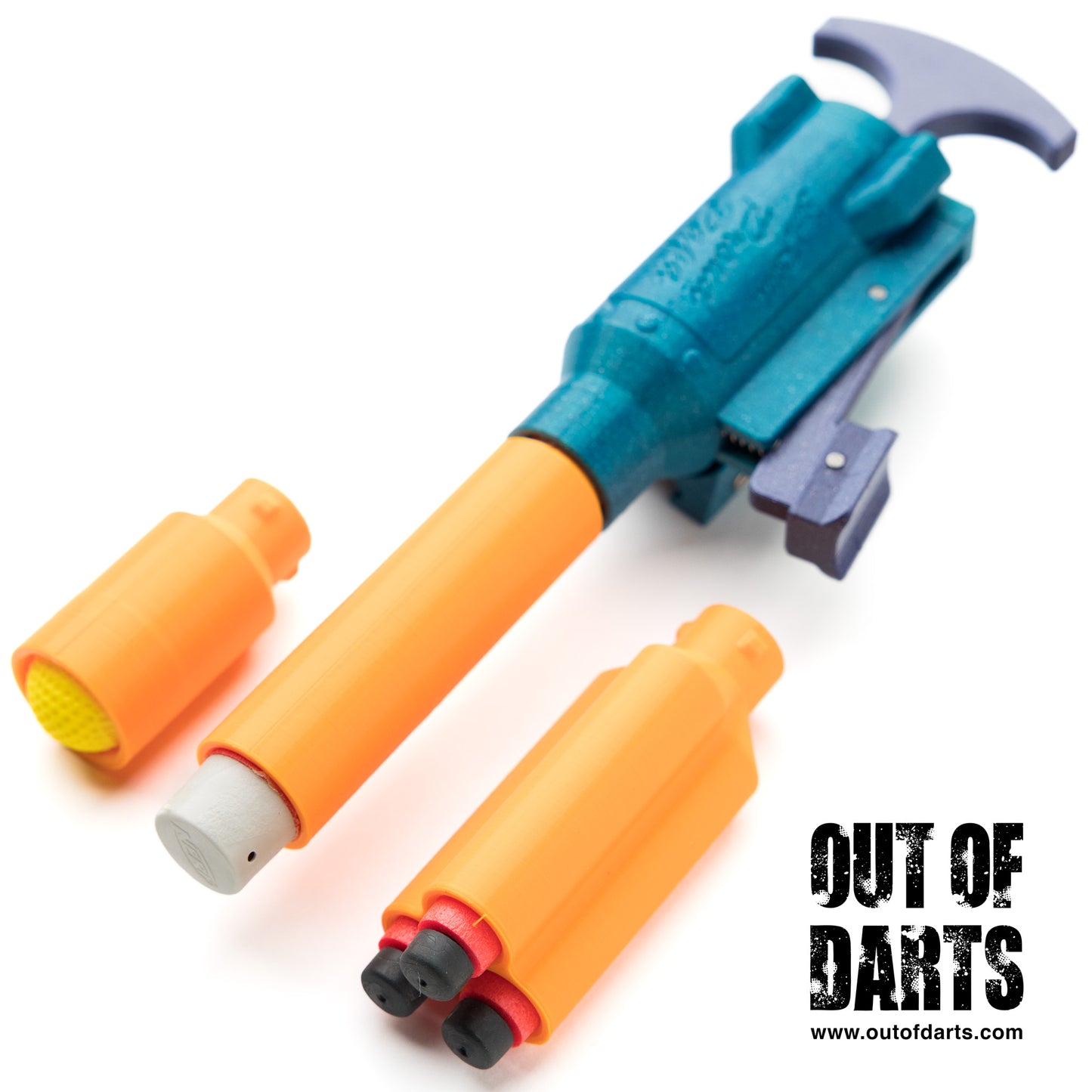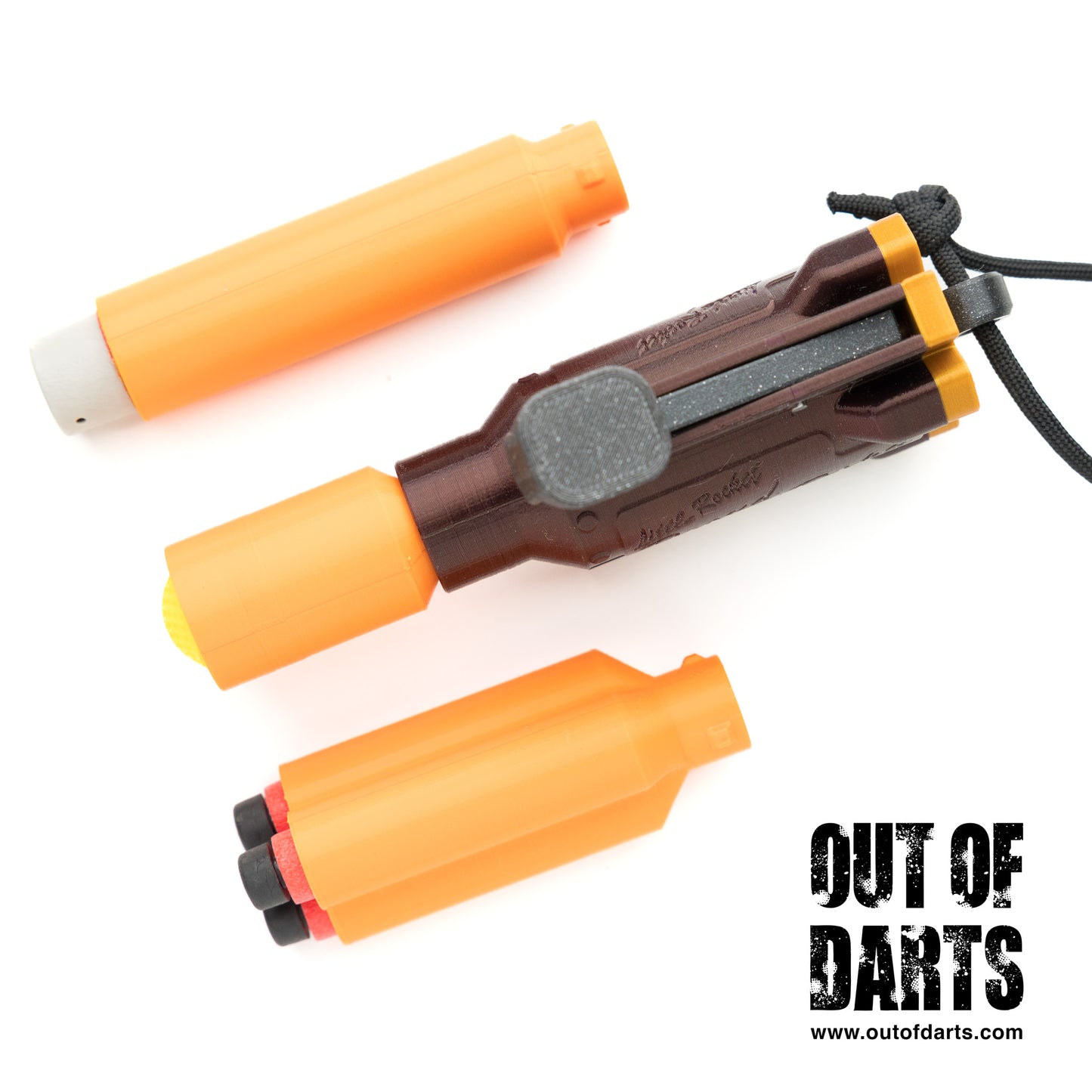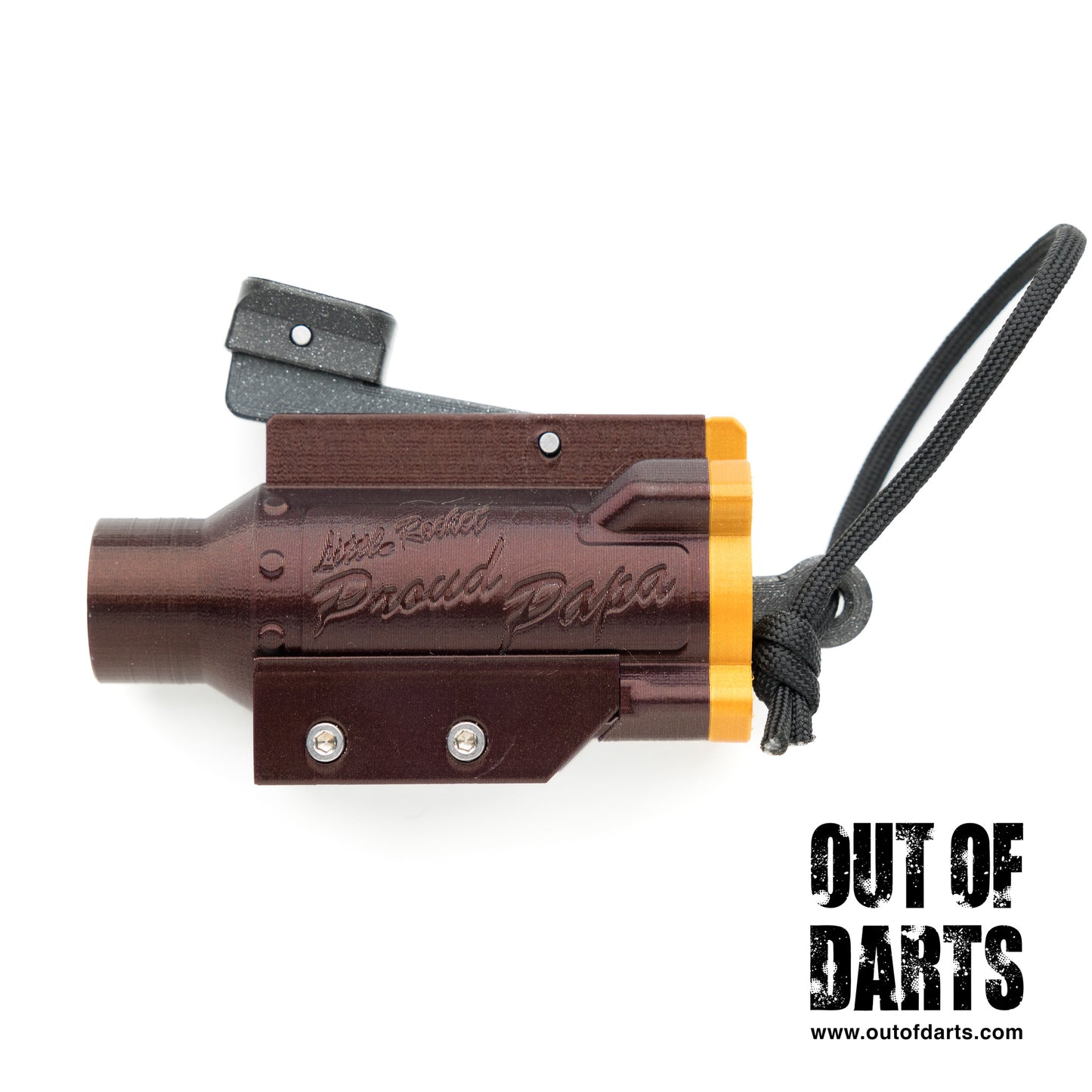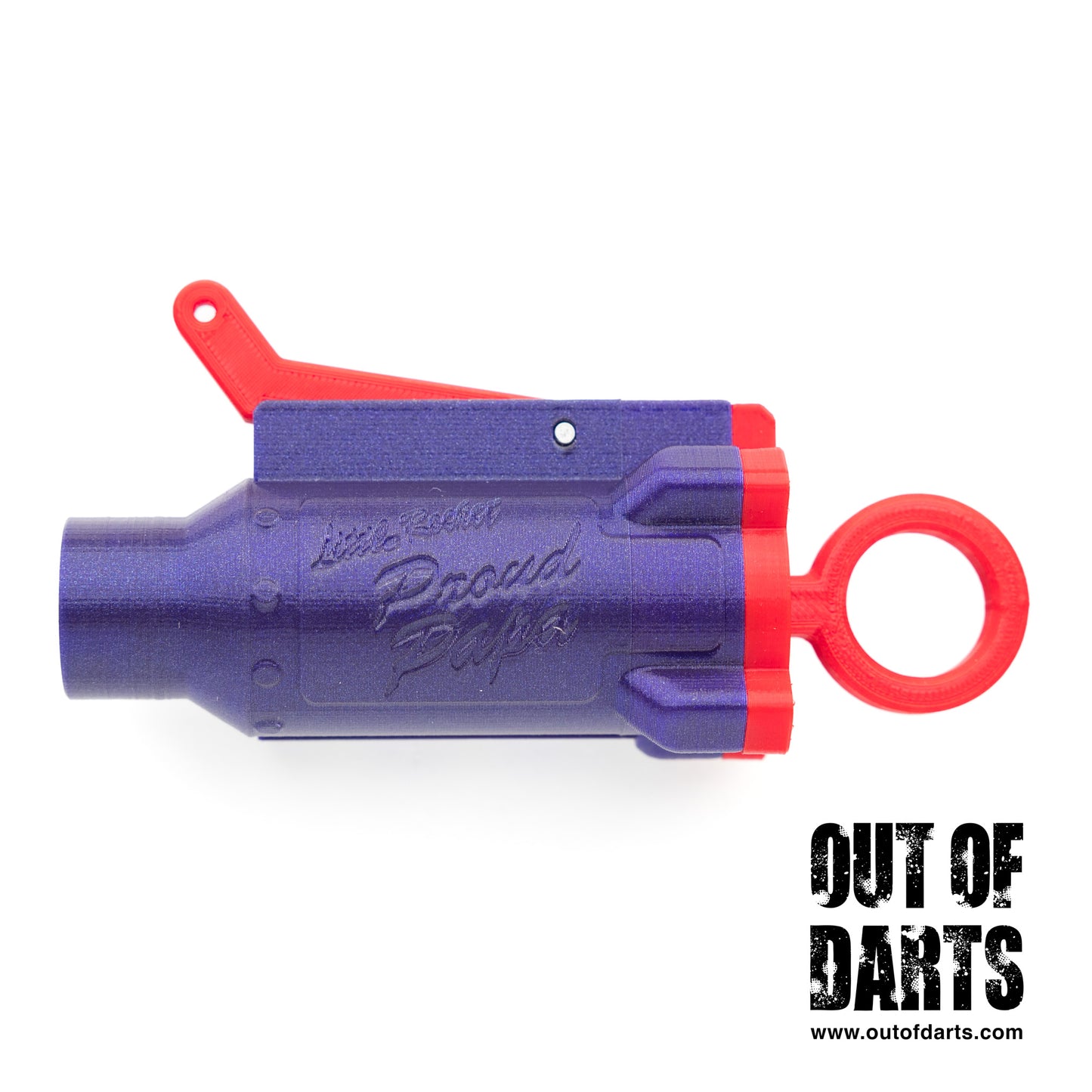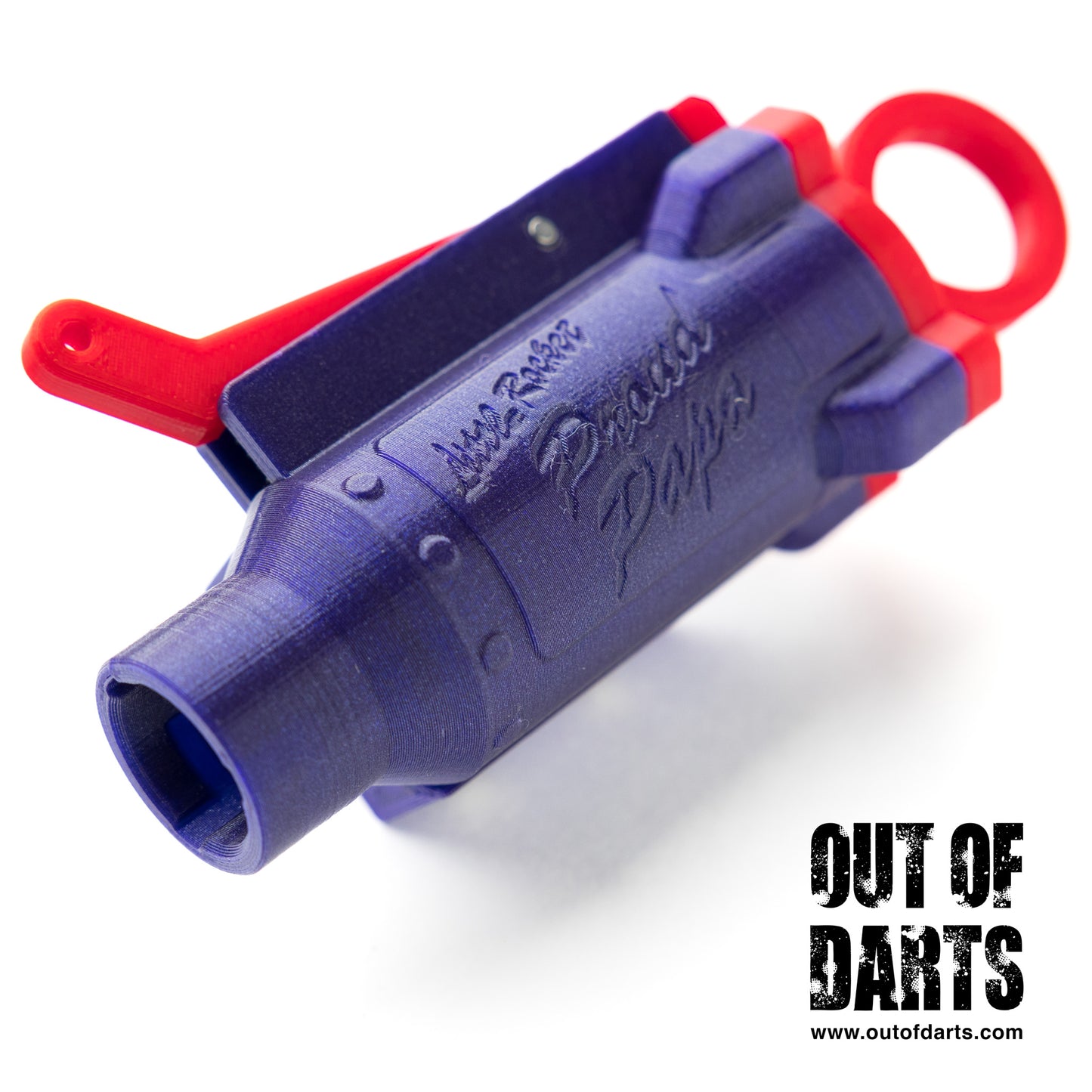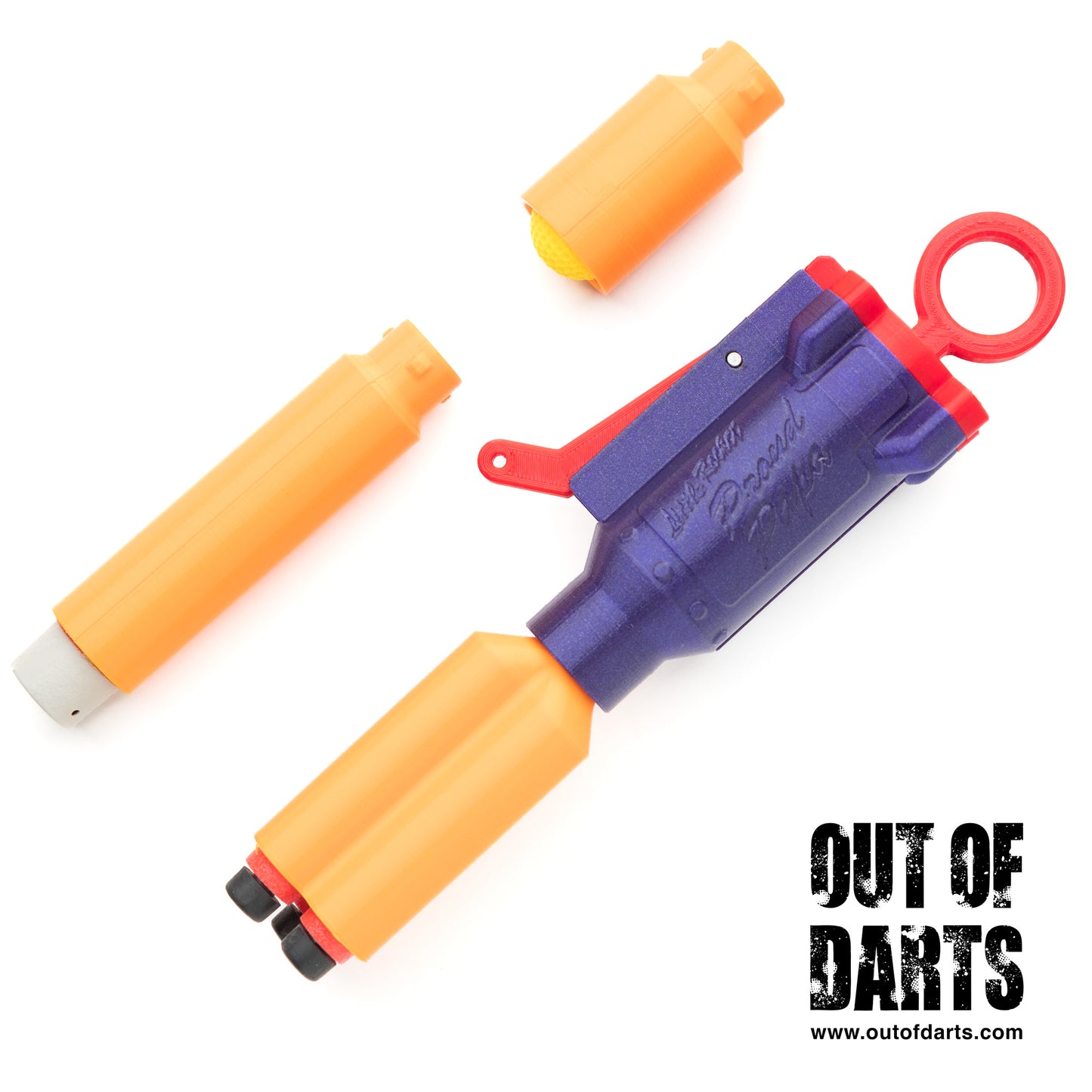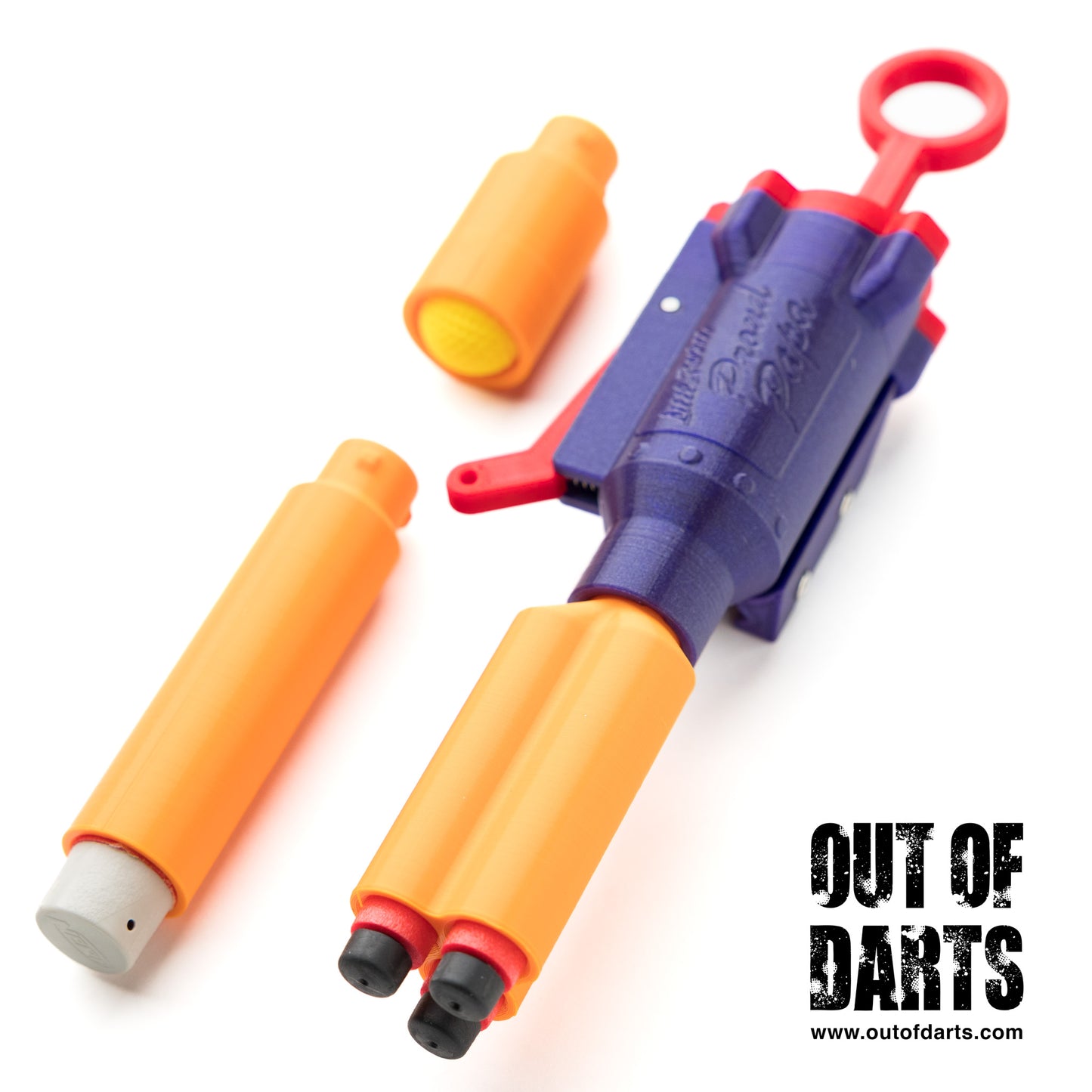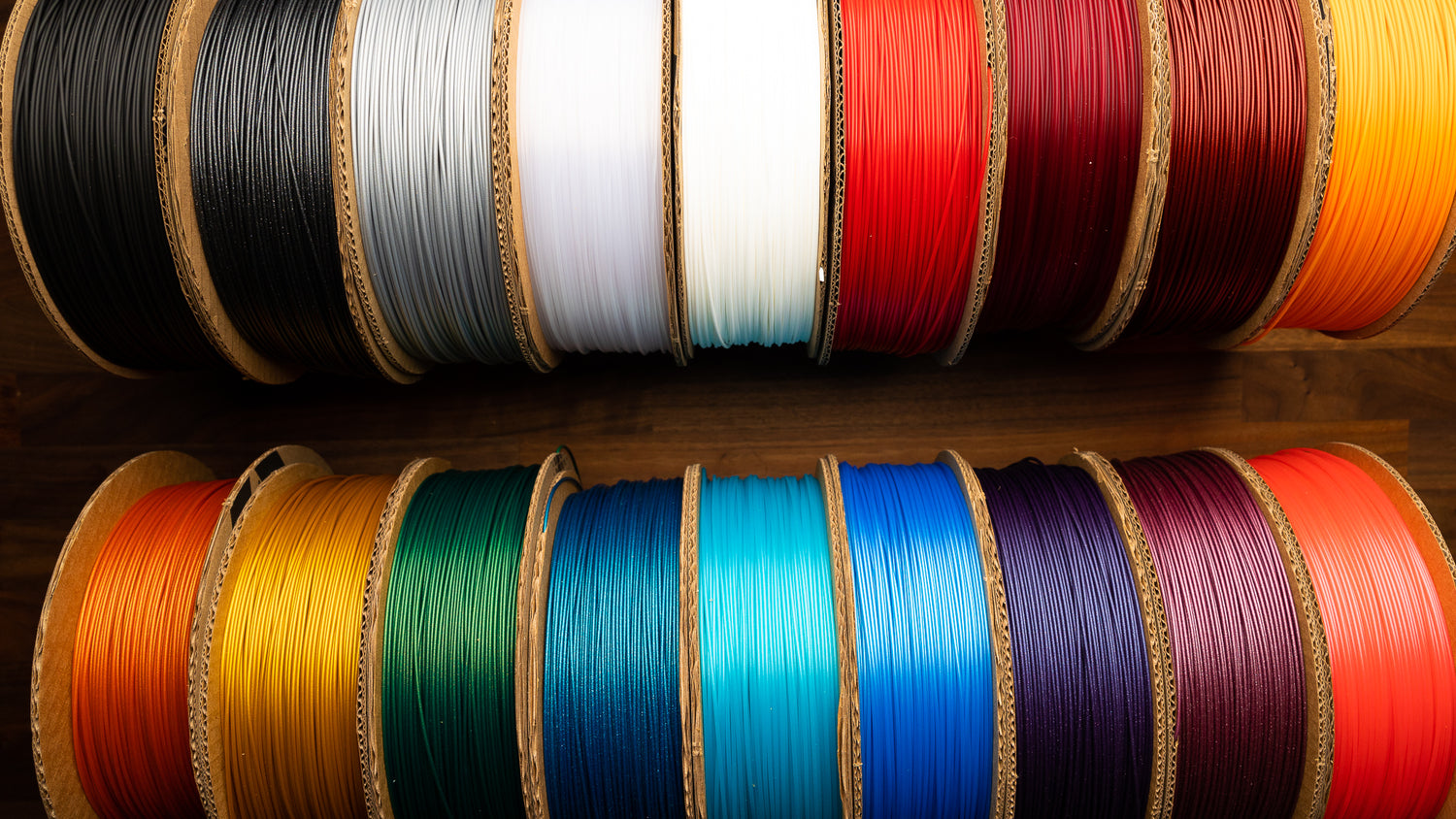 OUR FILAMENTS
We print primarily with Proto-Pasta HTPLA and PLA. Check out our full range of colors here.
3D printed parts should not be left inside hot cars or excessively hot environments.
Some seal issues
The blaster works great most of the time but is leaking out of the back and sometime the darts sputter out and dont go very far
Incredible Customer Service
My son LOVES this blaster!
As advertised
This thing hits hard. Assembly was a cinch, make sure you get the lube. Operation is smooth. Very sturdy when secured to a picatinny rail. Not much else to say, you get what you pay for!
This thing is RAD
I have such trouble writing reviews for things like this. It's so simple, and it works!
I got the higher-power spring, so I have to make sure whatever I mount it to is sturdy, lest I yank the thing off my blaster while priming it (I recommend durable picatinny, or Nerf rail with a defined stopping point for the Proud Papa to pull against), but boy do the darts fly! All my barrels work, and while I'm not sure if I should mention it for fear of raising expectations, I even received a free extra barrel type! Super appreciative of that.
Nobody is even reading this. You are here because you already decided to how you will customize yours and how many barrels you're getting.