Regular price
$4.00 USD
Sale price
$4.00 USD
Unit price
per
Sale
Sold out
PRODUCT DESCRIPTION:
Let's face it; short darts are the future! This Short-Dart Pusher for the Adventure Force Spectrum replaces the stock pusher to enable short dart compatibility.   This mod is ideal for blasters with upgraded motors and flywheels since there is an fps loss of about 30 when switching a flywheel blaster from full length down to half length darts.
*Please note; with this pusher installed, you will not be able to fire full-length darts.
*Not compatible with Talon adapters for Flywheel blasters due to the spacing.  
*Compatible with
     • Talon With Mag Release (for springers)
     • Talon No Mag Release (for springers)
     • Talon Adapter for Angled Mags (for springers)

FEATURES:
• Simple drop-in replacement (requires opening the shell)
• Requires upgraded cage and wheels
• Designed by Luke, based off stock pusher

SPECS: 
• Material: PLA Plastic (colors my vary)
• 3D Printed
• NOT compatible with stock cage/wheels
ADDITIONAL LINKS: 
• Spectrum Mag Release
• More Spectrum mods

Share
View full details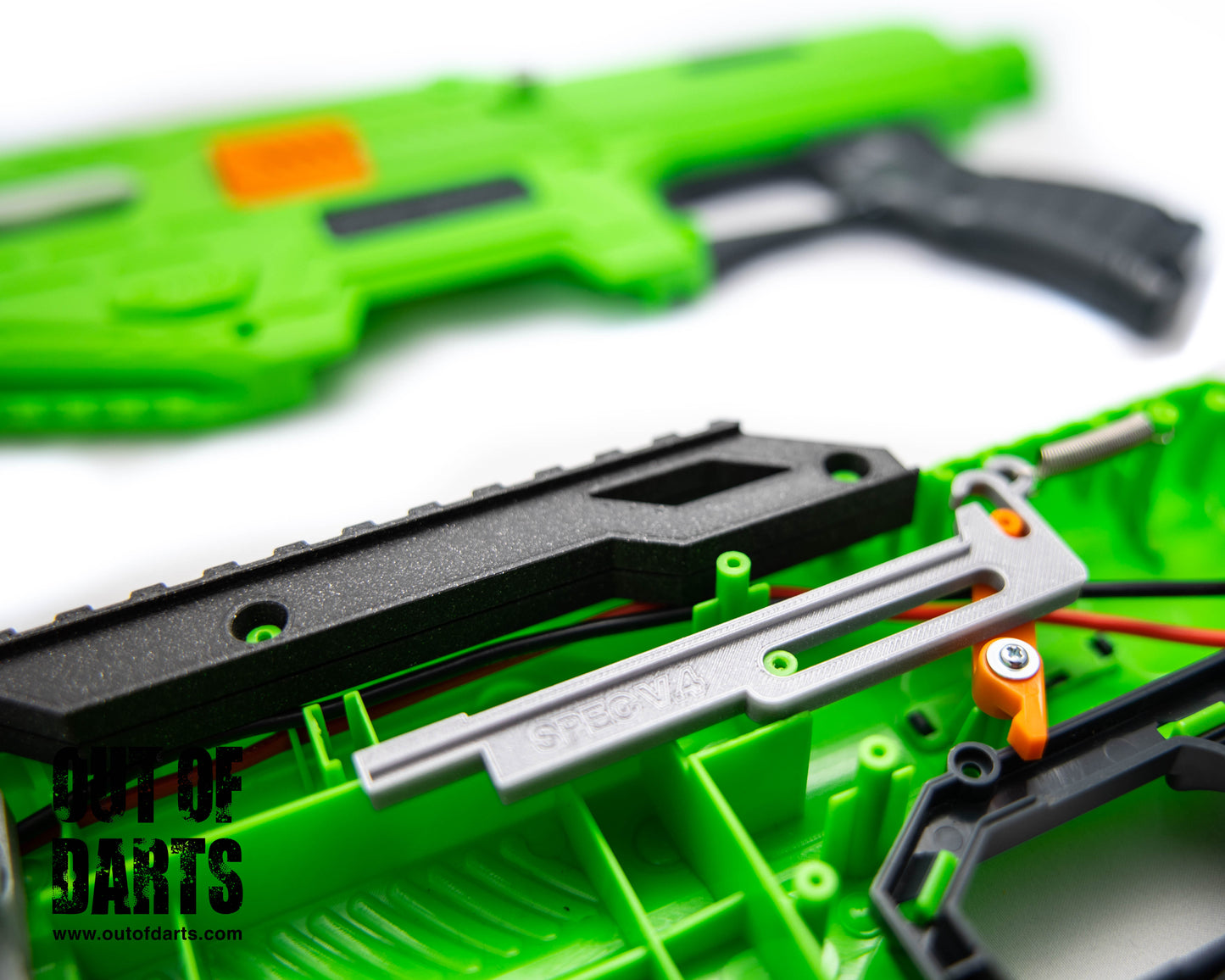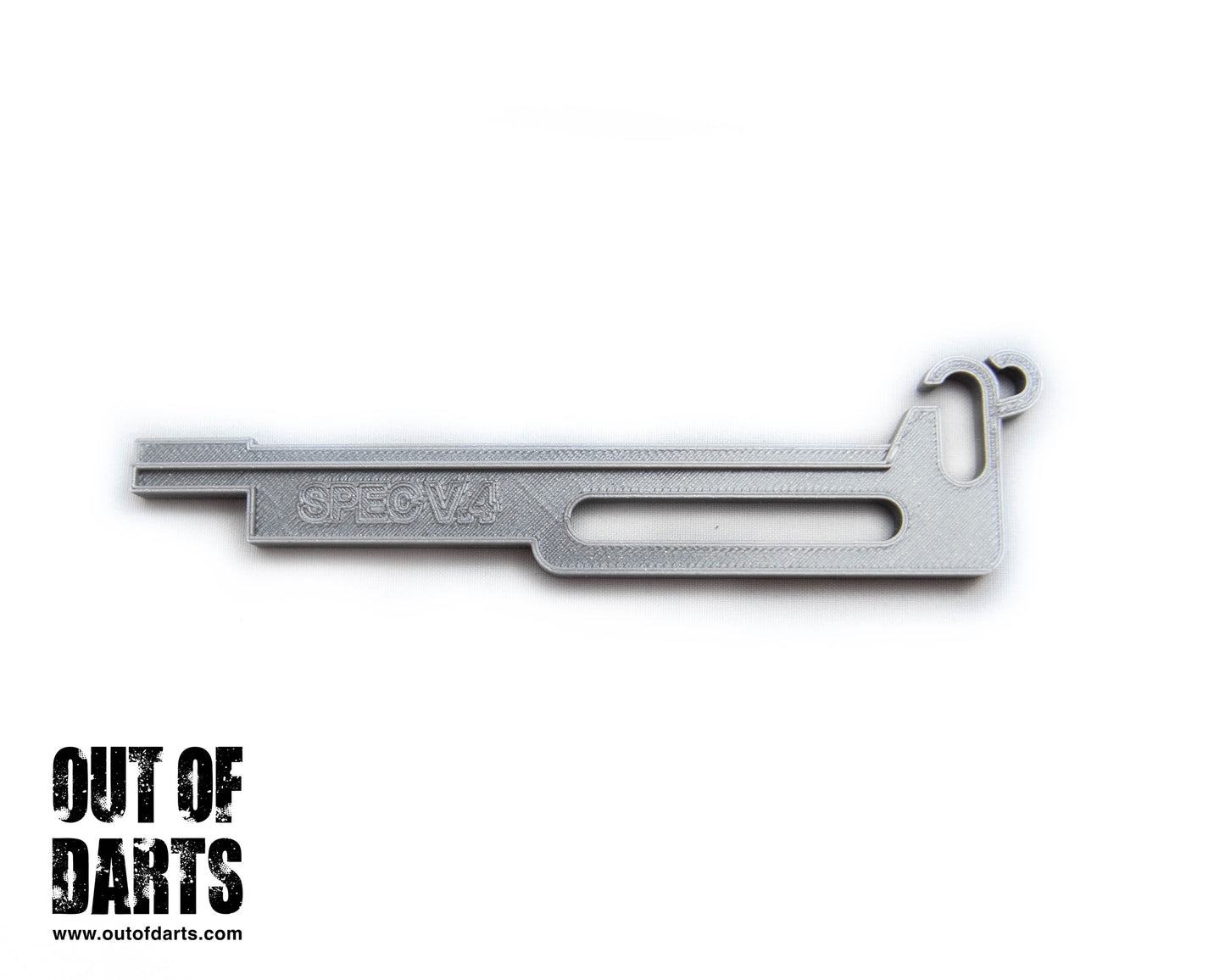 Just simply doesn't work correctly.
I love out of darts and everything they do to help the hobby grow but they came short on this one, no pun intended. I installed the short dart pusher, made sure it glided well oiling it up for the most smooth trigger action, only to put it back together and find out it does not work. Pull the trigger and nothing, release the trigger and shoots 😳 like whaaaaaa. Sometimes just wouldn't shoot at all.. If I had really snapped the trigger the dart would fire but then my hands are moving so much it's super inaccurate. So I opened it up and saw that the pusher just is not long enough to push the dart all the way into the flywheels! At least this is what is happening with worker gen 3+ darts and target pro darts where the heads on them are smaller, so this may work with waffle tip darts that can make more contact with the flywheels. Although I don't have any half length waffle tip darts at the moment and cannot test that theory. I hope this helps! Sorry Luke I wish I could give you 5 stars on this! I'll be going back to the full length pusher!
piece of %$&@......
well i dont know what flywheel cage set up this works on but it sure isnt the one from OOD. Couldnt get it to work in the green or red Spectrum. Doesnt push the darts far enough. I have tried periodically over the past few months. Quite frankly i was getting pissed off just seeing it on my work table. So i threw it in the fire pit and felt better ever since. I refuse to give any of my money to Drac so i will not be trying his. If i did and it worked it would just piss me off more. In conclusion the mod kit works great in my Spectrums. They are obviously made to fire long darts only. Which it does well. Oh well.
Didn't work
I put it in and the short darts don't reach the flywheels
Not Very Reliable, May Still Be Salvageable
After many attempts at lubing, sanding down imperfections that catch on the blaster cage, and taking out every battery cage screw to keep that area loose I cannot get this pusher to feed reliably. If I use the worker talon adaptor it takes about 17 trigger pulls to fire 15 darts, and the dart zone adaptor never stood a chance, I can't get through 15 darts with that adaptor in any less than 20 trigger pulls. Now I could still try tightening the return spring or maybe a few modifications to the pusher itself (the ladder I'm a little weary of doing) so I don't necessarily think this is a bad product but for something sold as 'drop in' I wouldn't give this more than 3 stars.
Tldr; Frustrating reliability in my experience especially with Dart Zone adaptor, but could shine with some finishing work. Definitely not a drop in replacement, hopefully you're one of the lucky ones who it seems to work fine for. Print quality was not bad at first glance but it seems some small imperfections are impacting the pushers movement. Definitely give it a buy if the spectrum is going to be your main flywheeler that you want to run for short darts.
Awesomeness
Really great. So snappy. A little slower than full darts but way more accurate