Regular price
Sale price
$33.50 USD
Unit price
per
Sale
Sold out
4-10 business days depending on number of colors selected
PRODUCT DESCRIPTION:  
Silly Sister is a Mighty Mama variant that behaves in the same way as Crooked Cousin. It uses all the same parts of a Mighty Mama, except the top plate is replaced. Check out this listing if you already own a Mighty Mama and want to replace the top plate. It is designed and engineered by Tarik. Silly Sister can be held in hand like a blaster or mounted on the bottom rail.
INTERNATIONAL ORDERS:
Please confirm with your customs about importing a 3D printed blaster. 

LINKS:
FEATURES:
• Hot-swap to any ammo type
• Highly customizable to your preferred playstyle
• Buffy and powerful with a strong kick
• Can Fire all major ammo types (Short Dart, Elites, Rivals, Mega, Boomco, Ultra, MegaXL, Rockets)

Adapters:
Silly Sister uses its own adapter to connect to a Picatinny, Nerf-Style, or Rival Rail. It does not come with Mighty Mama Body Rail. 

Notes on Barrels:
• Mega XL: Holds one Mega XL. Inner tubing is elite size, so either one elite or up to 3 shorts darts can be shot from it. Recommended barrel due to multi-use.
• Triple Mega: Holds three Mega Darts. Performs better if the tightness is the same across all darts.
• Quintuple: Designed to fire five triple elites or ten short darts. Depending on ammo type(i.e., Orange Nipple Darts), will fire five at a time when ten darts are present. 
• Elite: Has a taper at the bottom to improve hold on Elites.
• Short Dart: Has notches on both sides to allow quicker reload and one-handed loading with SAM and AM.
• Mega: Genuine Megas perform better than fake ones.
• Rival: Designed to fire one rival ball but can hold two at a time.
• Ultra: One of the best firing ammo types... We don't know why, either.
• Boomco: Designed to grab the notch of the first ring of the dart. Careful not to push the dart too far into the barrel.
• Triple Elite/SD: Designed to fire three elites or three short darts. Can hold six short darts. Depending on ammo type(i.e., Orange Nipple Darts), will fire three at a time when six darts are present. 
COLORS:
Primary = Body, Bottom Plate
Accent = Trigger, Rod
Barrel = Barrel
SPECS:
• FPS Specs (Spring)
-- Short Dart 117.7 FPS (2.8)
-- Elites 104.3 FPS (3.2)
-- Rival 87.2 FPS (3.2)
-- Mega 83.8 FPS (6.5)
-- Boomco 90.7 FPS (2.8)
-- Ultra 92.8 FPS (4.7)
-- Triple 72.4 FPS (3.5)
-- Triple Hyper 61.2 FPS (3.4)
-- Mega XL 42.2 FPS (4.3)
-- Triple Mega 50.7 FPS (6.6)
-- Quintuple Elite 62.1 FPS (6.2)

KIT INCLUDES:
- 8x M3 Square Nuts, M3x12mm Screws
- 16mm and 2x 123 O-Rings
- 24mm Ball-pin Rod 
- Trigger Spring
- Main Spring
- M3x12mm Ball pin Rod
- Caliburn Tubing
- 2x M3 Hex Nut
- 2x M3x30mm hex Screws
WHAT YOU NEED ASIDE FROM THE KIT:
• M3 screwdriver 
• Hammer 
• Pliers
• Needle nose Pliers
• Lubricant (found here)
BUILD GUIDE VIDEO:
Coming soon...
Share
View full details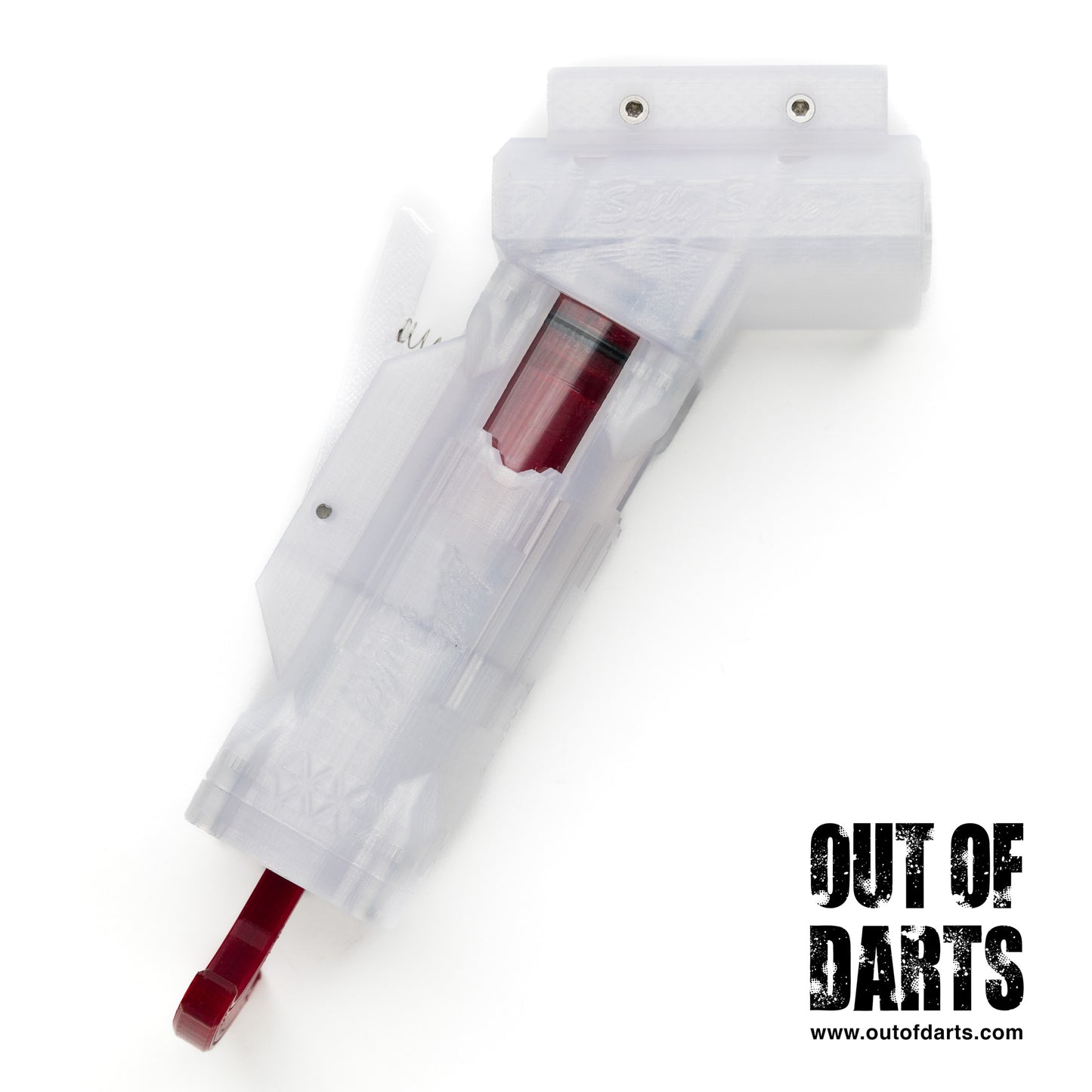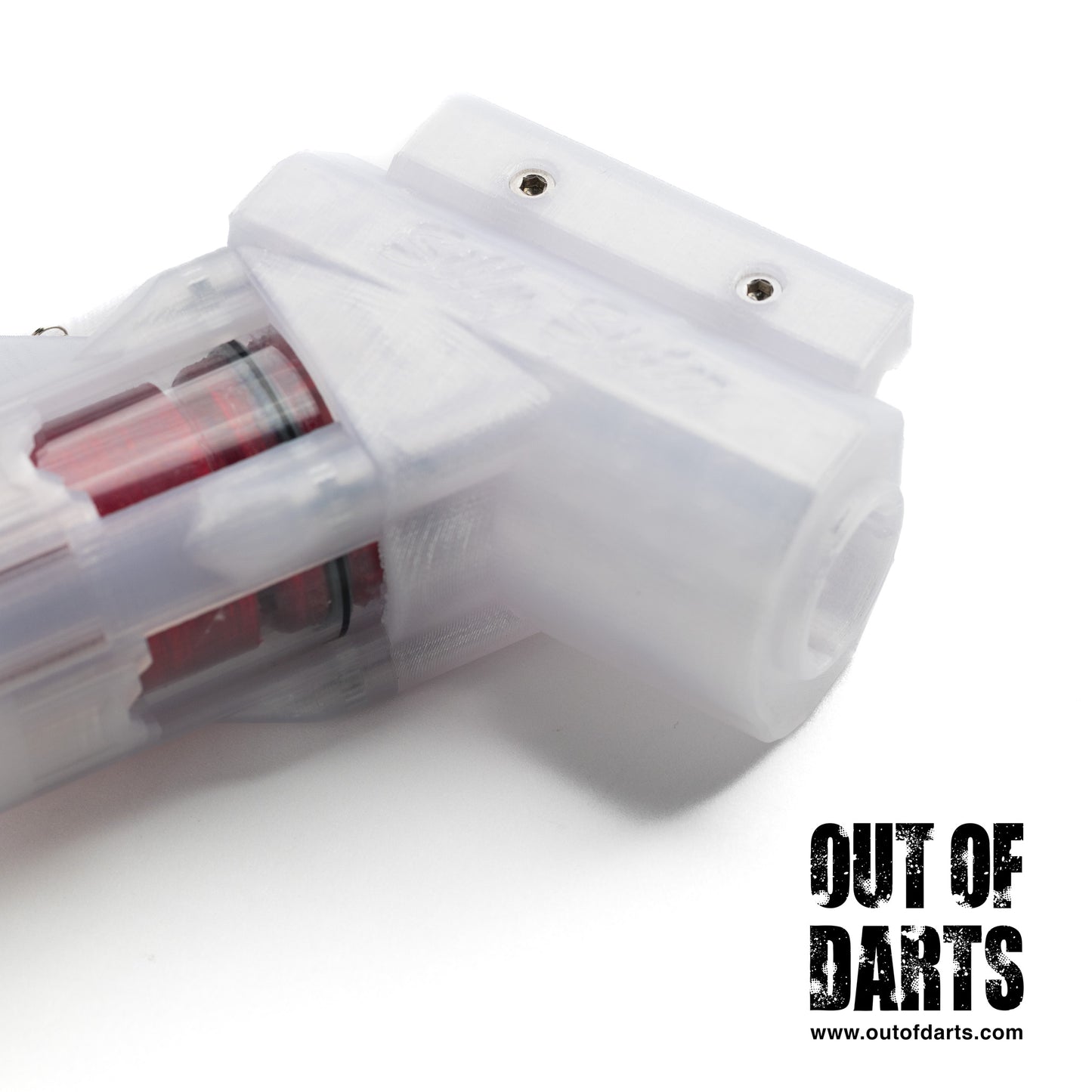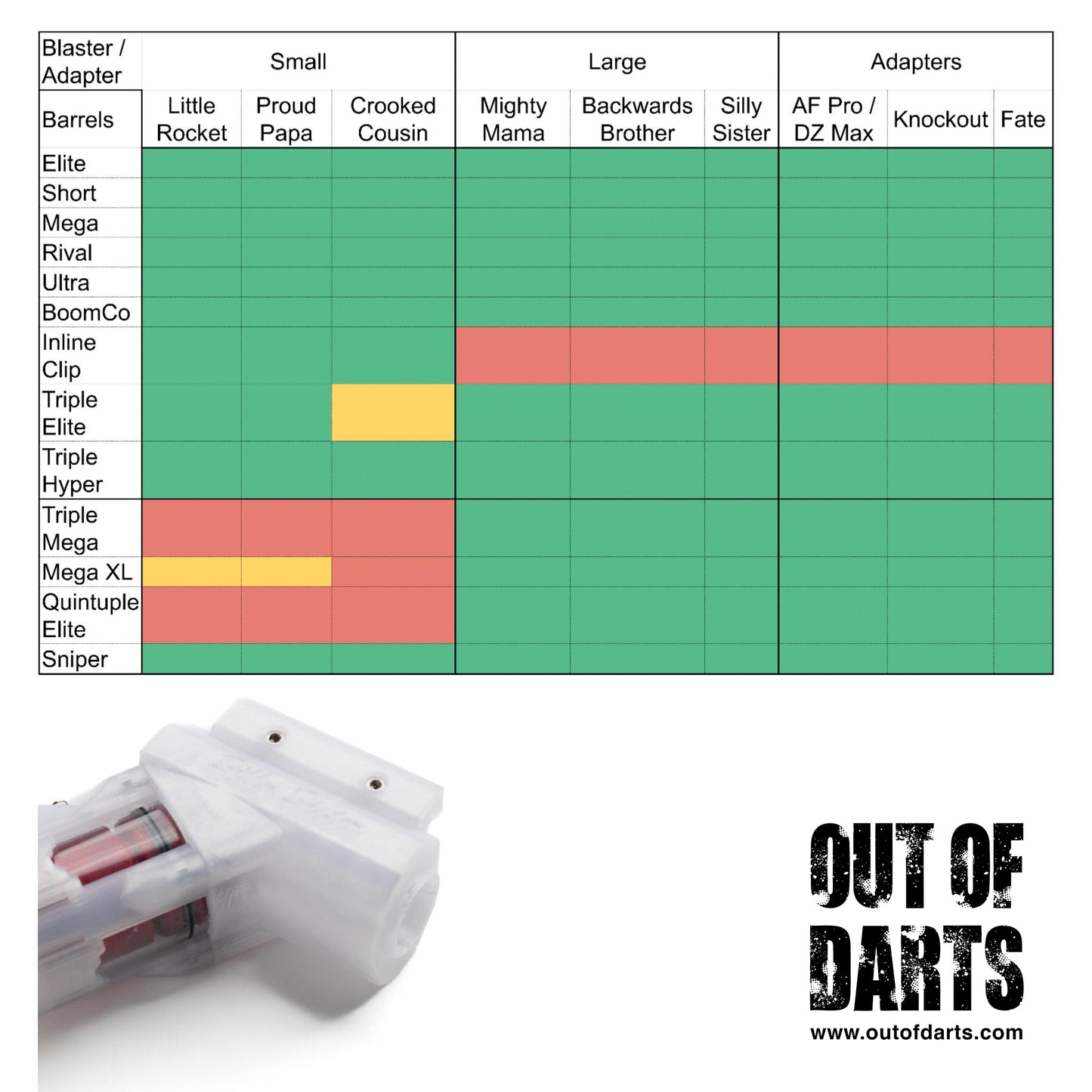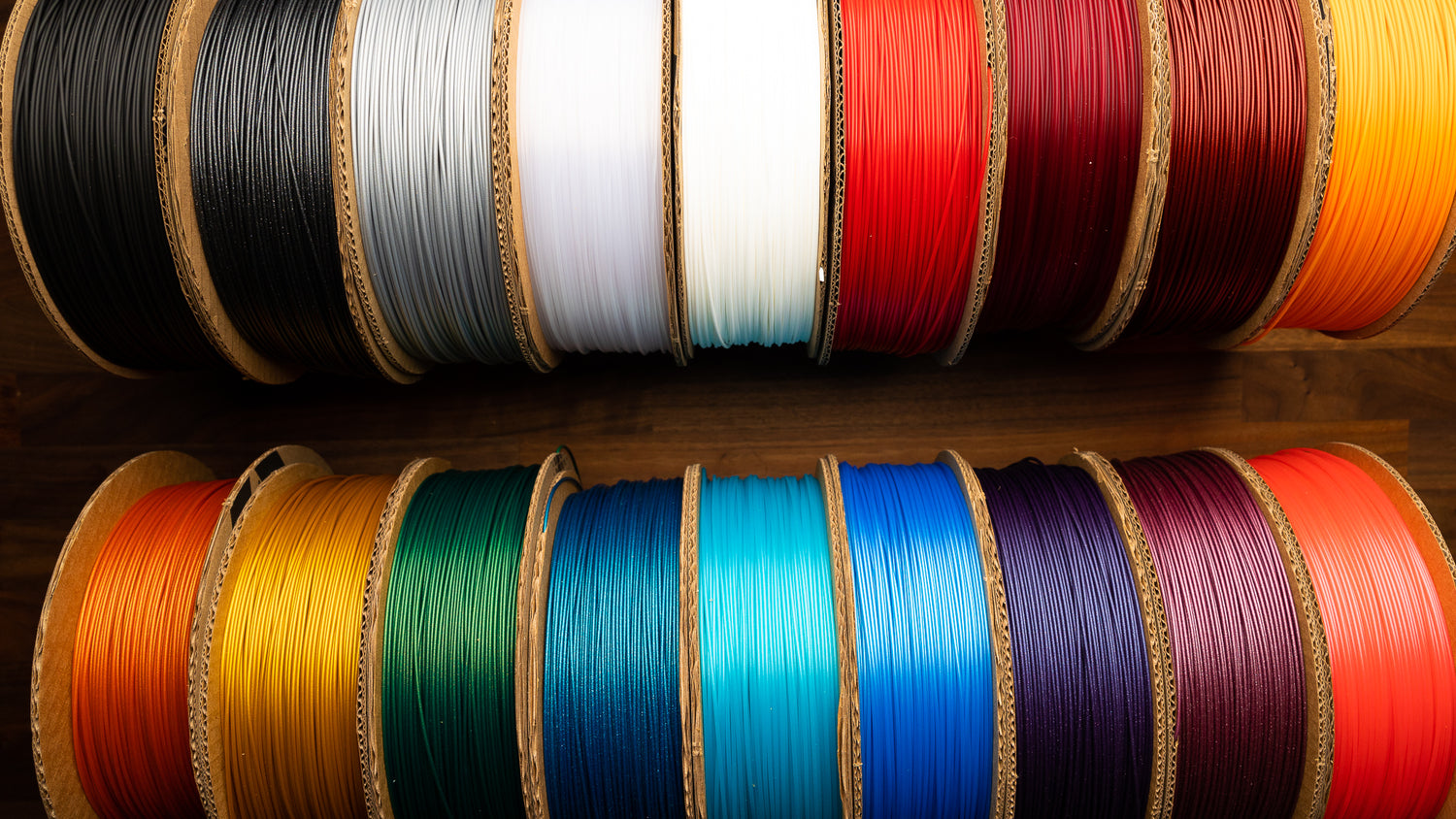 OUR FILAMENTS
We print primarily with Proto-Pasta HTPLA and PLA. Check out our full range of colors here.
3D printed parts should not be left inside hot cars or excessively hot environments.