Regular price
$175.00 USD
Regular price
Sale price
$175.00 USD
Unit price
per
Sale
Sold out
LEAD TIME: 5 to 10 Business Days
We've sadly had massive difficulties in producing the smart board required for the Proton pack. We hope to have them available again by the holiday season!
***BEFORE PURCHASING: Please read the entire listing to understand the requirements of the build***

Please note that since this product contains some larger, overnight prints this product can take 3-5 days to print and has a lead-time associated with it.  Pre-built Proton Packs can take 1-2 weeks.
PRODUCT DESCRIPTION:
The Proton Pack is a custom designed, 3D printed hopper feed that allows for 20+ rounds per second.  This is offered as a do-it-yourself kit, or a fully assembled and pre-soldered unit. 
*Do not use new Headshot ammo with this product, the rounds are too stiff and can damage your Proton Pack or connected blaster*
The kit version
requires
 soldering and assembly. Both versions will
require
 a 3S Jupiter (containing 3S Kraken motors), or other Rival blaster such as the Perses, Zeus, Hera, Khaos
(adapters sold separately)
. Standard Nerf Rival blasters will need to be rewired for a 3s battery to be compatible with the Proton Pack.
FEATURES:
• 
High reliability, jam-free design. Thoroughly tested.
• Compatible with absolutely any Rival ammo including 3rd party ammo, and cheap knock-off rounds. Ammo not included.
• 
High power custom designed brushless blower with 40 mm/H2o of static pressure. Enough to feed your blaster 4+ feet vertically
• 
3s Jupiter compatible (2s Jupiter Blasters can be converted to 
Kraken
motors to be compatible)
• 
Simple circuit, easy to install! Simply plug the pack's XT-60 cable into your blasters battery XT-60 plug. A standard re-wire for 3s is all that's required.
SPECS:
• 
20+ rounds/sec
continuous
ball feed
• 
30+ rounds/sec '
burst
' feed rate for first 50-60 shots (Note, fire rate is ultimately determined and limited by your blaster).
• 
Printed in PLA filament
• 
Battery tray dimensions: 137 x 49 x 25 (LxWxH)
• 
Dimensions of hopper unit without container: 8" X 4.75" x 4.5" (LxWxH)
• 
Dimensions of hopper unit with 1-gallon container: 14.5" x 4.75 x 5.5"
• 
Dimensions of 1-gallon container: 5.5" round, 10.5" height
• 
Dimension of hopper ring (size you would cut a container hole to attach to a flat plate): 4.75"
BOTH KIT AND FULLY ASSEMBLED OPTIONS INCLUDES:
• 
10x 3D printed parts: Hopper Body, Base Plate, Top Lid, Snorkel, Impeller, Custom Blower, Mounting ring, and Swiveling hose connector
• 
Custom PCB control board (features current detection and simplifies wiring!)
• 
2205 Brushless blower motor
• 
30A Brushless ESC
• 
1 High quality, high torque 37D-sized all metal gear motor
• 
20+ M3 stainless machine screws, square nuts.
• 
Pre-installed Brass inserts
• 
XT-60EM Mountable battery connector
• 7
' of red and black 14AWG wire
• 
4' of 1" hose
• 10 hose clips
• 
2.5mm Allen key (batch #1 didn't include this)
TO COMPLETE THIS MOD YOU WILL NEED:
• 
Rival compatible blaster re-wired with an XT-60 connector
• 
Hose adapter to your blaster (sold separately or optionally on this page)
• 
3s Lipo Battery. We HIGHLY recommend the high quality 2700mAh pack that is listed ONLY on this listing. We will make other options available as we get them in. The
Turnigy 1500mAh 35-70c pack
is also compatible.
• 
Soldering iron, solder and basic tools (for DIY-KIT version)
• 
A relatively airtight container, bucket, etc. You can purchase the 1-gallon container on this listing. 

COMMON QUESTIONS:
DUEL WIELDING: In order to duel wield the proton pack, you'll need two independent packs and blasters. While I did test a single unit that could feed two systems, the fire rate was cut approximately in half, so I thought it best to use two units, rather than reduce the fire rate by 50%. We do not recommend modifying the hopper to attempt a duel-wield out of a single pack, as the airflow on the fan will not be high enough to feed two reliably.
AMMO: Most 'Rival' sized ammo types are compatible, ammo not included.  We do not recommend the new Headshot ammo or other rival rounds that are stiff.

OPTIONAL ADD-ONS: (Discounted price just for this listing)
• Battery
• Charger + LiPo Bag + LiPo Alarm
ADDITIONAL LINKS:
• Jupiter blaster (3s required)
• Blaster side Adapters

Share
View full details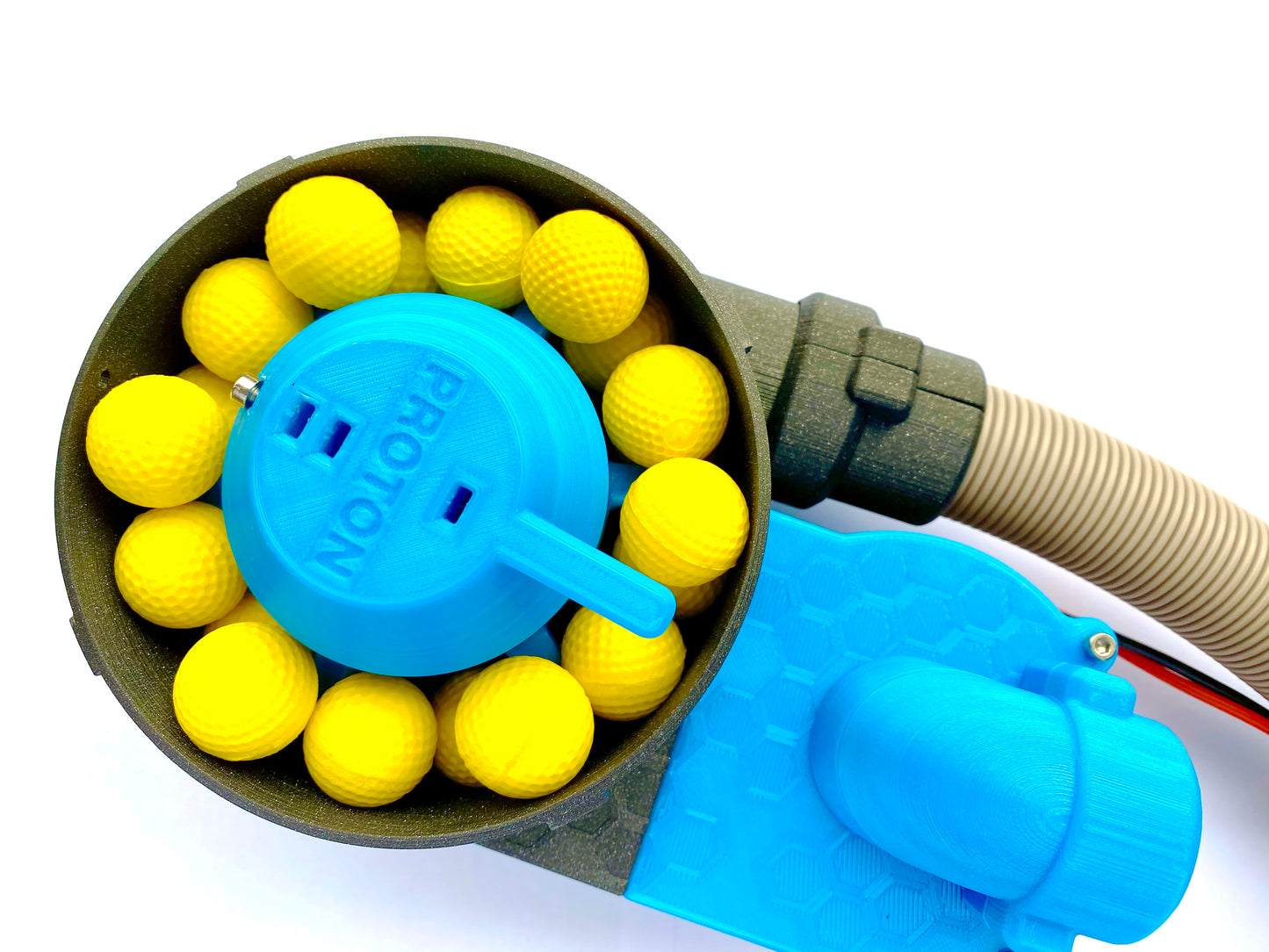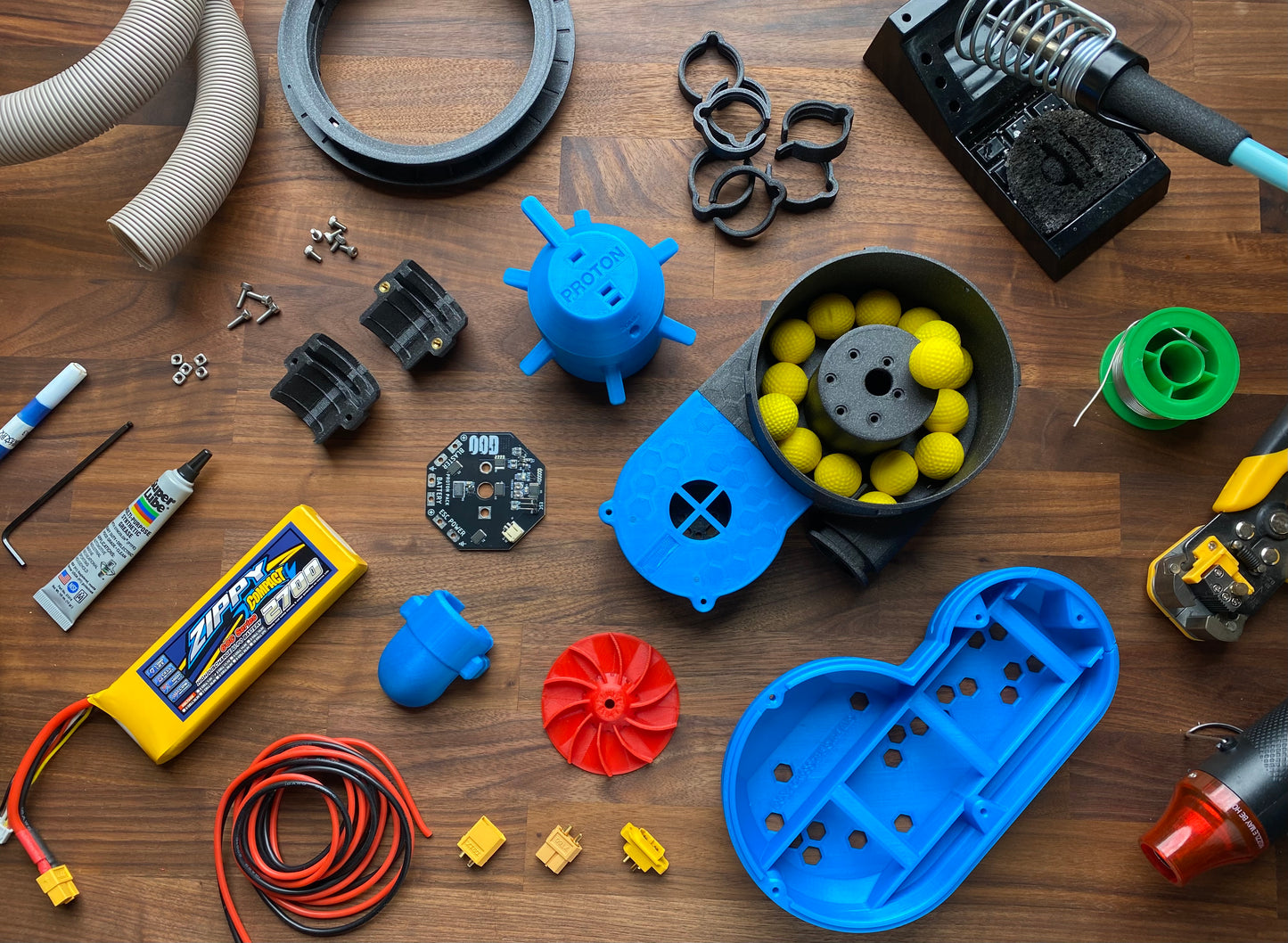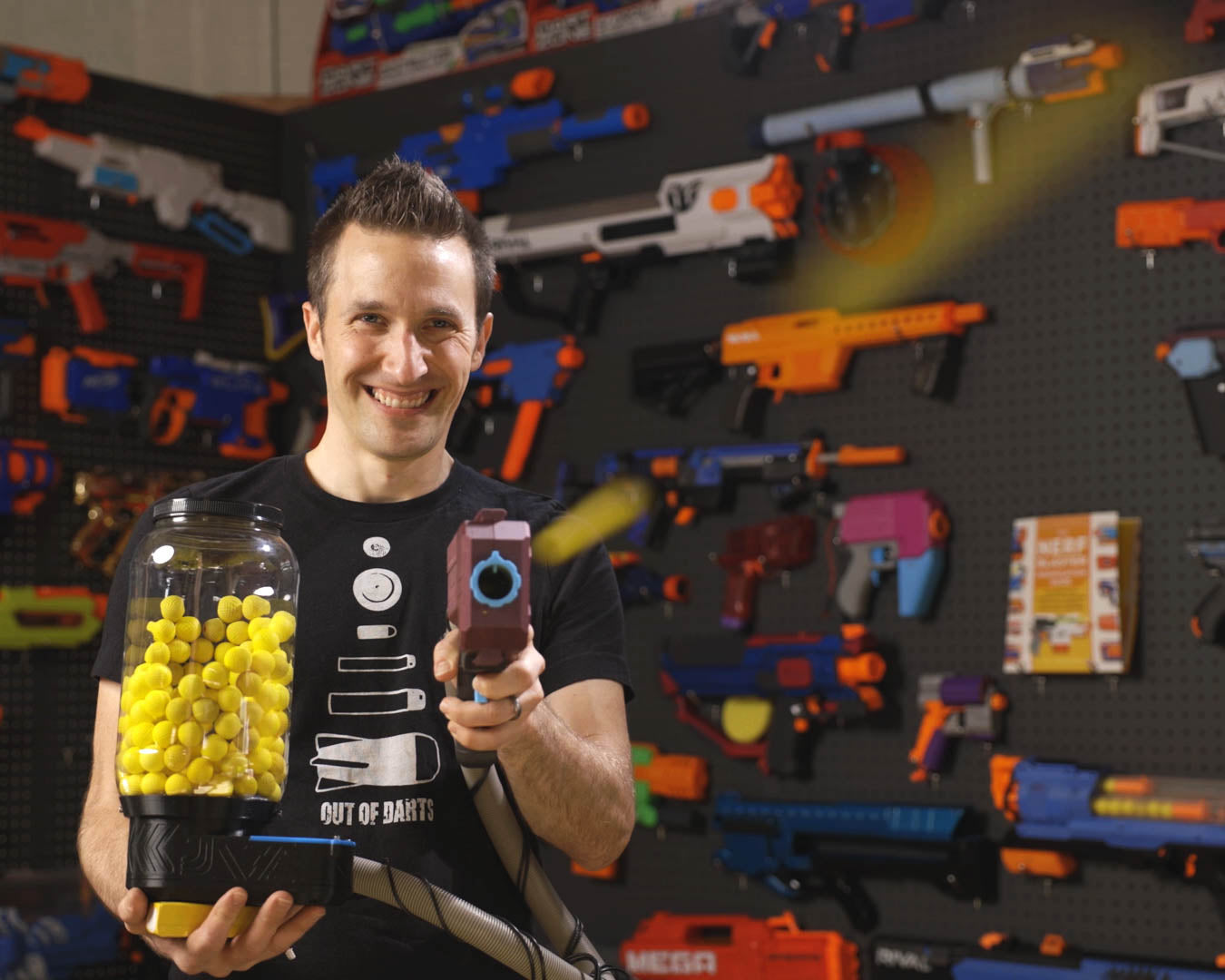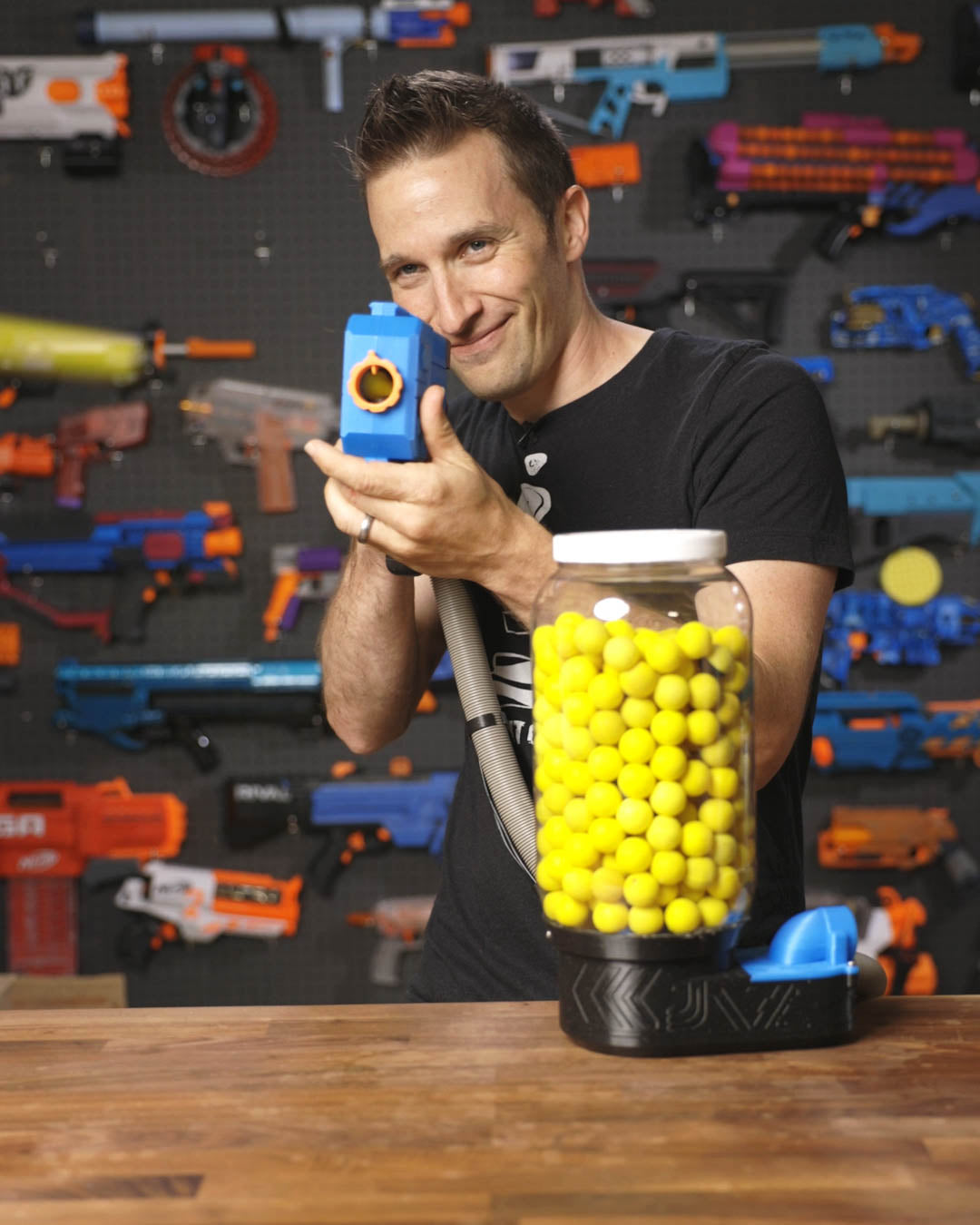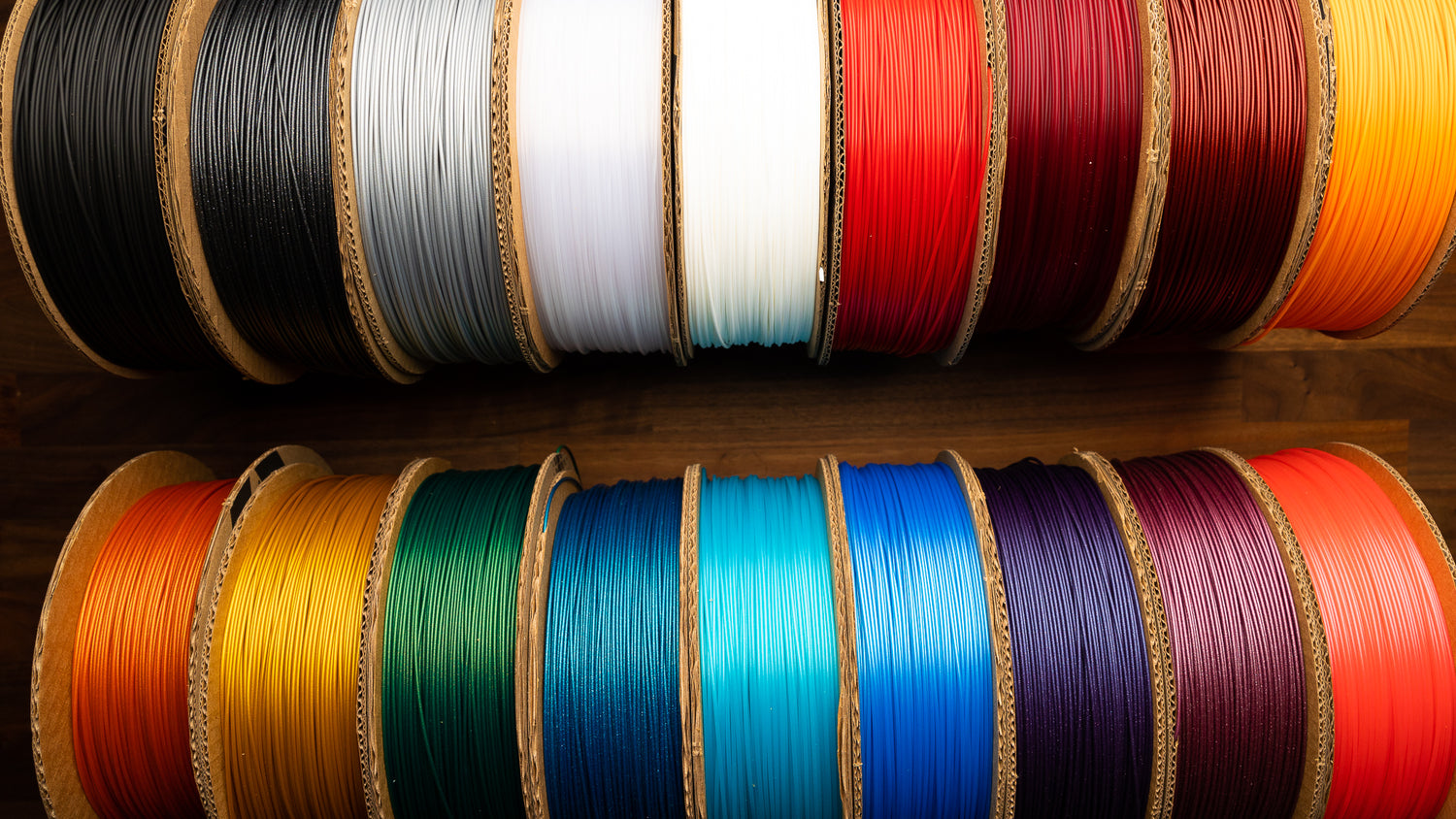 Great Innovative product.
I bought this kit for my son soon after it was available. We previously got the Jupiter kit and wanted the upgrade. This thing works awesome, so much fun and no issues at all. The assembly was not overly challenging, but you do need to be handy with a soldering iron and follow the instruction video. It has been a couple years in use and still working great. Excellent engineering!
Peak Flinging But Beware
SUMMARY: 10/10 This product is amazing. Using the proton pack with the Jupiter is amazing fun. It is honestly peak performance at close range, nothing compares!
BUYER BEWARE: This product can push the jupiter past it's limits. I run my pack+jupiter on 3s which was achieving 20 rps. At a nerf event, after firing 500 rounds in 5 minutes I noticed the flywheels were hot to the touch when clearing a jam. I ignored the hot wheels and after firing another 500 rounds in another 5 minutes the motors got so hot that they melted the flywheels. Only the flywheels were damaged, the motors and cage were fine, and replacing the flywheels only took 10 minutes. No big deal but fair warning: Prolonged heavy use with the proton pack can toast your jupiter.
MY RECOMENDATION: Get a proton pack it's one of my favorite things to run at events. Run a jupiter with a 6 rps pusher, on 3s it will have an ROF of about 10 rps, the lower ROF will strain the motors less and help them stay cool(10 rps is still plenty for most applications). If you are really belting out rounds, periodically feel your flywheels, and if they are getting noticeably hot, let it cool off for 20-30 minutes.
Pending Reviewish
To start I want to say the customer support is 6 out of 5 for sure. But the review is about the product.
I bought the kit. Built it in about 7 hours, going through the video on the site very slowly. After about 20 days of having the Proton Pack board fry, get a new one, install it, and burnt out again. They were kind to take a look at my proton pack and fix it. Messed up on the ESC power portion. Recommend they keep track of the cabling for the blow motor as that part tripped me the most in the video. I really love the idea and want this to work, but it's the same problem even after they fixed it. I emailed Out of Darts once again for Round 3. Pending Response. Reason why i am making the review as this has been going on for about 50 days now.
Great Blaster combo pack fun fun fun blasting foam!