Regular price
Sale price
$19.00 USD
Unit price
per
Sale
Sold out
PRODUCT DESCRIPTION:
Add some extra power to your Worker Swift Blaster with this 1.6 Upgrade Spring for Swift Blaster with Aluminum Barrel. This kit includes the recommended 550 aluminum barrel to pair with the 1.6 spring. This combination can also be paired with the 91 degree Worker scar barrel for improved accuracy. 
FEATURES:
• Compatible with the the Worker Swift Blaster
• Includes Worker 1.6 spring + 550mm aluminum barrel

SPECS:
• Material: Stainless Steel + Aluminum
• Weight: 130g
• SKU: W0558

Share
View full details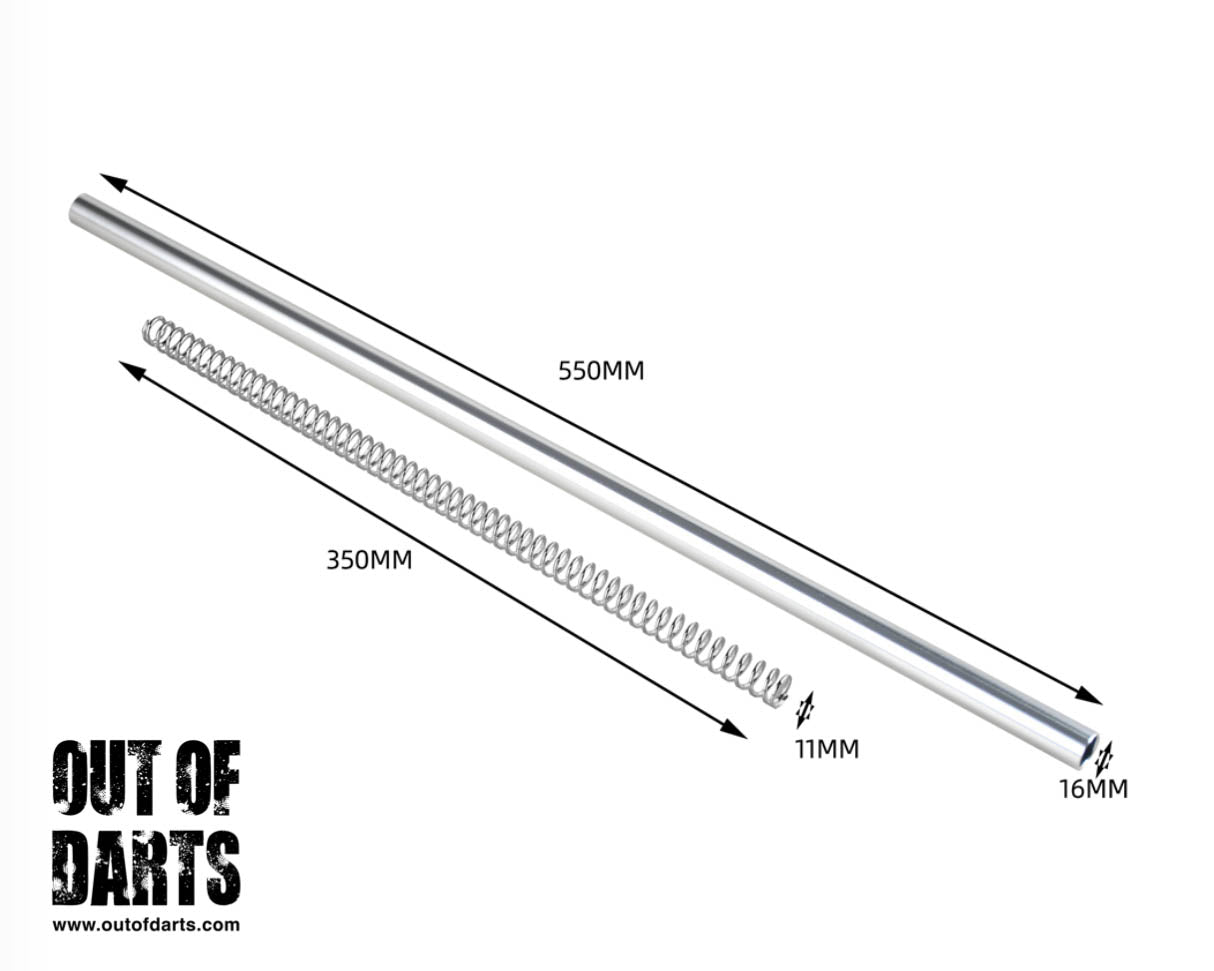 Worker 1.6 Upgrade Spring for Swift Blaster with Aluminum Barrel
Hi,
First, I wanted to thank you for taking the time to write a review, far too few people give us feedback and feedback is always appreciated. It's the only way we can ultimately improve our products, website and customer service.
I wanted to write you to see what I could do to improve your experience with the Worker 1.6 Upgrade Spring for Swift Blaster with Aluminum Barrel. I was a bit surprised by the feedback, since I've sold a considerable number of these and haven't heard any similar feedback from other users. This leads me to wonder if your print had a defect.
If you have the time, I'd love additional feedback, and the opportunity to provide you with a replacement part if needed. Any chance you could send a photo of the issue?
Let me know your thoughts, thanks again!
Good upgrade for swift
The spring barrel really improve the fos of the darts, coupled with a scar barrel, it have a very good improved performance.
Top-notch performance, when it performs
This blaster is a genuinely amazing experience to use out of the box. I played around with both barrel-spring combinations, as well as the supplementary 1.6 spring and extended barrel, and it fires with arguably concerning power and accuracy. As a test to make sure it couldn't actually injure anyone, I used the highest-power spring more or less point-blank, and the circle where the dart hit me is still visible a couple of weeks later. To be clear, this is not a complaint.
What I do have to complain about, unfortunately, is that I ran into a catastrophic failure a couple days in. After several rattling misfires accompanied by some haunting twangs from the spring inside, and after removing the barrel to blow out a stuck dart twice, I noticed that one of the top prongs on the magazine had cracked diagonally, and a sizable triangle of plastic had fully come away. I'm not sure whether the magazine cracked and caused the bad loading, or if persisting in using the blaster through loading issues then damaged the magazine, but either way, it's just never a great look when your blaster straight-up breaks. I've ordered a couple replacement magazines, so we'll see if that really was the issue. Even with the jams, though, I really can't in good conscience rate this blaster badly. It's just that good.
Just right.
The 1.6 hits just right. A great balance of power and easy priming.
exactly like Longshot barrel but longer
I bought it for the barrel and it is great. To all that don't know, its looser than 17/32 but the darts don't fall out like 9/16. For all those curious, it works with the worker longshot pusher (extreme mods needed to use 55 cm barrel of course)
Maybe the Swift is a Longshot reskin