Regular price
$7.50 USD
Sale price
$7.50 USD
Unit price
per
Sale
Sold out
PRODUCT DESCRIPTIONS:
The Worker Scar Barrel Tube for Short Darts is compatible with the Nerf Retaliator an Worker Prophecy P Short Dart set. Compatible with 19mm diameter front tube.
FEATURES:
• Compatible with Nerf Retaliator with Worker Prophecy P Short Dart Set
• Decorative muzzle
• Compatible with 19mm diameter tube

SPECS:
• Material: Injection Molded Plastic (no strings)
• Weight: 15g
• SKU: W0254 
• Outer Diameter: 19mm
Share
View full details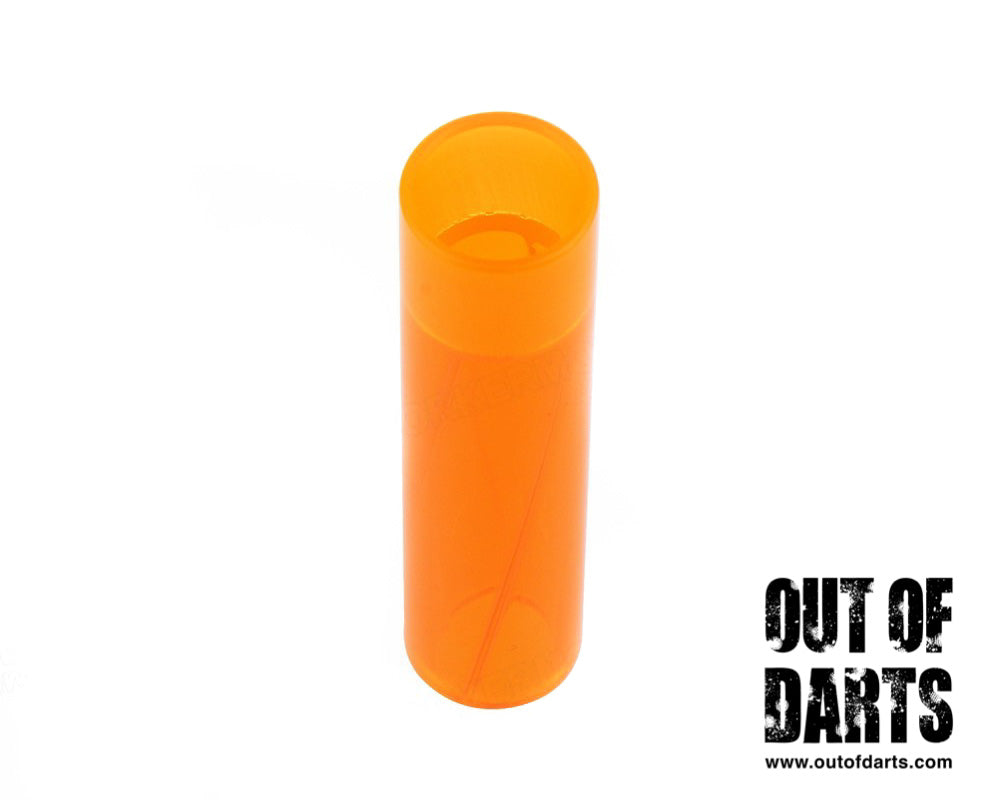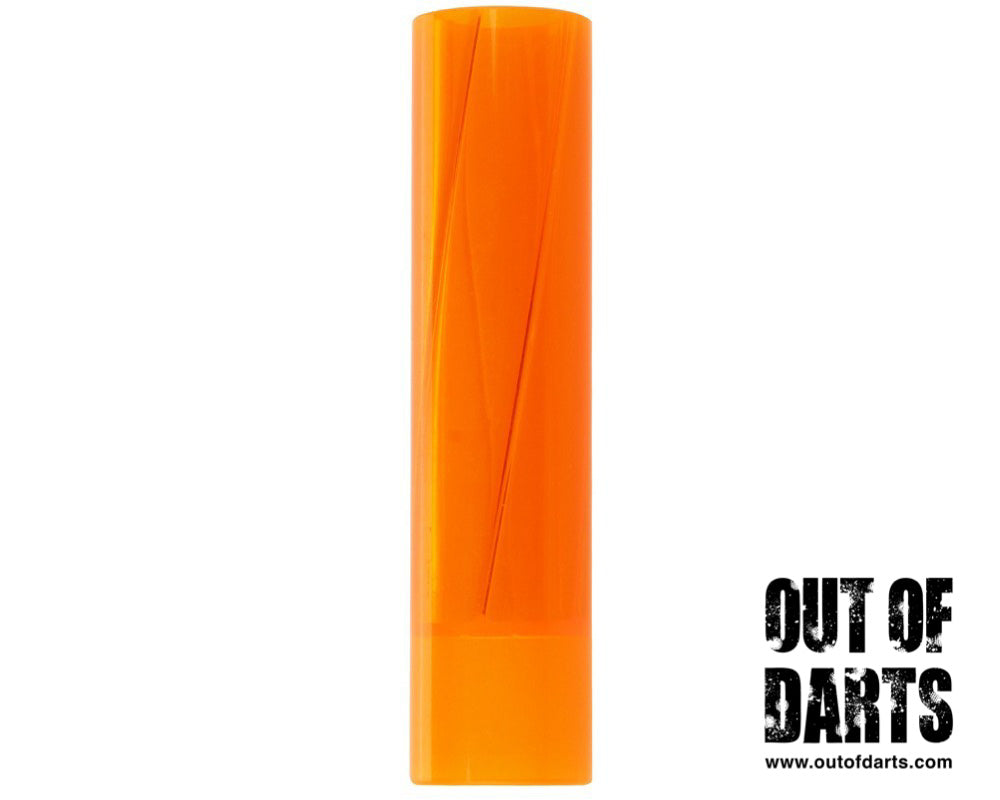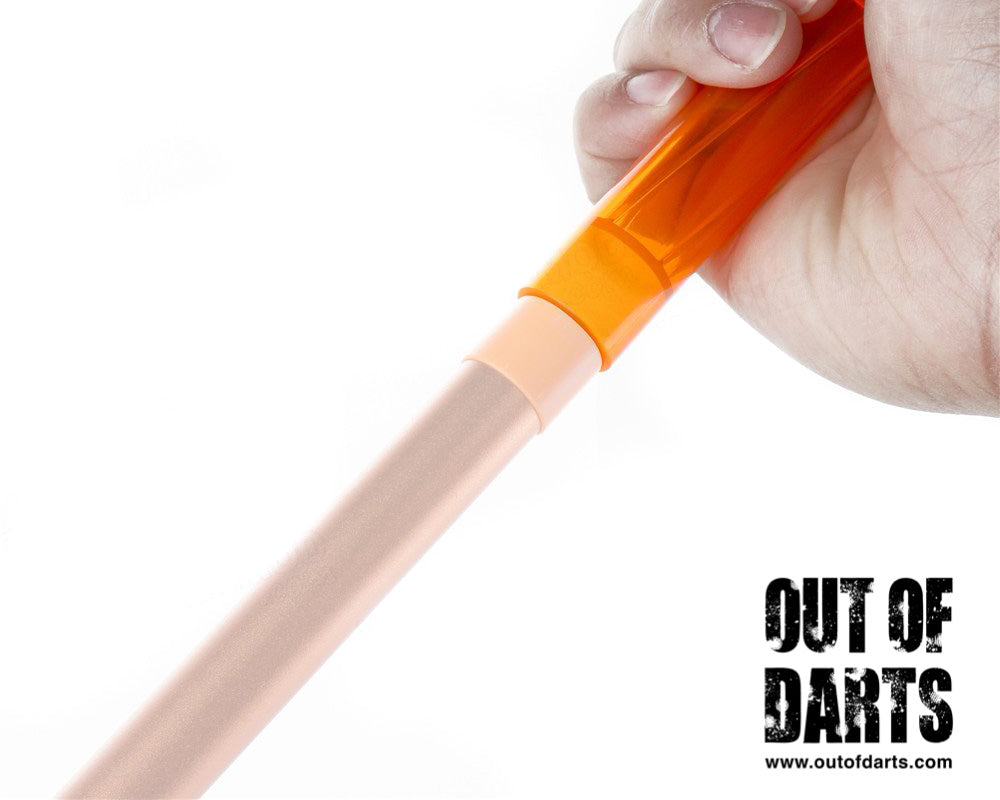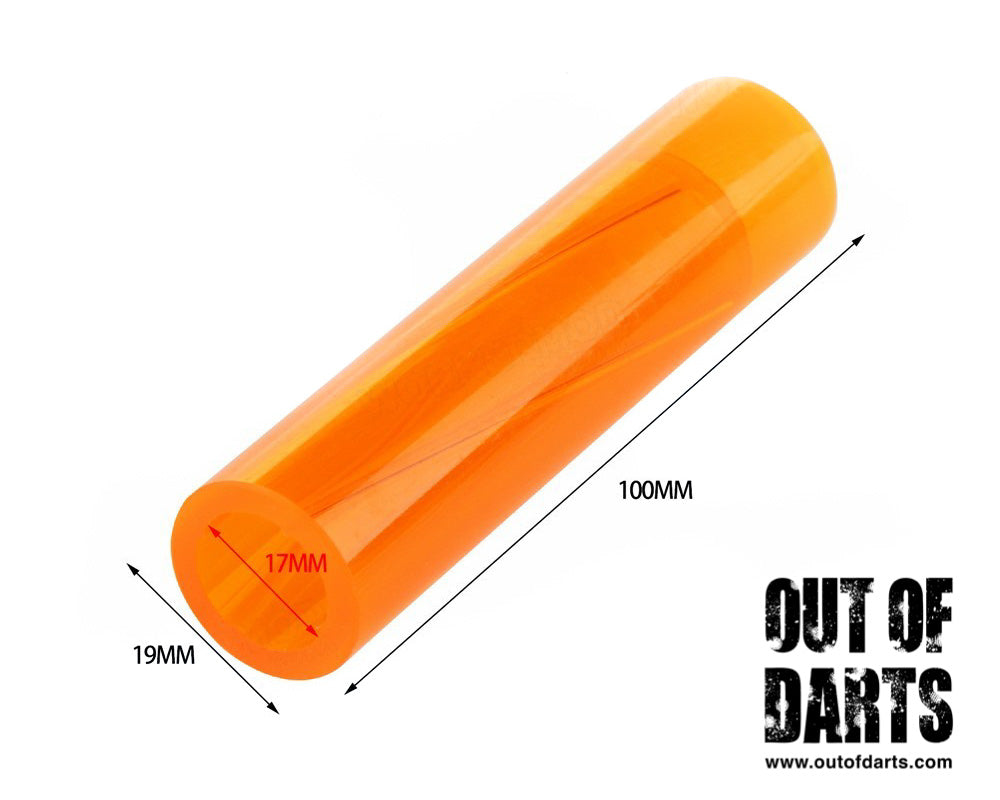 Nice little barrel big improvement in accuracy.
This SCAR- like barrel is not only cool looking with its transparent orange color, but it actually did improve my shots quite a bit. You can expect to lose a get FPS out of the trade……but what is speed without accuracy?
Idk
So I got this for my modded retaliator with a expanded short dart kit and instead of fitting nicely on my barrel it snapped so I cannot say a review so 1 star. :( (hate to give a negative review but it is what it is.)
Perfect for needs
Got it to bring my MK2.1 under 120fps pistol cap at my groups games. No having to tweak internals! Fits the slightly wider 2.1 muzzle point perfectly.
For the Greater Accuracy
Willing to lose 5-10 fps for a great accuracy upgrade? Then buy this!
Seriously, my darts can hit targets now easier (my aim is still bad though) not much to say here, just improves your accuracy at the cost of only 5 ish fps.
Increases accuracy, but very tricky to remove (Updated)
Shipping was fairly quick as usual and part came packaged well with no signs of damage. Price for shipping was reasonable as well.
The barrel itself goes in rifled-side towards blaster if it is a stock-barreled DZ Pro blaster. Getting them in my Nexus and Stryker was easy HOWEVER getting it out has proved very difficult. I have been told by OOD that the muzzle fits of some Nexuses can be tighter than others, and with most SCAR barrels (injection molded, printed, bearing, etc) fitting on and off is dummy proof.
Getting them in and out of my Dictator and Conquest was fairly easy though.
I learned after weeks of the muzzles being stuck that my tip for removing them would be to tug them in directions non-parallel to the blaster's barrel. What I mean by this is that instead of pulling it directly straight away from a Nexus/ Stryker, pull and/or wiggle it slightly at an angle.
Overtime the barrel got easier and easier to pull out from blasters (but is still a a nice, snug and reliable fit). I have no idea if it's my constant and various efforts to pull it out or how I stored it that made them easier to pull out though, or if it has to do with the blaster muzzle attachment points.
Worst comes to worst you can use a rubber plier. The muzzle is surprisingly durable plastic however it is still plastic, so keep in mind its not invincible like an old-school Nokia Phone, so it will crack if enough force is applied.
On the performance side of things the barrel gave me noticeably tighter groupings with half length and especially full length darts. However, depending on how the barrel is twisted on some shots swirled left. This was even after I opened my Nexus to make sure the aluminum barrel was aligned correctly, since some Nexuses have unaligned and/or loose barrels out of the box. Once you get a feel of twisting around the barrel a little it'll tighten and zero in the shot groupings.
As for FPS the scar barrel surprisingly gave my Target Max half darts a 5-10% increase on velocity, which is strange because scar barrels usually lower velocities. However on most full length darts I tried it did reduce velocity from 5-25 fps depending on how fat the dart head was.
I got similar results in my stock Dictator as well but less consistent (the dictator has a very loose and very unchamfered barrel tube though, but it it still helped improve it nonetheless) and my stock Conquest.
Overall this is a pretty good product for it's price. Its the cheapest pre-made one I could find, made of injection-molded plastic so it has less inconsistencies than 3d printed scars, and is stringless; just more durable and simple. If you don't want to fool with string-based muzzles go with either this or a bearing-style "scar" muzzles. The reduction of FPS is lower than string scars however not as tight of groupings as string or bearing scar (it's still an improvement though).
My issue is that NEITHER Worker nor OOD specified on their sales listings which side of the scar goes into which blasters and that some are an extremely tight fit once in, as well as not specifying how to remove from a barrel that is extremely tight.
9/10 product
10/10 shipping cost:time and product value
5/10 customer service. They did respond to my first email on how to remove this but did not follow up to my response question and neither OOD or Worker warned of it's tightness or described how to remove it in their product descriptions
I still have ordered 3 now that I know how to remove it from difficult barrels.