Regular price
Sale price
$4.00 USD
Unit price
per
Sale
Sold out
PRODUCT DESCRIPTION:
The Worker Triad EX-3 5kg Spring will help to increase your range and speed in your blaster.  Works well with the N-Strike Elite Triad EX-3.
SPECS:
• 
5kg Rated
• Material: 
Stainless Steel
• Weight: 70g
Share
View full details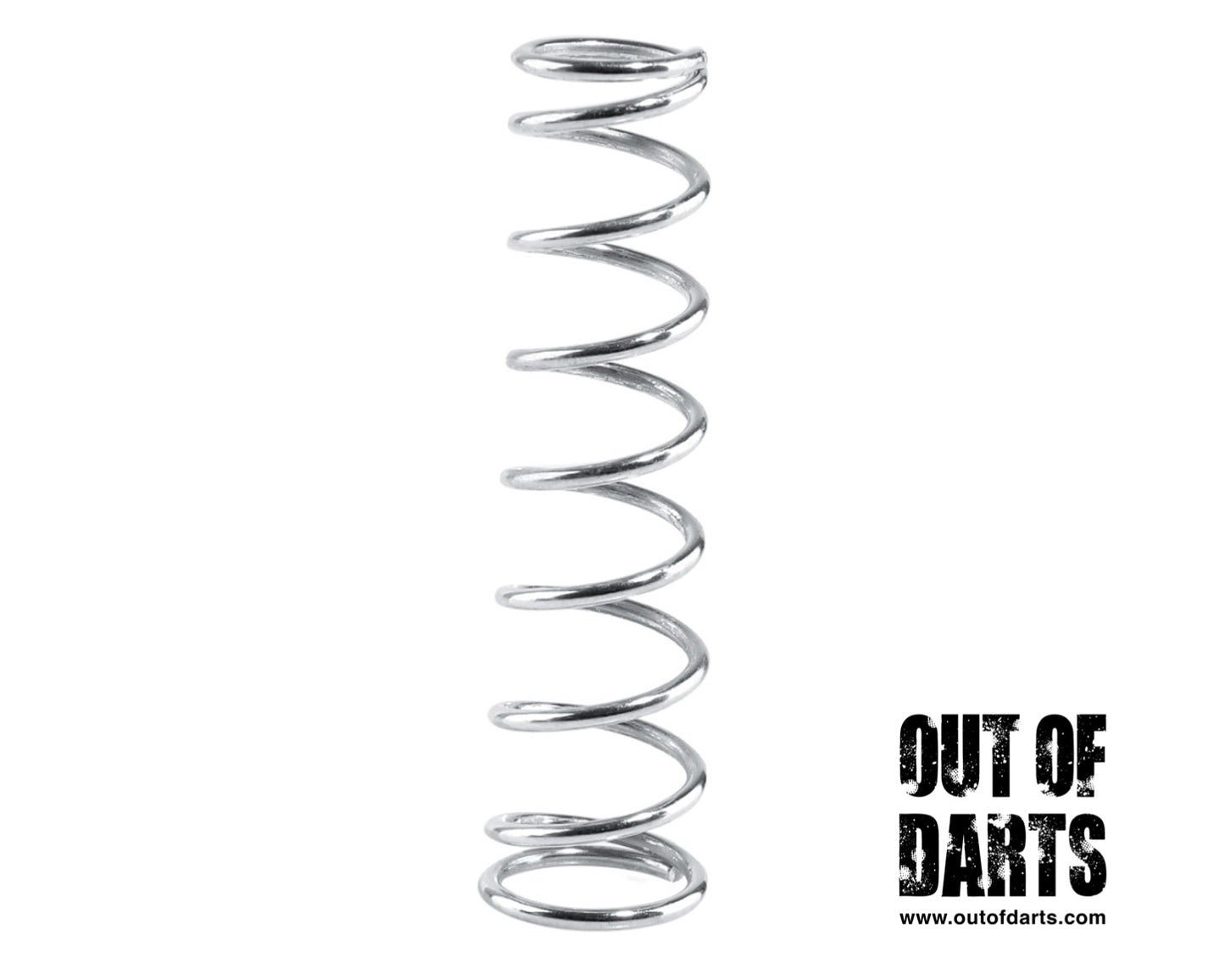 Works, and in a Maverick too! (Ordered 2)
Shipping was well-priced and packed well, along with arriving fairly quickly.
The spring works well in the Triad and increases FPS by 5-20 fps with lubing up the plunger head. I do NOT recommend putting more than 1-2 layers of Teflon tape under the O-ring; I decided it was better off not using teflon at all. It is a few millimeters shorter than the stock spring but still works perfectly fine, and the prime is just ever so slightly harder.
Conveniently for me, this happens to be almost the exact same dimensions as a stock maverick spring and fits in a maverick well, but is noticeably stronger. With this spring as well as some greasing and air restrictor removals I am shooting 15-40 fps harder than before. Prime is slightly harder but nothing major.
Overall this is a solid product that serves its job and even works in other pistol-sized springers its not even advertised for (such as my Maverick and a previous review for a blitzfire) (unfortunately I don't have the measurements for the spring before I put them in but I'm willing to bet it would fit in a lot of blasters with smaller plungers). Pricing is also pretty good; other Chinese-based sellers may sell it for slightly cheaper but it takes weeks longer to arrive (at least to the US) and the language barrier will make possibly needing customer service more difficult.
10/10 product
9.5/10 shipping cost:time and product value
Worked perfectly for my Blitzfire upgrade.
Had to increase the catch spring force, but other then that it is now shooting stefans like lasers. The only thing I could ever want for it now is a t-pull. This is a great spring, the shipping was also great.
Amazing!
The spring worked just as intended. Seeing the reviews I was doubting that it would increase my performance, but it made it MUCH better! I had an old Elite white Triad EX-3, and it wasn't working to good so I grabbed this replacement/upgrade spring. Performance was at least 5-10 FPS better. I used grey waffle head darts from this site. Thank you!
Works As Intended
I was initially skeptical about this spring based on other reviews, but upon installation, it seems to work as intended. I installed it into a Triad XD (white body with blue accents) with no other mods, and tested it with Adventure Force waffle darts.
The stock spring returned an average of 62 FPS over 30 shots (10 per barrel). With the 5kg installed, the average jumped to 69 FPS (an 11% increase), with quite a few shots in the mid 70s. The 5kg spring is a bit shorter than the stock spring, bit it fits snugly and doesn't rattle.
All in all, the performance increase isn't overwhelming, but it works as advertised and does bring the blaster up to useable velocities. No complaints here.
Lower/comparable performance to the stock spring
Unfortunately, I have not had a great experience with this spring in my triad ex-3. The spring is slightly shorter than the stock spring, yet the spring tension seemed comparable to it as well, meaning the overall strength would be lower.
Modification was a simple spring upgrade with no additional work. When firing, the catch feels less crisp, and it also seems to have lost some range and velocity when firing over several times. I switched back to the stock spring and seem to have slightly higher performance and accuracy.
If there are additional modifications required to gain the full potential of this spring, none were provided and I'm not sure why the stock spring wouldn't benefit in the same way. Overall was disappointed with this spring and might look into other options when it comes to upgrading the triad.