Regular price
$90.00 USD
Sale price
$90.00 USD
Unit price
per
Sale
Sold out
LEAD TIME FOR KITS: 1-3 WEEKS
PRODUCT DESCRIPTION:
Herja (Pronounced 'Her-yah') is the ultimate side-along blaster. Featuring a unique mounting system and remote trigger option, this blaster can be mounted to a variety of primary blasters. This 3D parts + Hardware kit contains everything you need to build your own Herja blaster. Just add a battery (450mAh or 550mAh XT30), alarm and LiPo bag. Herja accessories and alternative parts can be found here.

*Do not use wide tipped darts in this blaster, they will cause it to jam.  Worker Gen3+ have had the best results in our testing.
FEATURES:
• Designed by Tarik
• Powered by Loki motors
• Build-it-yourself kit
• Ultra-compact mountable blaster system
• Multiple RoF options
• Talon compatible short-dart blaster
• Remote switch option
• Mountable to all rail types via chosen adapter
SPECS:
• Material: PLA printed filament
• Average Velocity (Standard Deviation): 97 FPS (9)*
• Dimensions: 164.5 x 44.3 x 85.3 / 6.5" x 1.75" x 3.36" (LxWxH)
• Weight:
• SKU: HERJA_3DKIT
*Note: For consistency, we only recorded the first shot from each burst in our 20-shot average. Real-world performance may be higher.
ADDITIONAL LINKS:
• 450mAh LiPo battery
• 550mAh LiPo battery
• 550mAh LiPo battery (High drain)
• Tachi 29-round Magazines
• Talon 15-round magazines
Share
View full details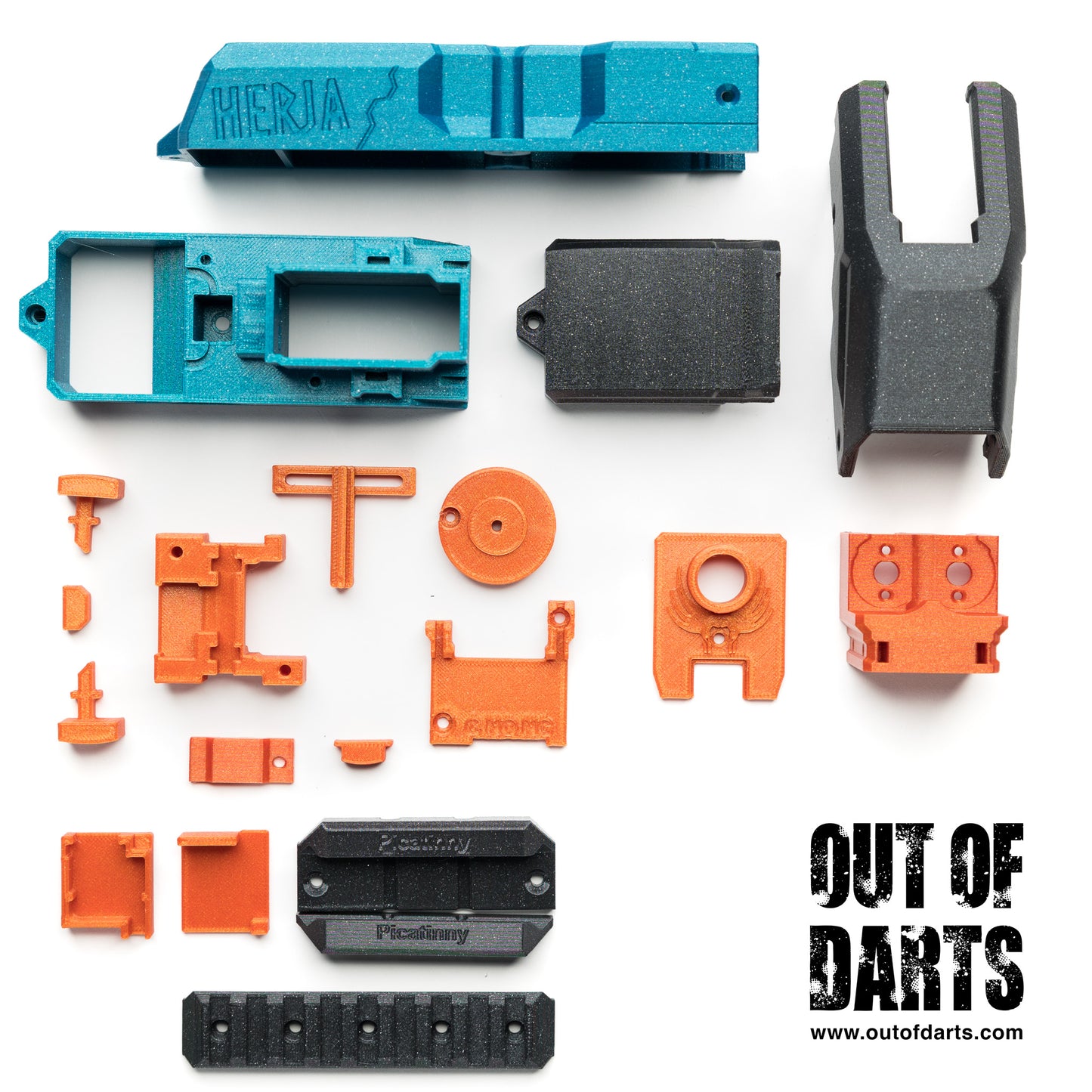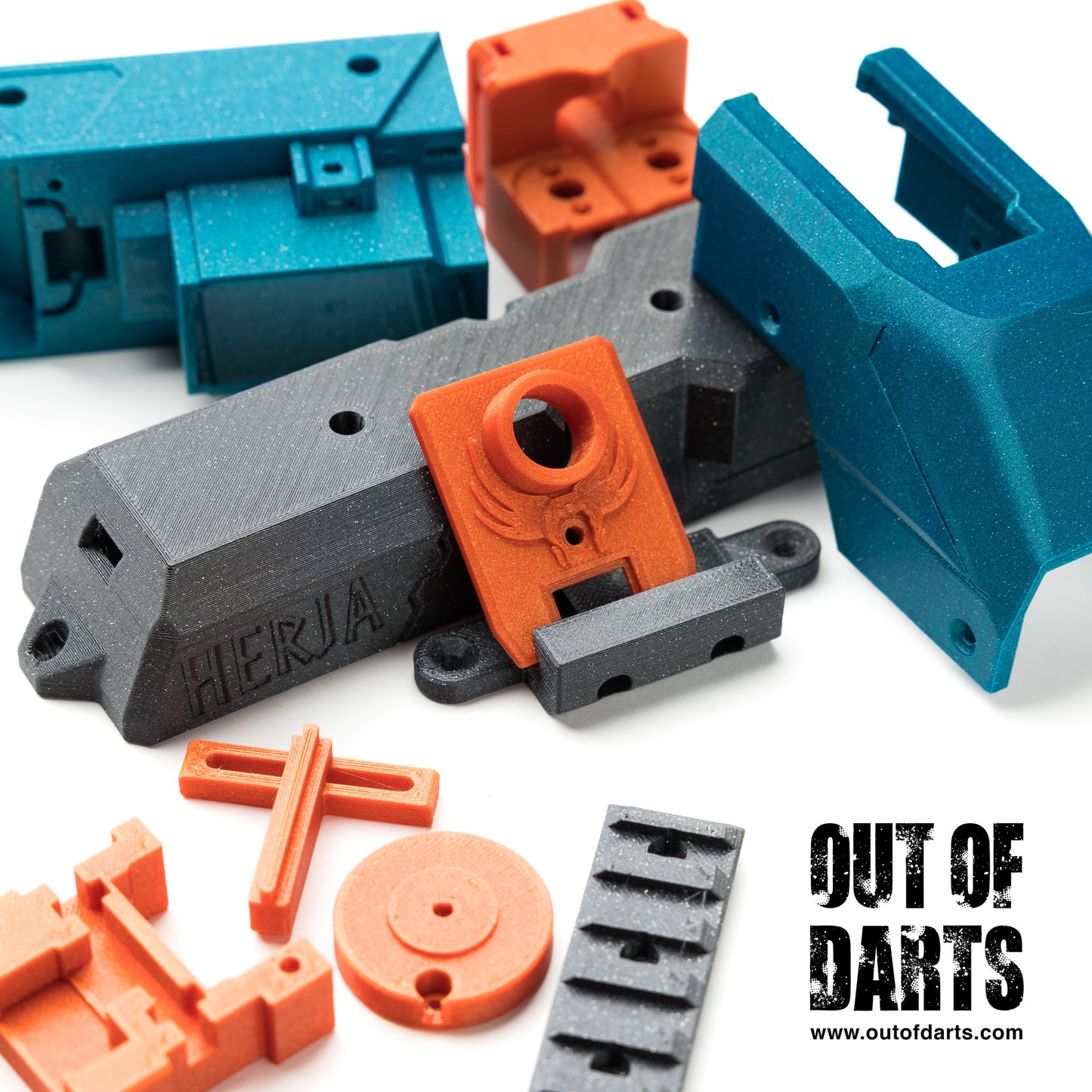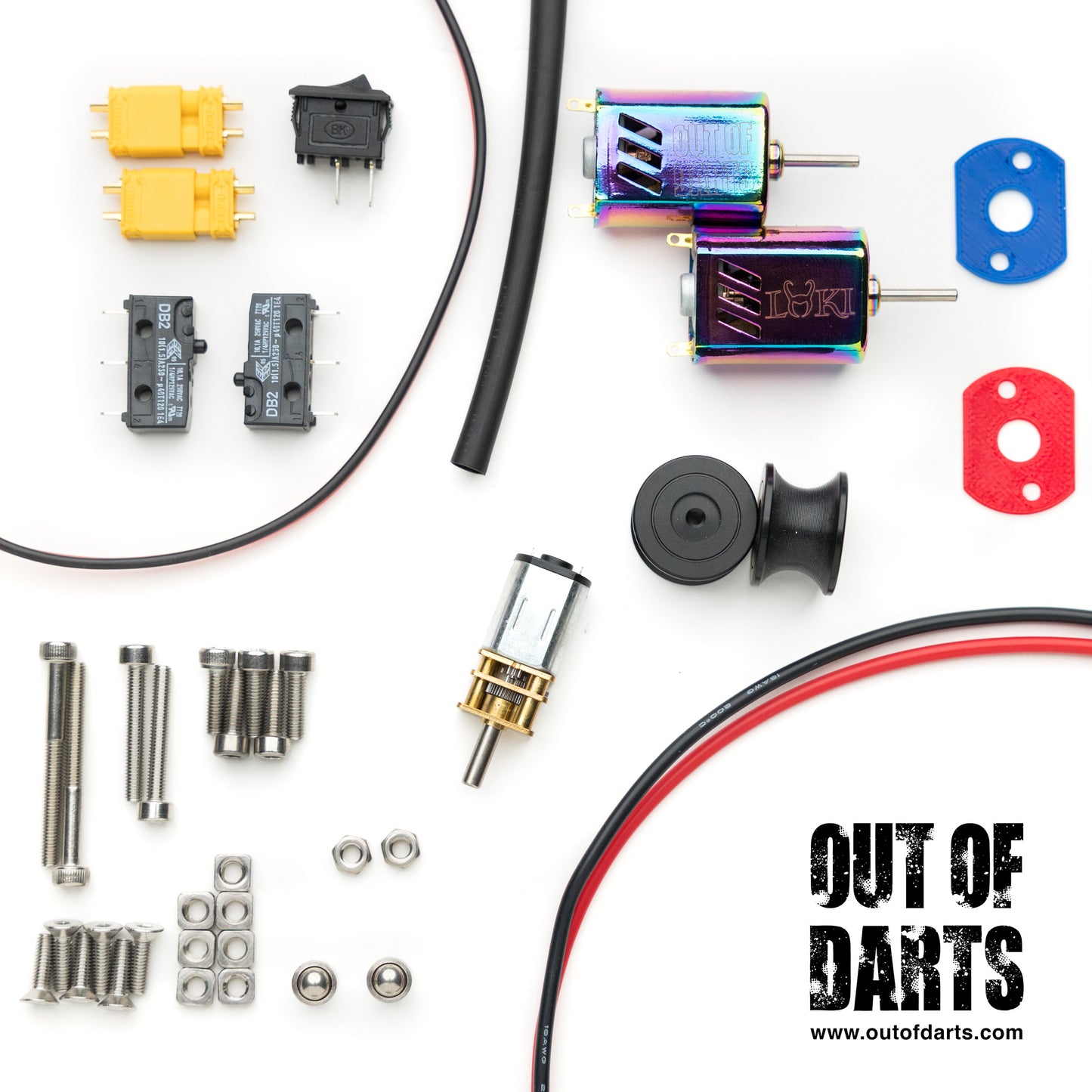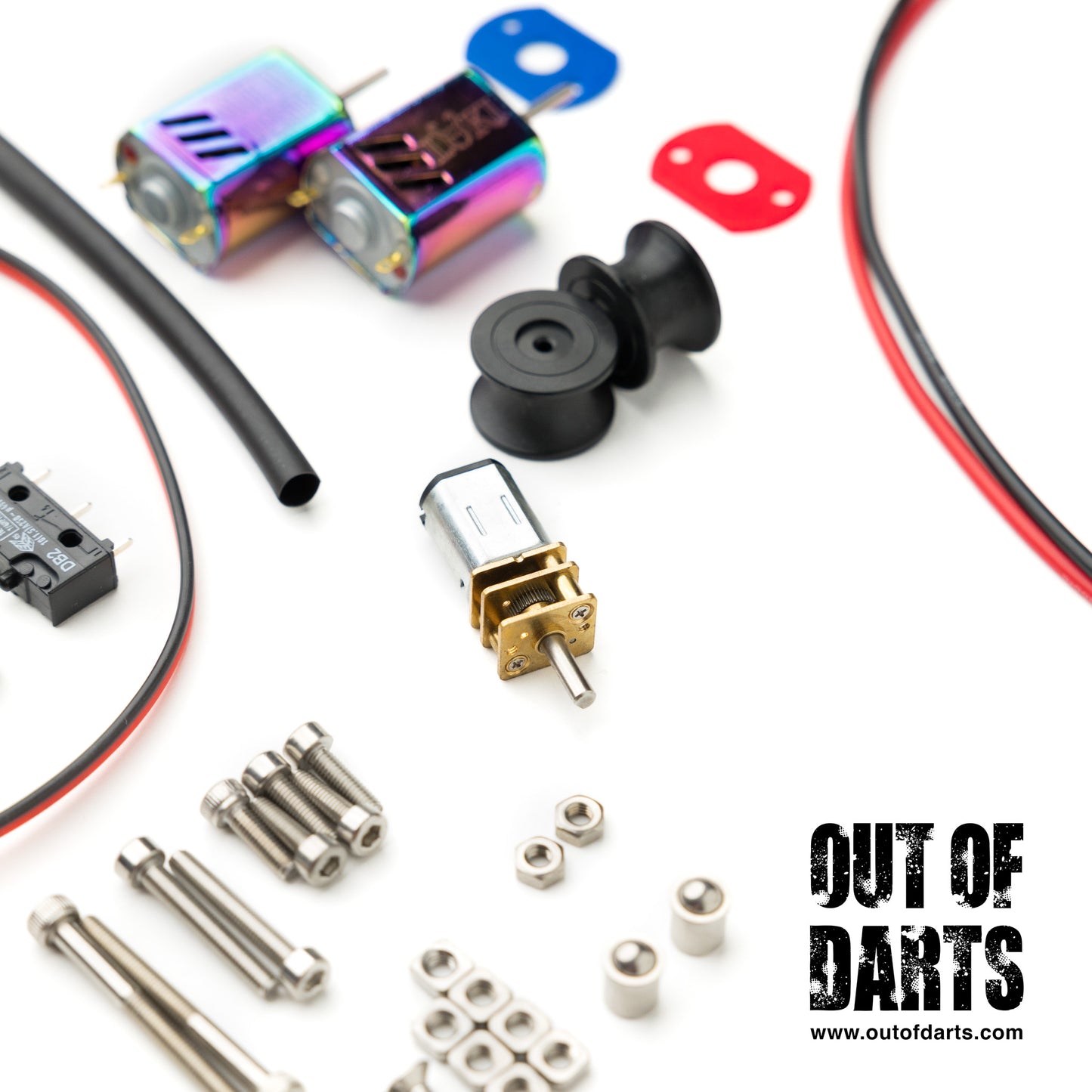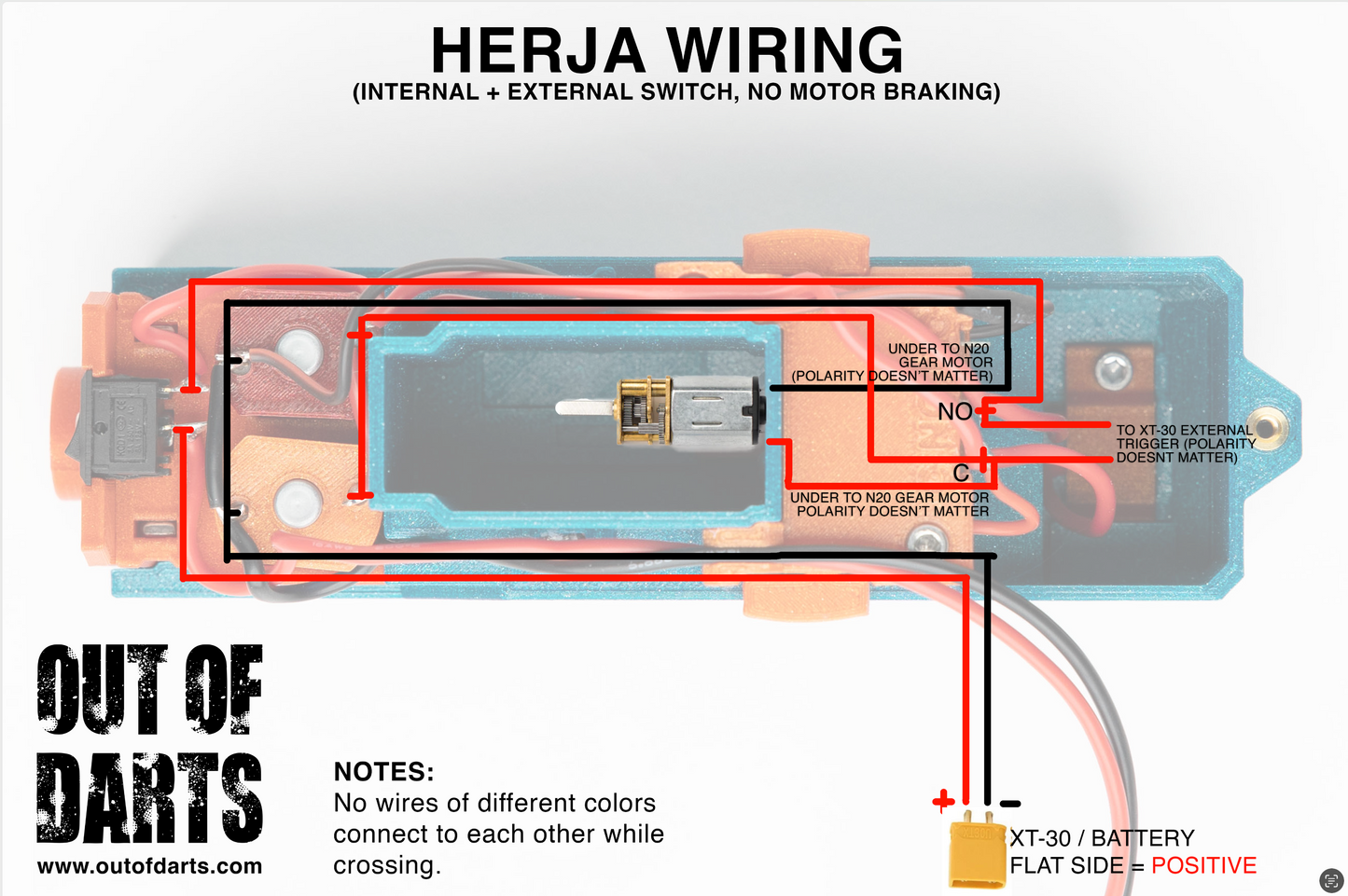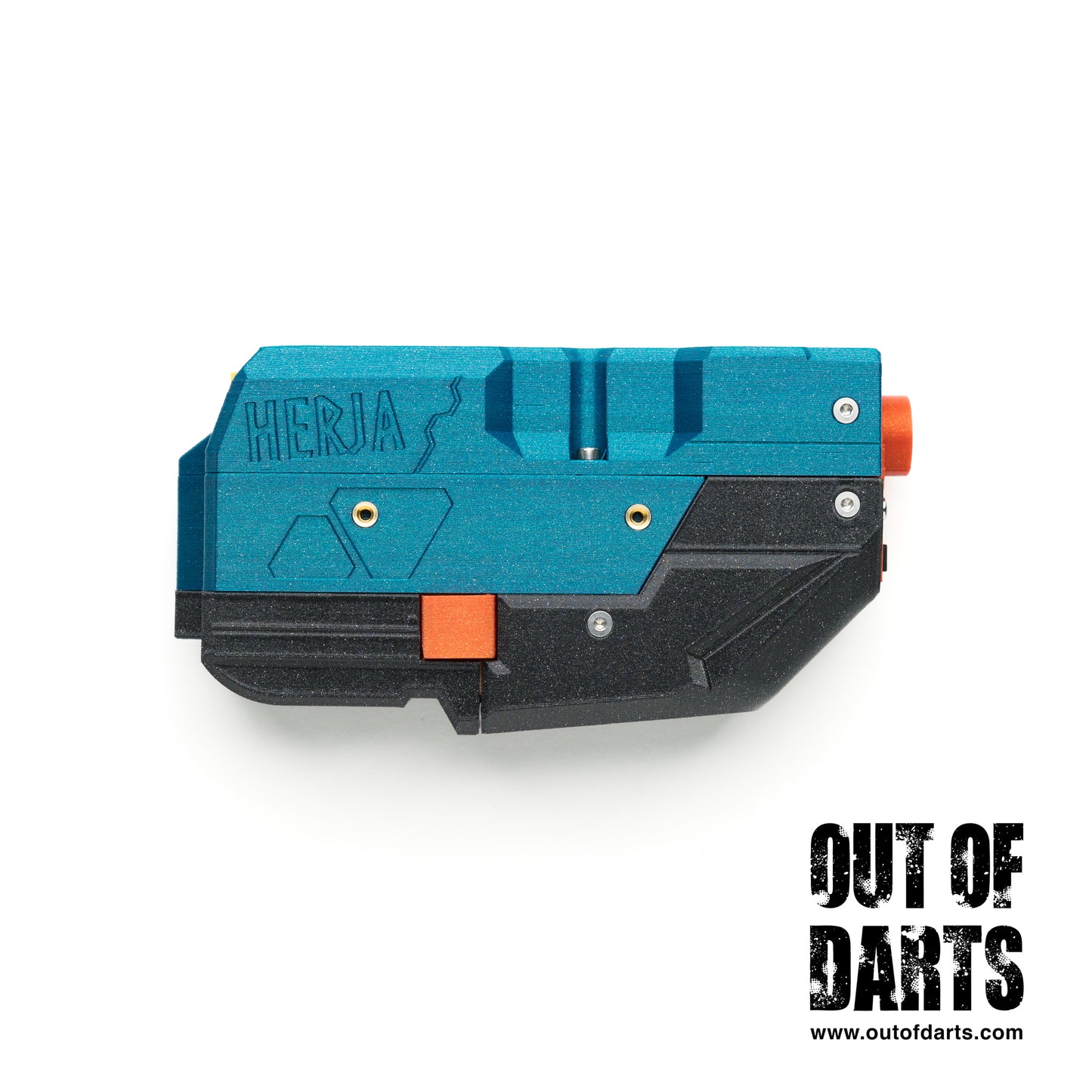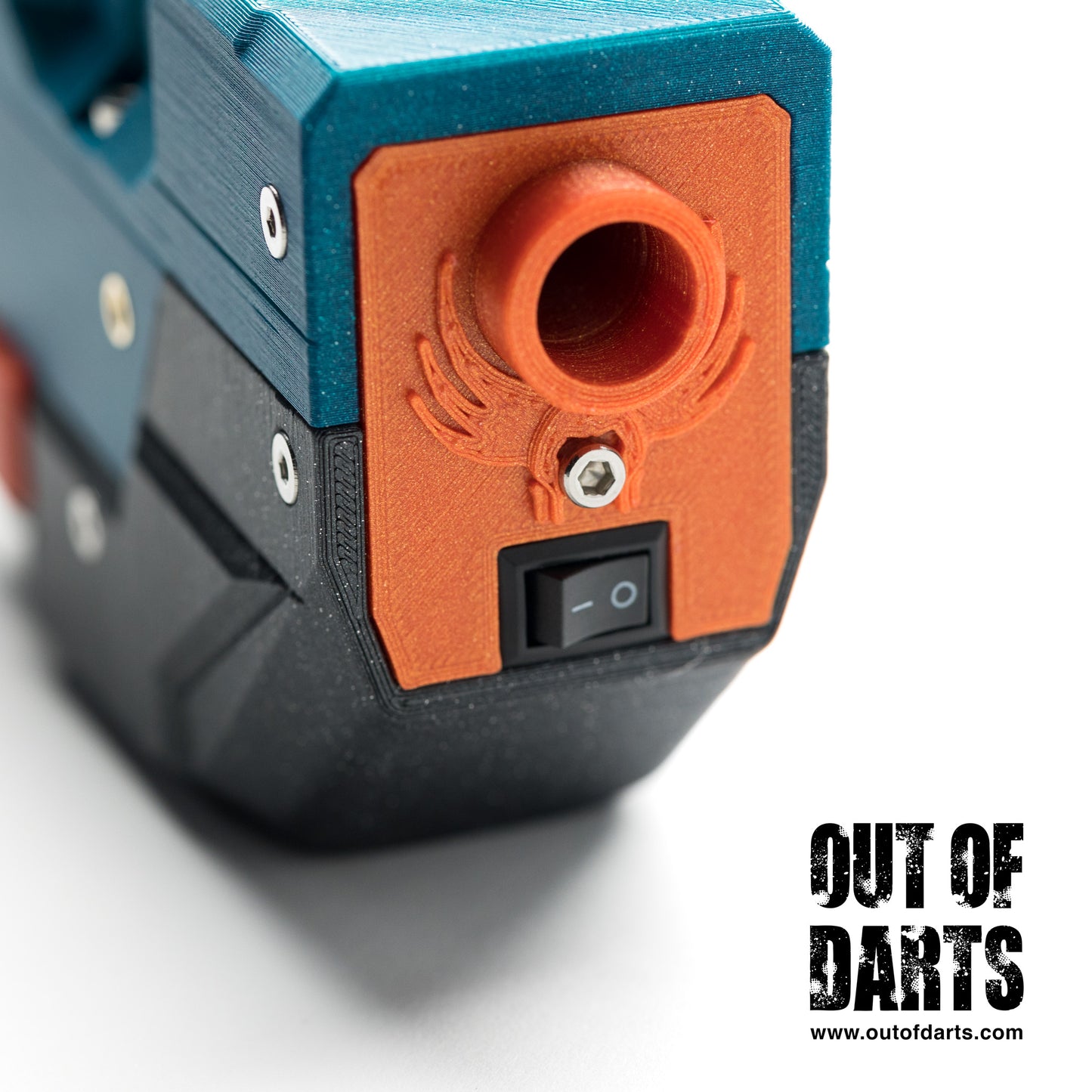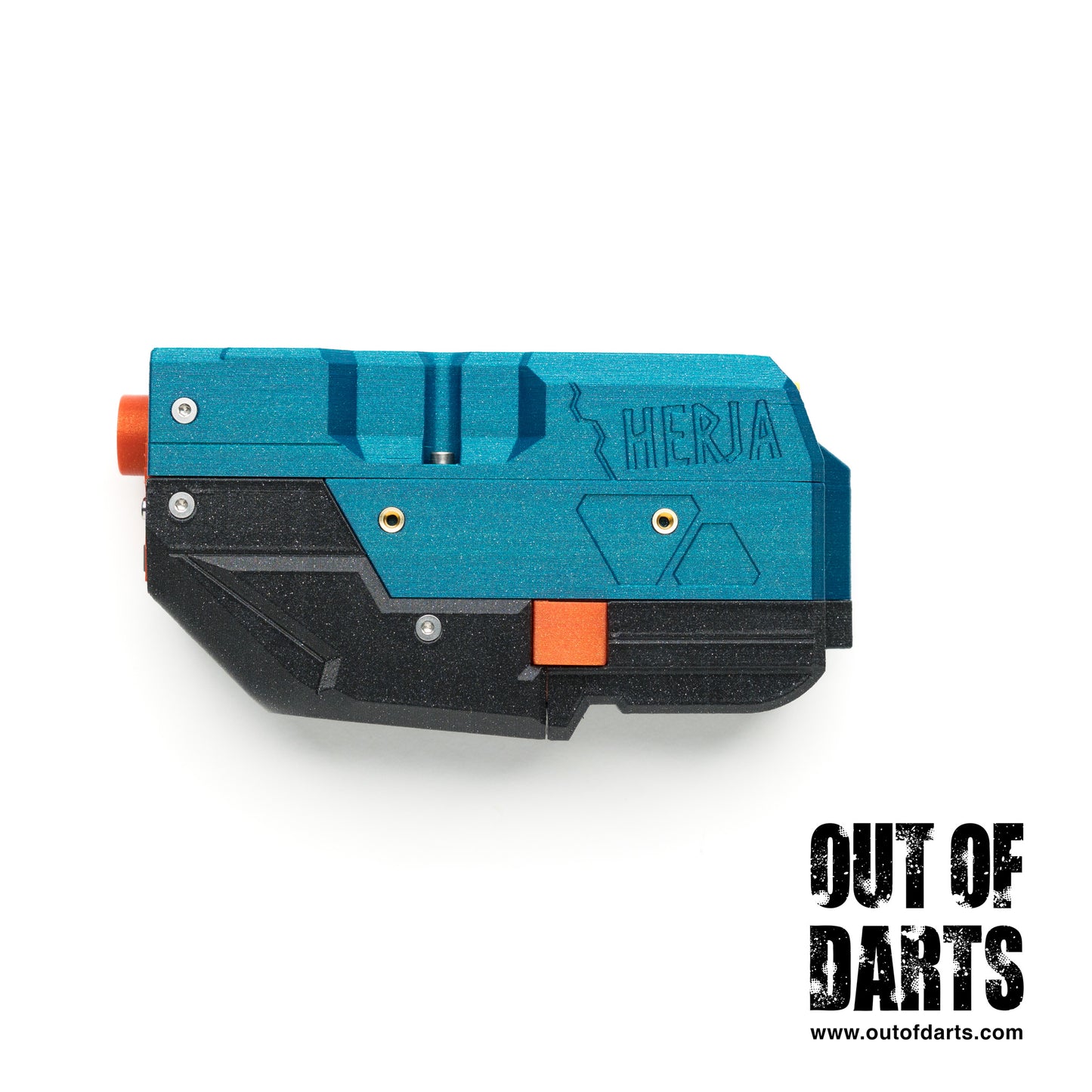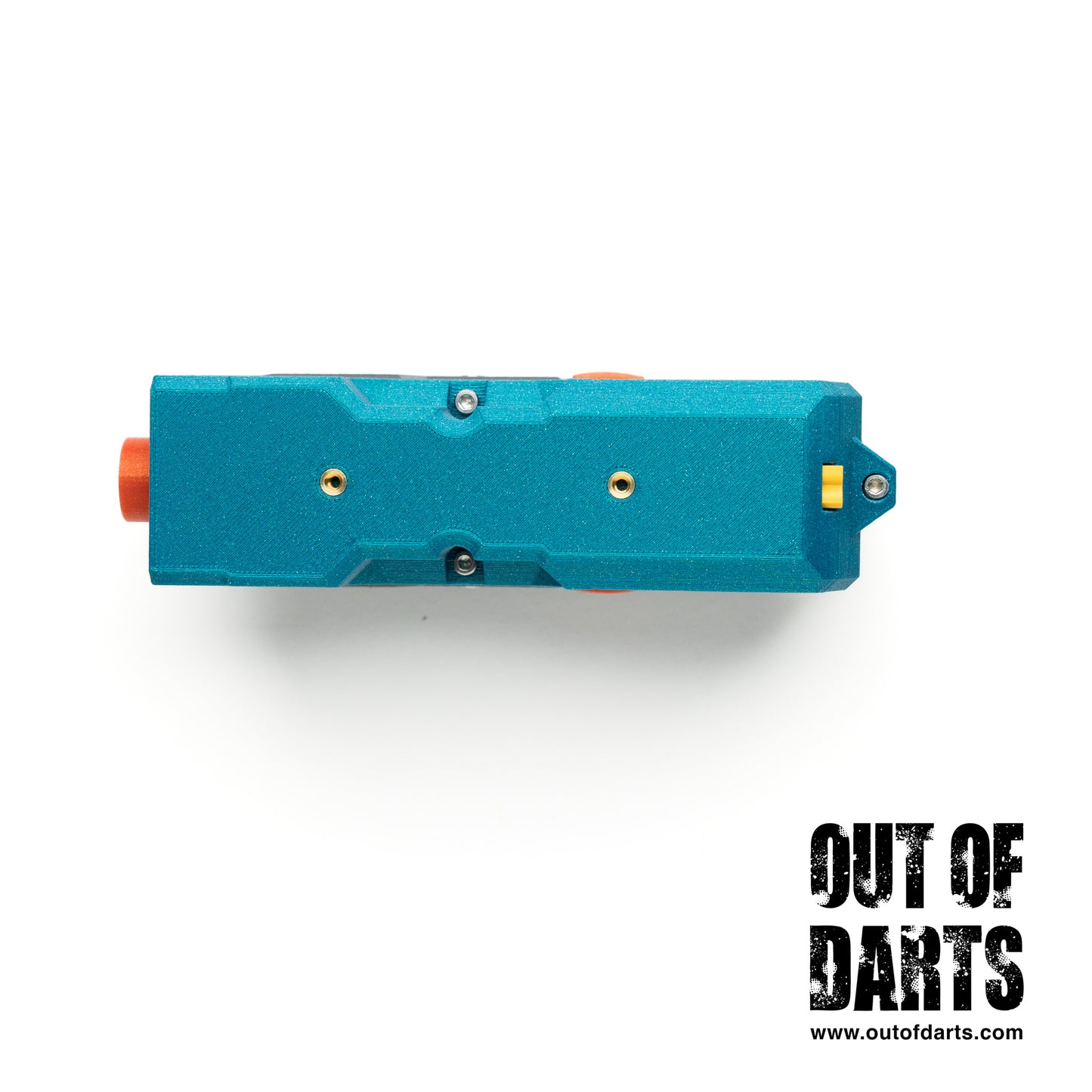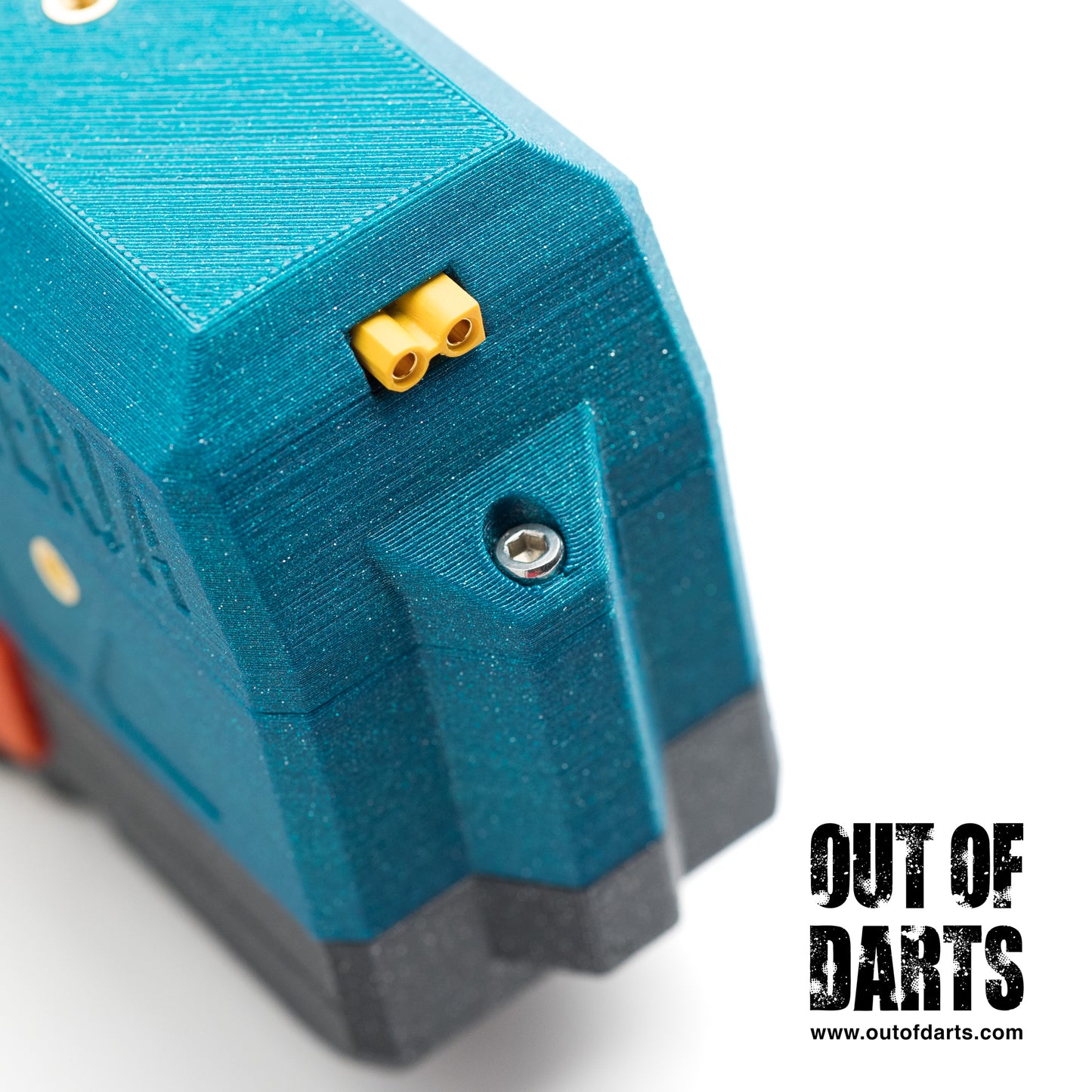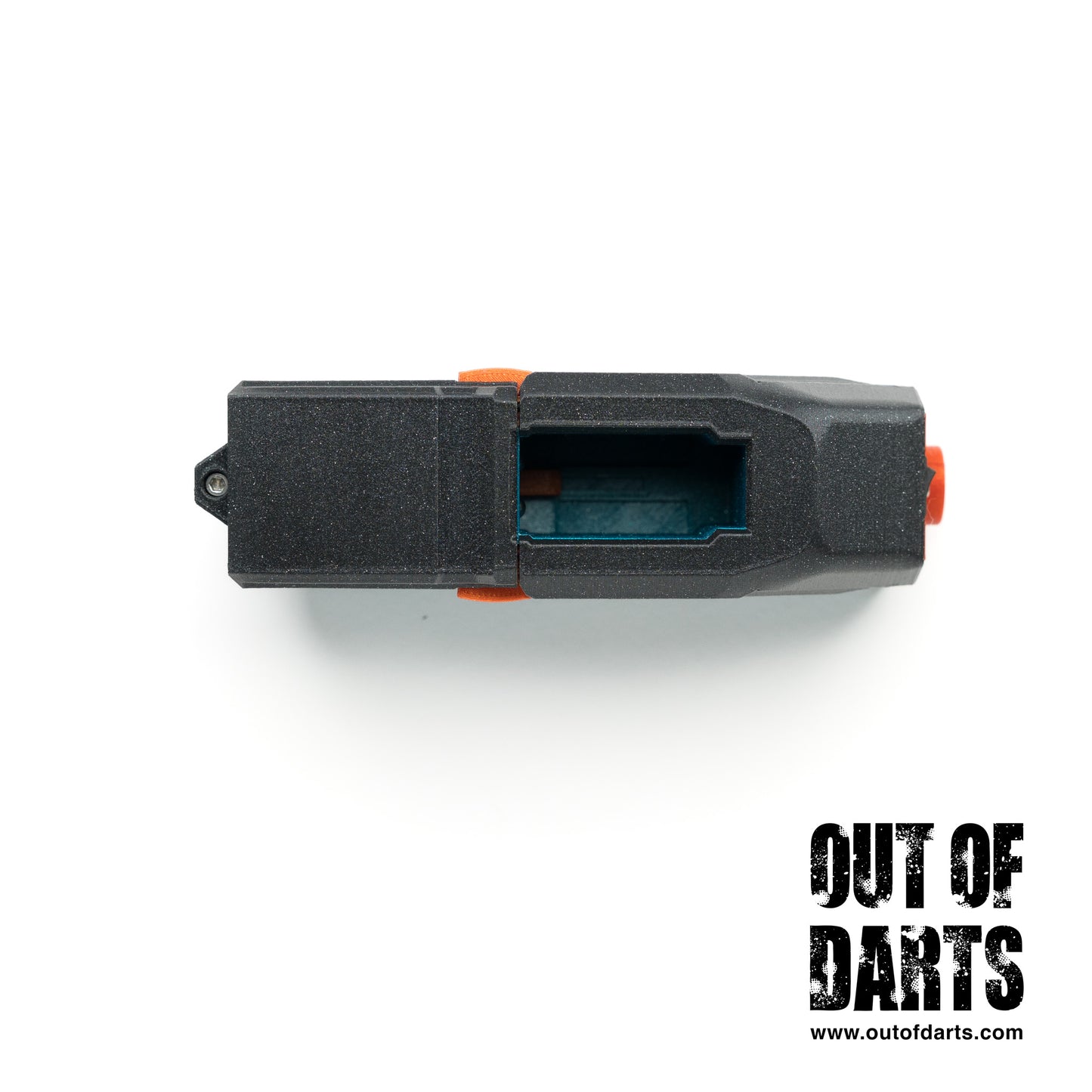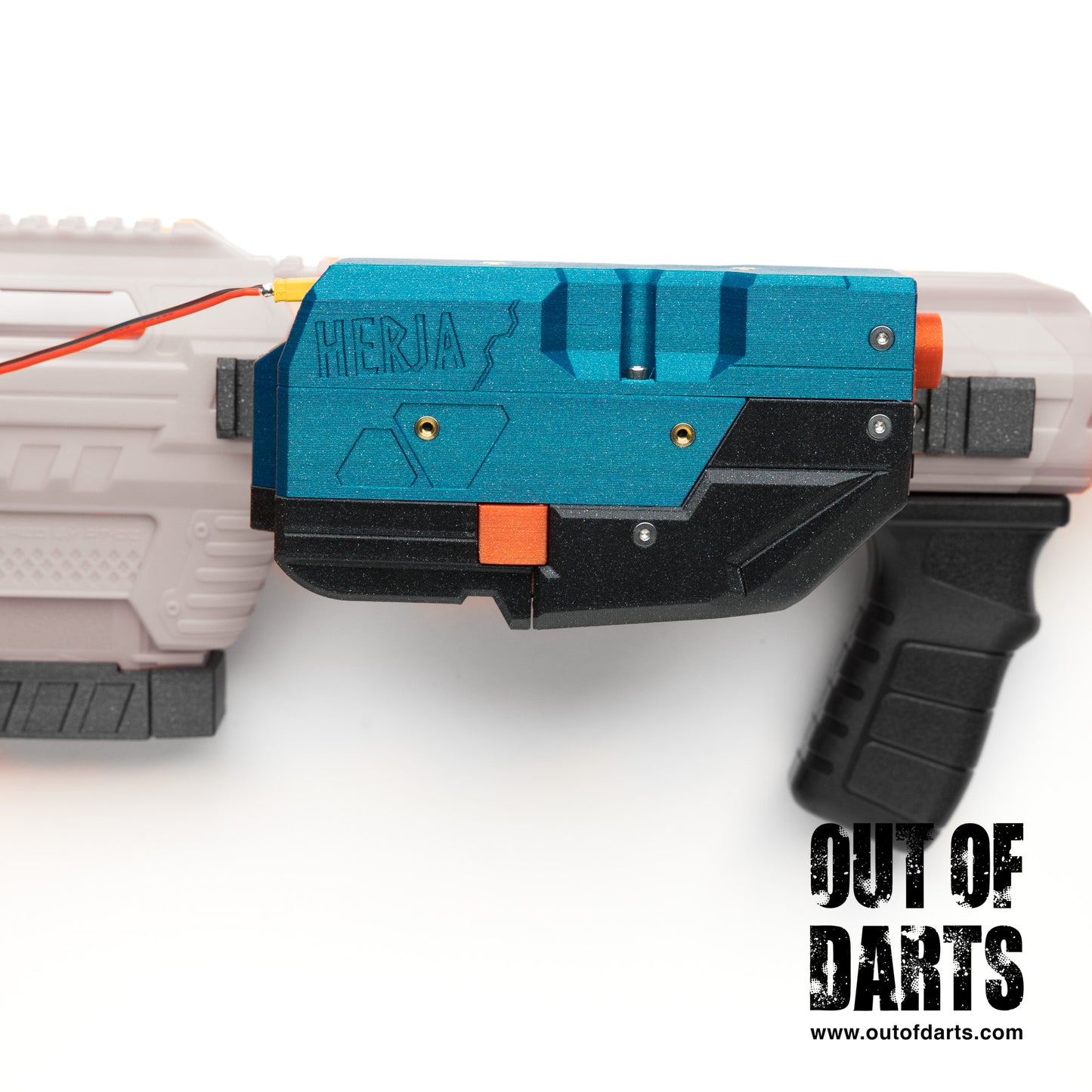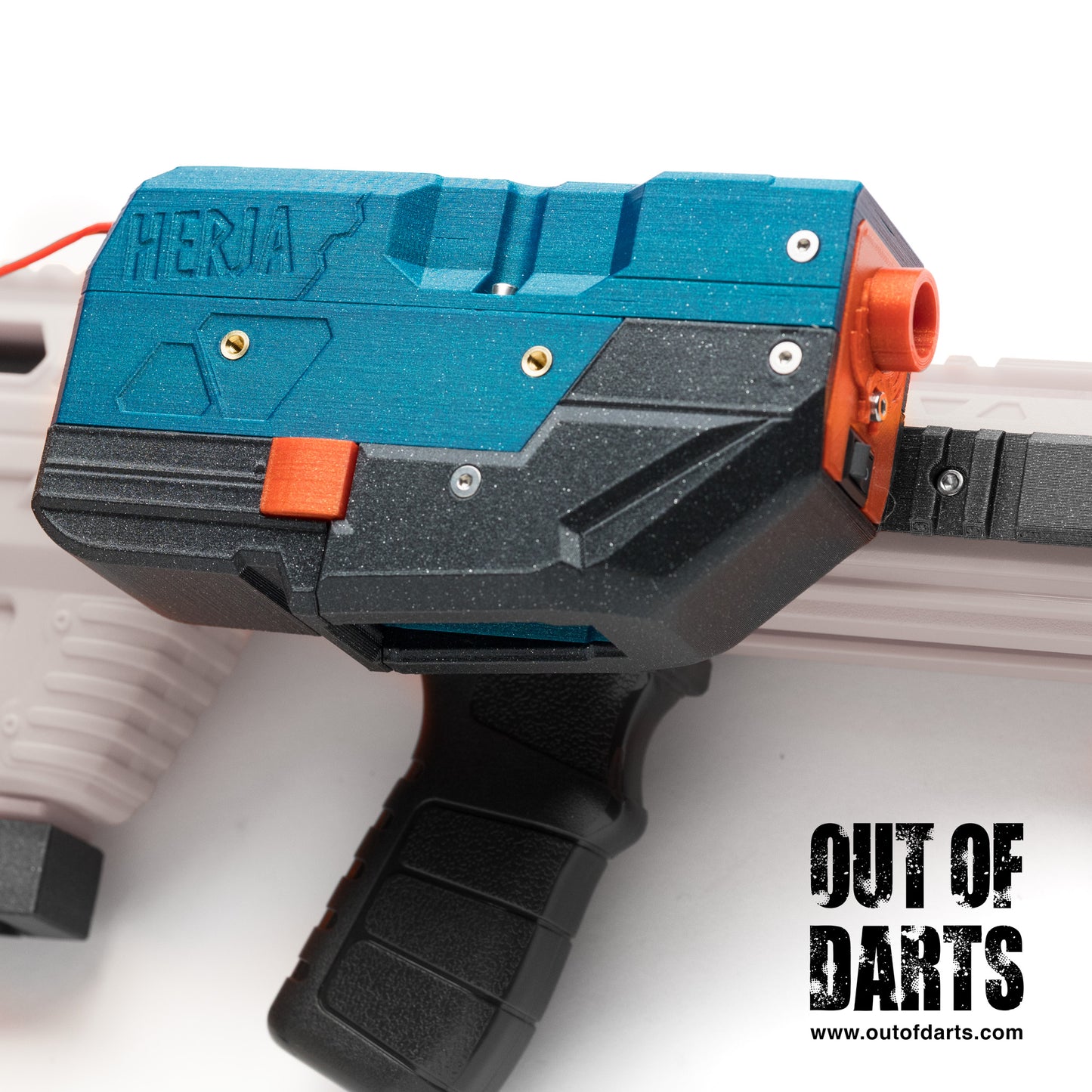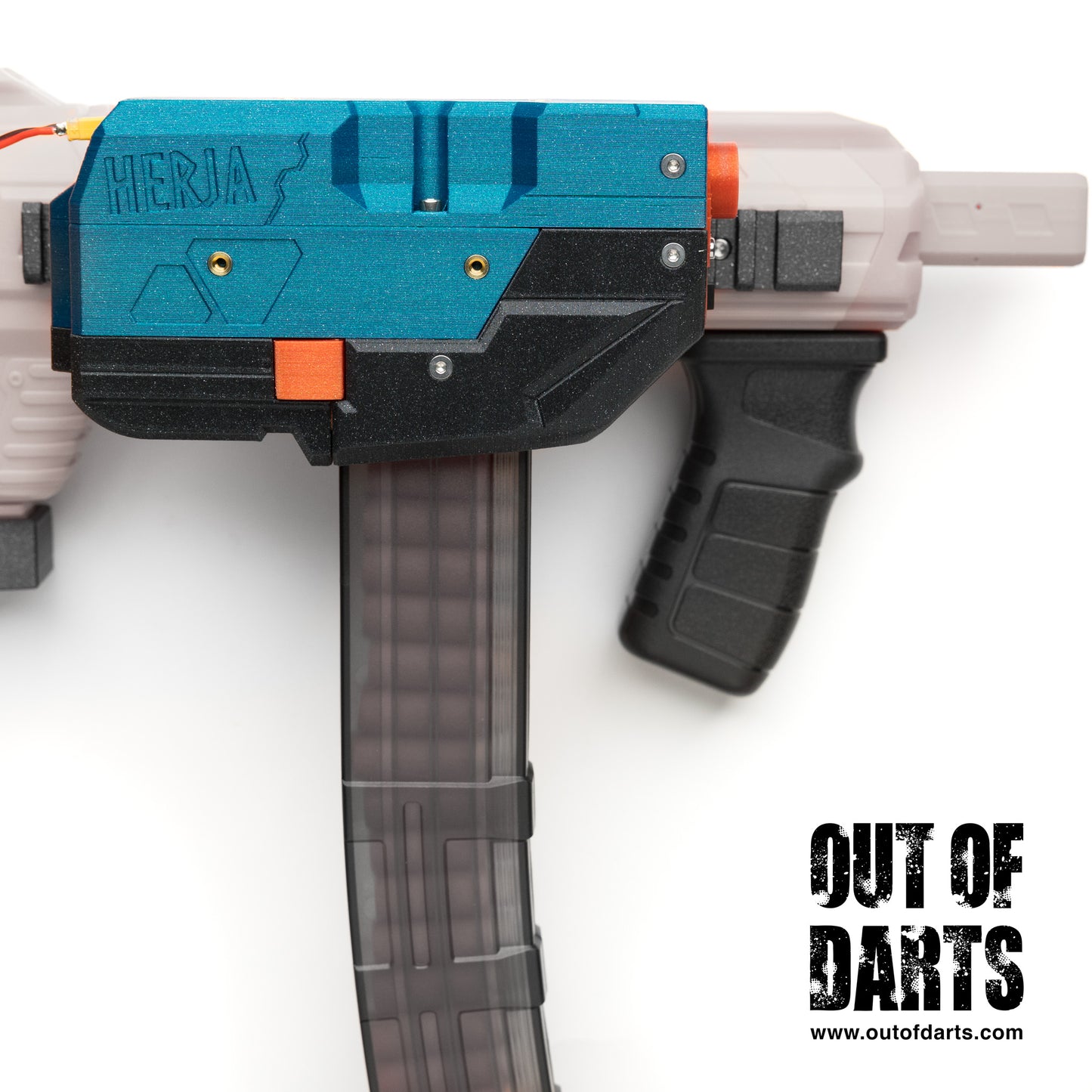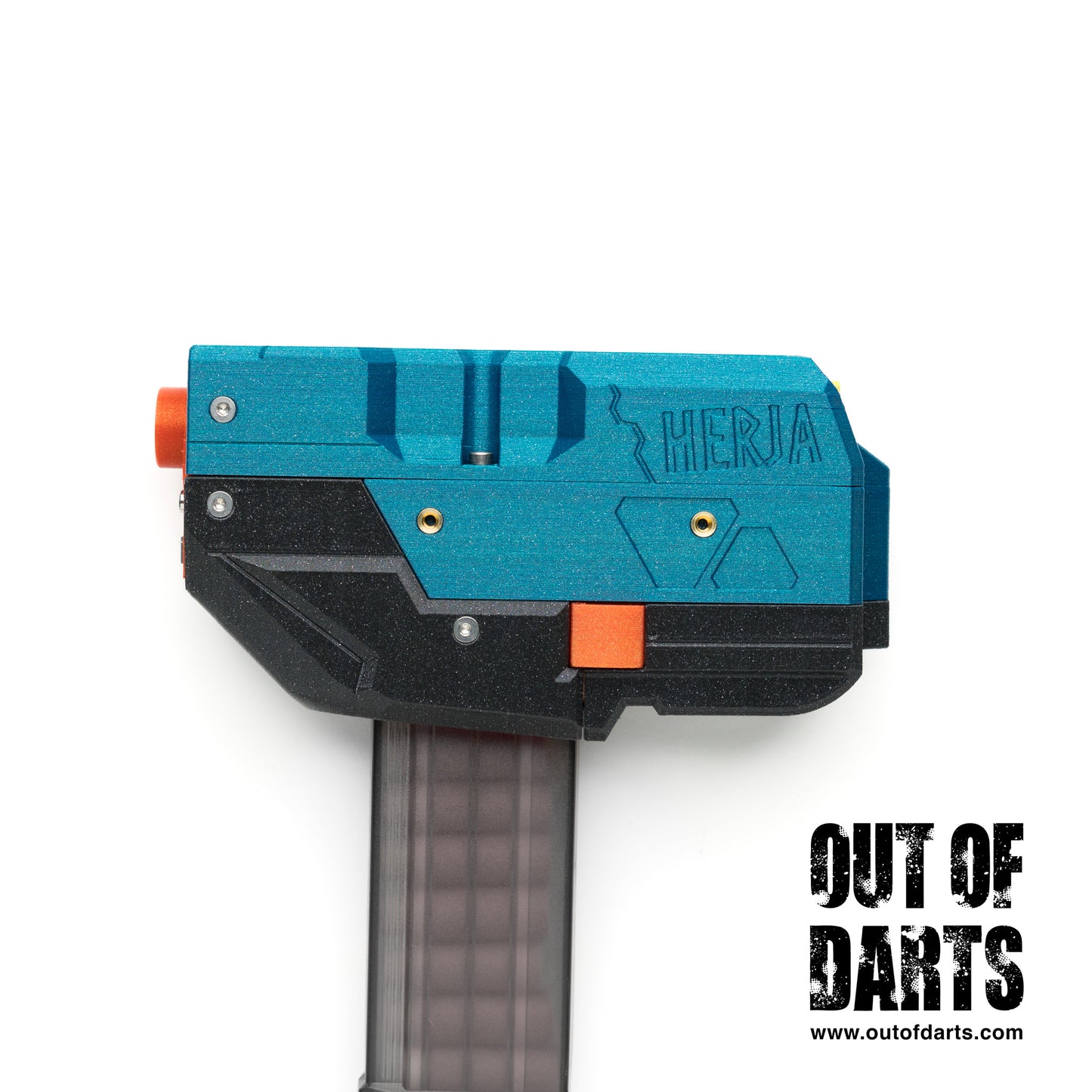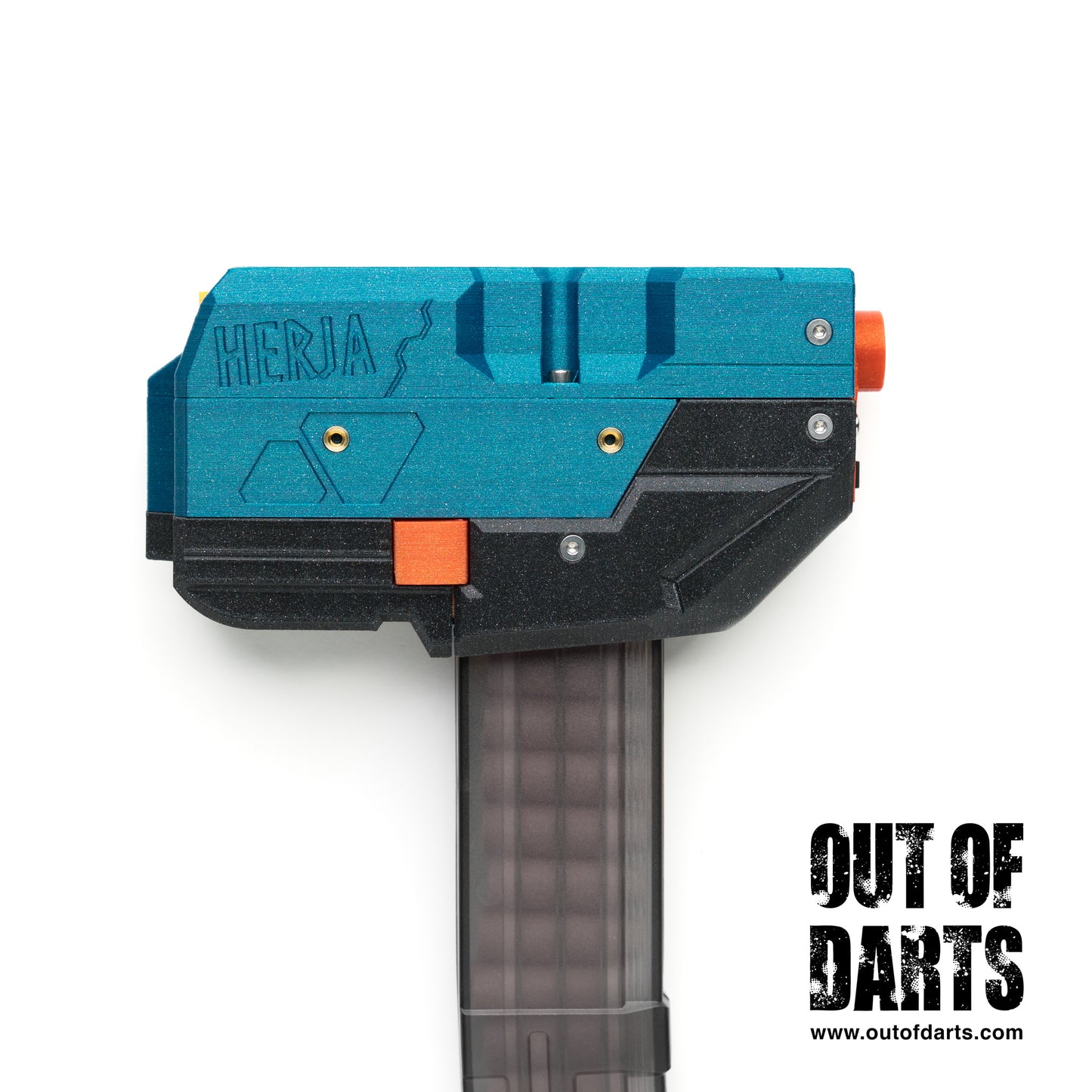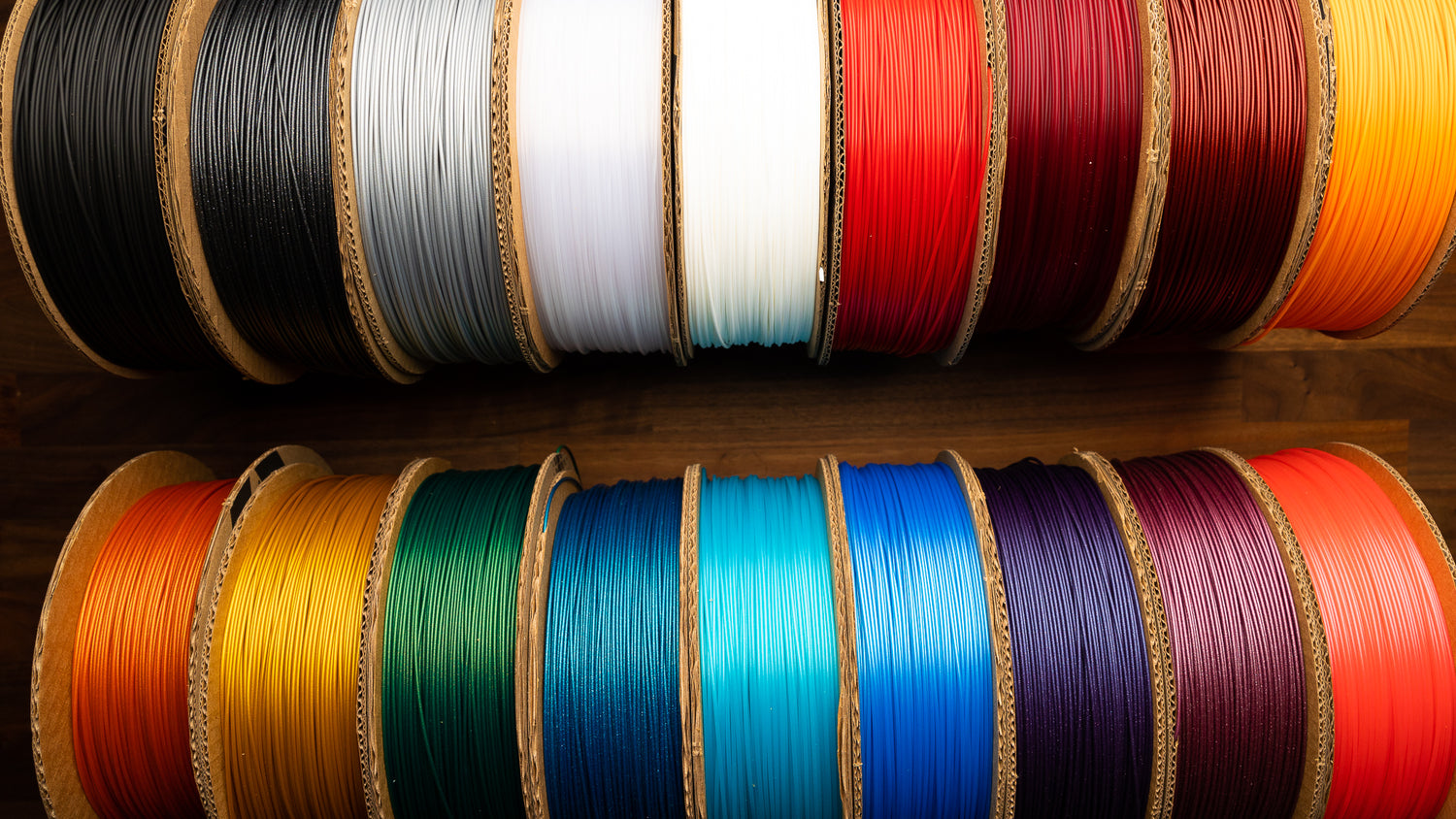 OUR FILAMENTS
We print primarily with Proto-Pasta HTPLA and PLA. Check out our full range of colors here.
3D printed parts should not be left inside hot cars or excessively hot environments.
herja
what an awsome idea ood a last ditch when ur in a hoard ,, a last ditch weapon to slay those zambies , bbbbbbbbbbbrrrrrrrrrrrrr hoard slayer
¯\_(ツ)_/¯
3D printed parts look great, assembly is pretty straight forward till you realize you were sent the wrong screws, ran out to ACE and grabbed correct screws (black m3s look better anyways) full assembly only to realize that you were sent a non-functioning motor. Put in a replacement request was sent a replacement but it never arrived. Ordered 3/7 received 3/25 replace motor requested 3/26 it's 4/2 and I still don't have a functional blaster as I "wait and see" if USPS can get their act together... kind of sucks NGL.
If you still have not received replacement parts for the blaster send us an email at orders@outofdarts.com
Great blaster
The herja is a great little blaster that makes for an effective spray of darts. The build can be a little tricky if you're bad at soldering like me, but it isn't too hard otherwise.
Actual score is 4.85 / 5. Incredible little blaster!
I was surprised with how quickly I received the parts kit for the Herja and built it last night using Luke's video.
It took roughly 2-1/2 hours with minor interruptions, being a fairly straightforward build with everything explained very well in the video.
The finished product looks great and the performance blew me away considering the ROF and zero rev time for the motors!
I immediately started testing it on different blasters, with the joy of adding to my proton pack shown in the picture!
The battery compartment is smaller than I anticipated, as I hoped the 3s from my Nightingale would work, so all my testing so far has been done without the cover on as I wait for a different battery to arrive.
The only issue I have is with the picatinny rail, where it depresses the fire button when connected to some blasters unless I flip the adapter so the words "picatinny" are upside down compared to the "Herja" on the side of the blaster.
Additionally, I wish the threads were slightly longer on the adapter as there is almost no wiggle room between the picatinny being loose enough to remove the Herja from a blaster, but tight enough to keep the screws and/or half the adapter from falling. (Resulting in a .15 deduction from the blaster's score.
Overall, I am extremely happy with the build and final product! Definitely worth the price and I can absolutely see myself buying a second one to combine for a build.
A+