Regular price
Sale price
$24.50 USD
Unit price
per
Sale
Sold out
LEAD TIME: 4-10 BUSINESS DAYS (MORE COLORS = LONGER WAIT)
PRODUCT DESCRIPTION:  

3D printed Little Rocket Blaster, designed and engineered by Tarik.  This is the Foregrip mountable version of the Little Rocket. Crooked Cousin comes with a Picatinny base. 
INTERNATIONAL ORDERS:
• Please confirm with your customs about importing a 3D printed blaster. 

FEATURES:
• Hot-swap to any ammo type
• Highly customizable to your preferred playstyle
• Small and compact with a strong kick
• Can Fire all major ammo types(Short Dart, Elites, Rivals, Mega, Boomco, Ultra)

Adapters:
• Crooked Cousin comes with a Picatinny base. The adapters are a separate 3D printed part that allows the Crooked Cousin to be placed on Nerf-Style or Rival rail.

Notes on Barrels:
• Elite: Has a taper at the bottom to improve hold on Elites.
• Short Dart: Has notches on both sides to allow quicker reload and one-handed loading with SAM and AM.
• Mega: Genuine Megas perform better than fakes ones.
• Rival: Designed to fire one rival ball but can hold two at a time.
• Ultra: One of the best firing ammo types... We don't know why, either.
• Boomco: Designed to grab the notch of the first ring of the dart. Careful not to push the dart too far into the barrel.
• Inline: Holds three short Darts. Tilt barrel down between shots to make sure the dart creates a seal with the tapered front.
• Triple Elite/SD: Designed to fire three triple elites or three short darts. Can hold six shorts darts. Depending on ammo type(i.e., Orange Nipple Darts), will fire three at a time when six darts are present. 
COLORS:
Primary = Body, Bottom Plate
Accent = Trigger, Rod
Barrel = Barrel

SPECS:
• FPS Specs (Strong Spring)
-- Short Dart 113.4 FPS (5.5)
-- Elites 96.9 FPS (2.9)
-- Rival 78 FPS (3.7)
-- Mega 77.6 FPS (1.6)
-- Boomco 90.7 FPS (2.8)
-- Ultra 102.8 FPS (4.8)
-- Triple 53.6 FPS (4.2)

• FPS Specs (Standard Spring)
-- Short Dart 94.6 FPS (1.4)
-- Elites 83.3 FPS (2.3)
-- Rival 54.1 FPS (3.1)
-- Mega 62.7 FPS (1.4)
-- Boomco 59 FPS (4.2)
-- Ultra 76.3 FPS (2.3)
-- Triple 49.7 FPS (4.2)
  
KIT INCLUDES:
• 4x M3 Square Nuts (already Installed), M3x10mm Screws
• 16mm and 23mm O-Rings
• Central Screw
• Trigger Spring
• Main Spring
• M3x12mm Ball pin Rod
• Clear plastic Tubing(Already installed)
• 2x M3 Hex Nut
• 2x M3x30mm hex Screws
KIT INSTRUCTION MANUAL:
Little Rocket Manual v2
WHAT YOU NEED ASIDE FROM THE KIT:
• M3 screwdriver 
• Needle nose Pliers
• Phillips #2
• Lubricant (found here)

Share
View full details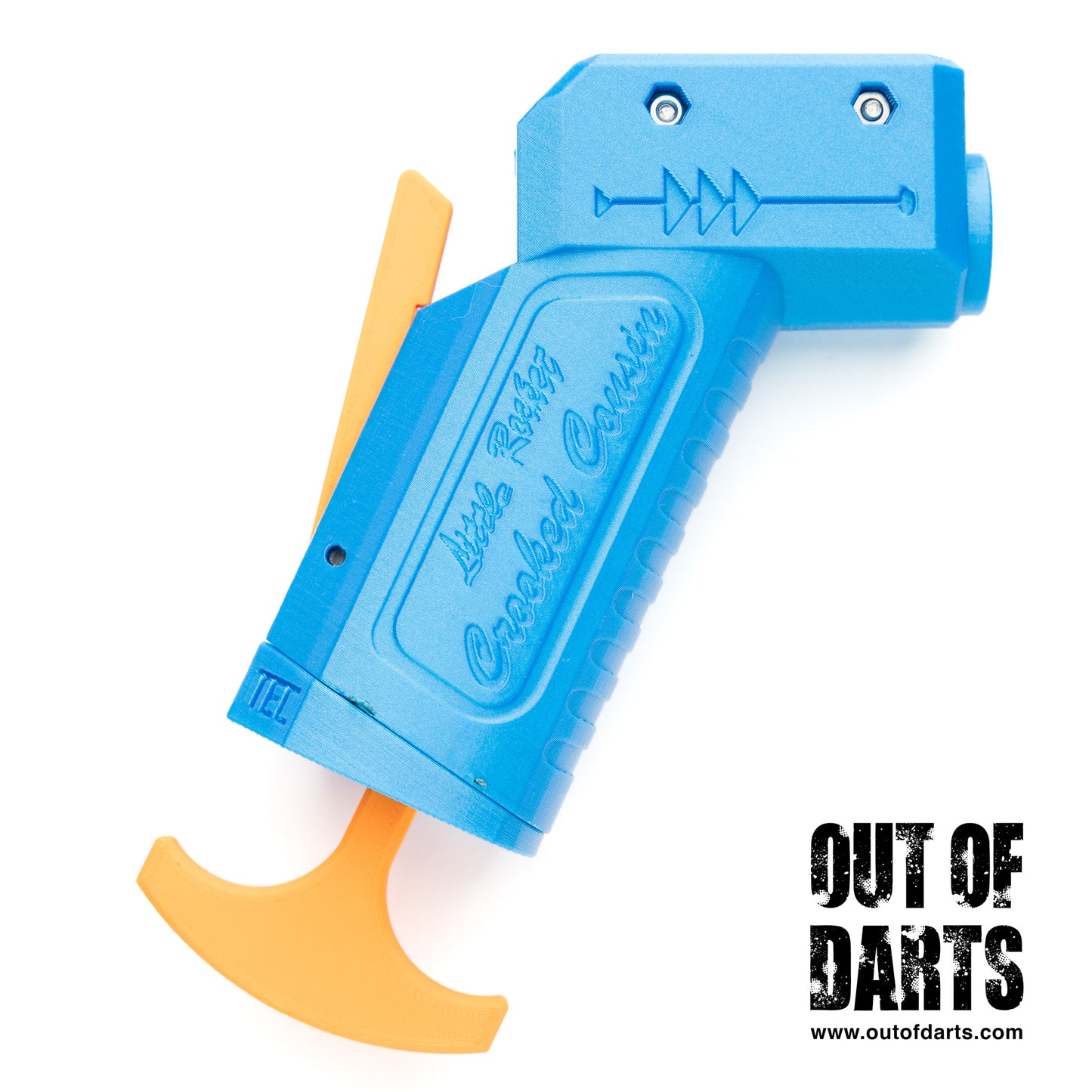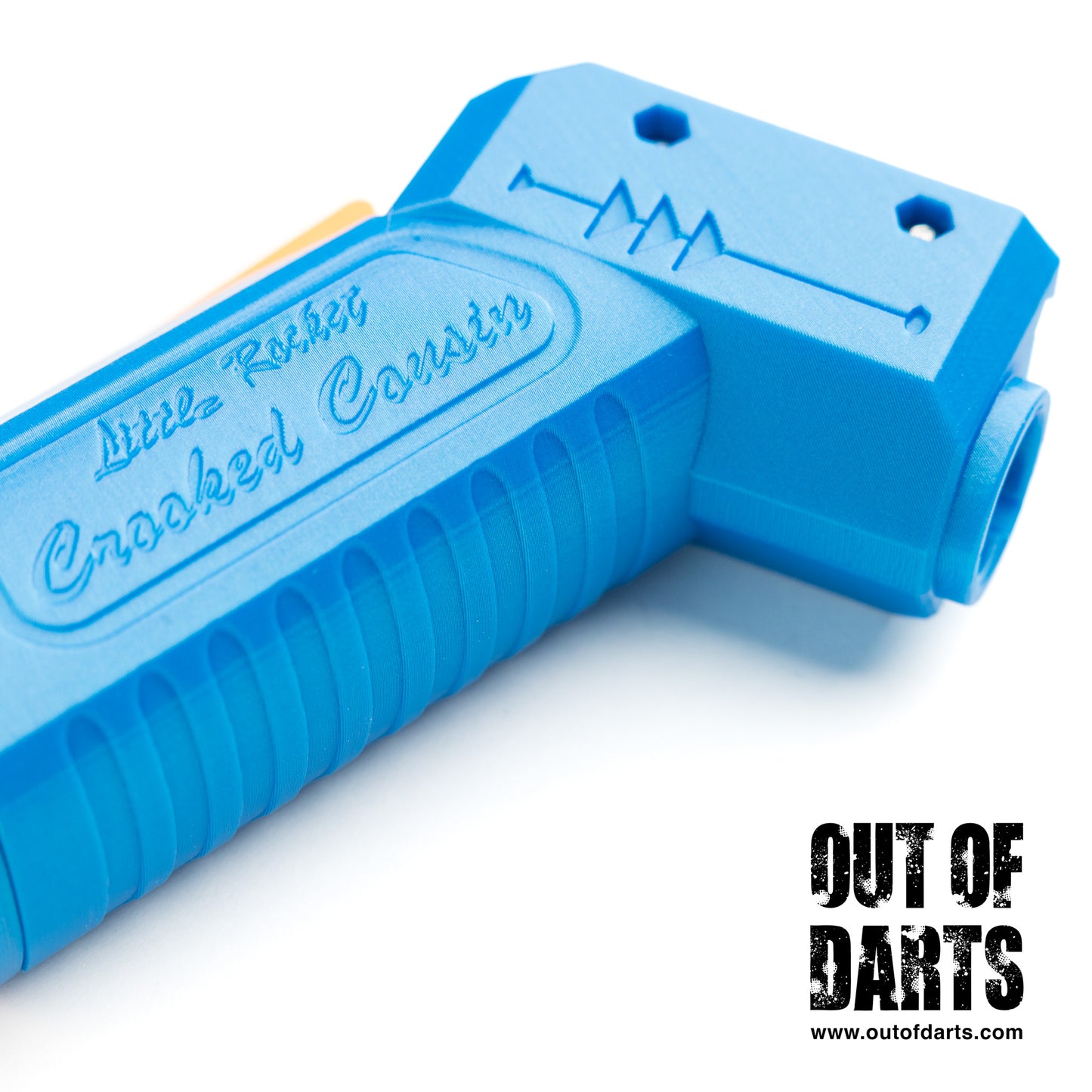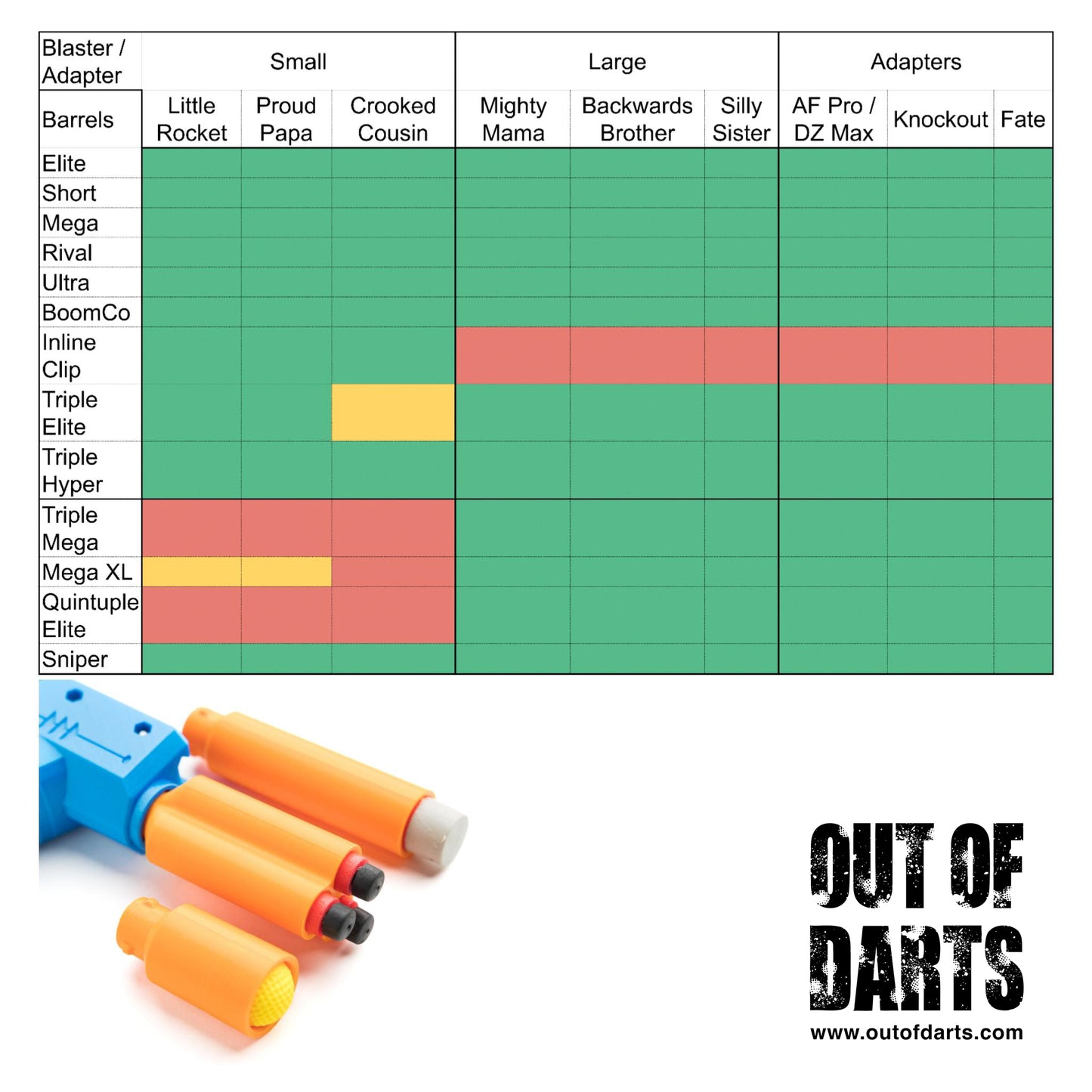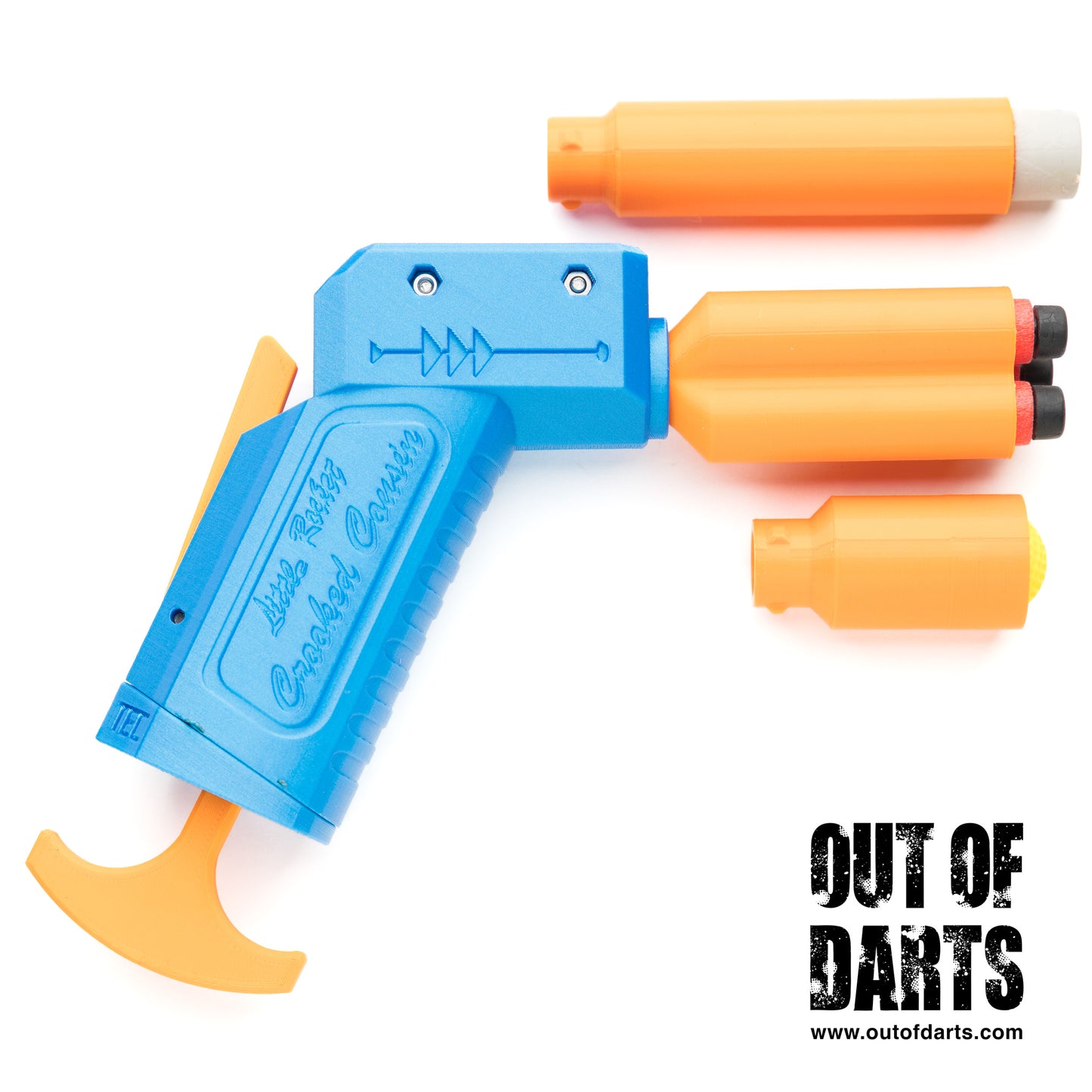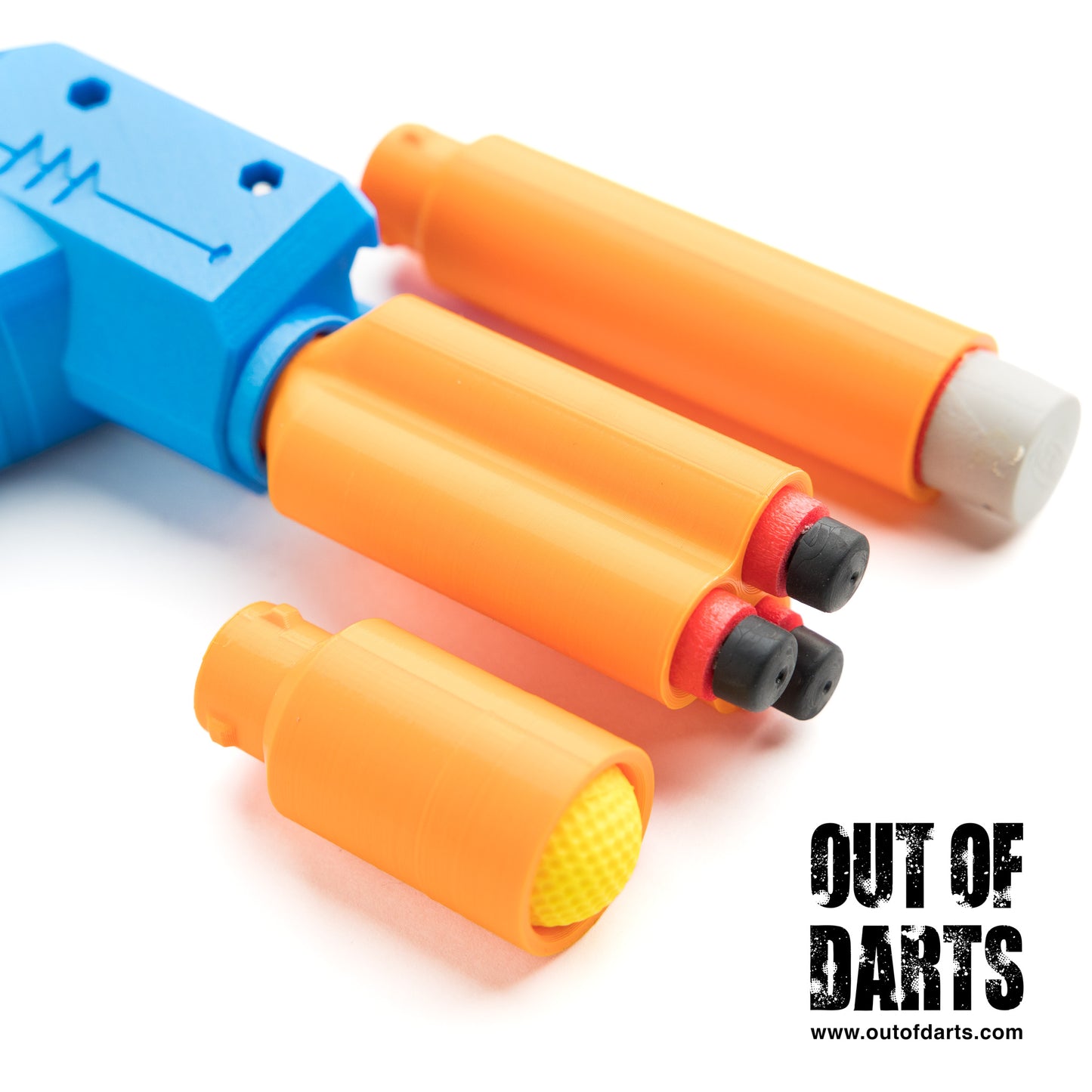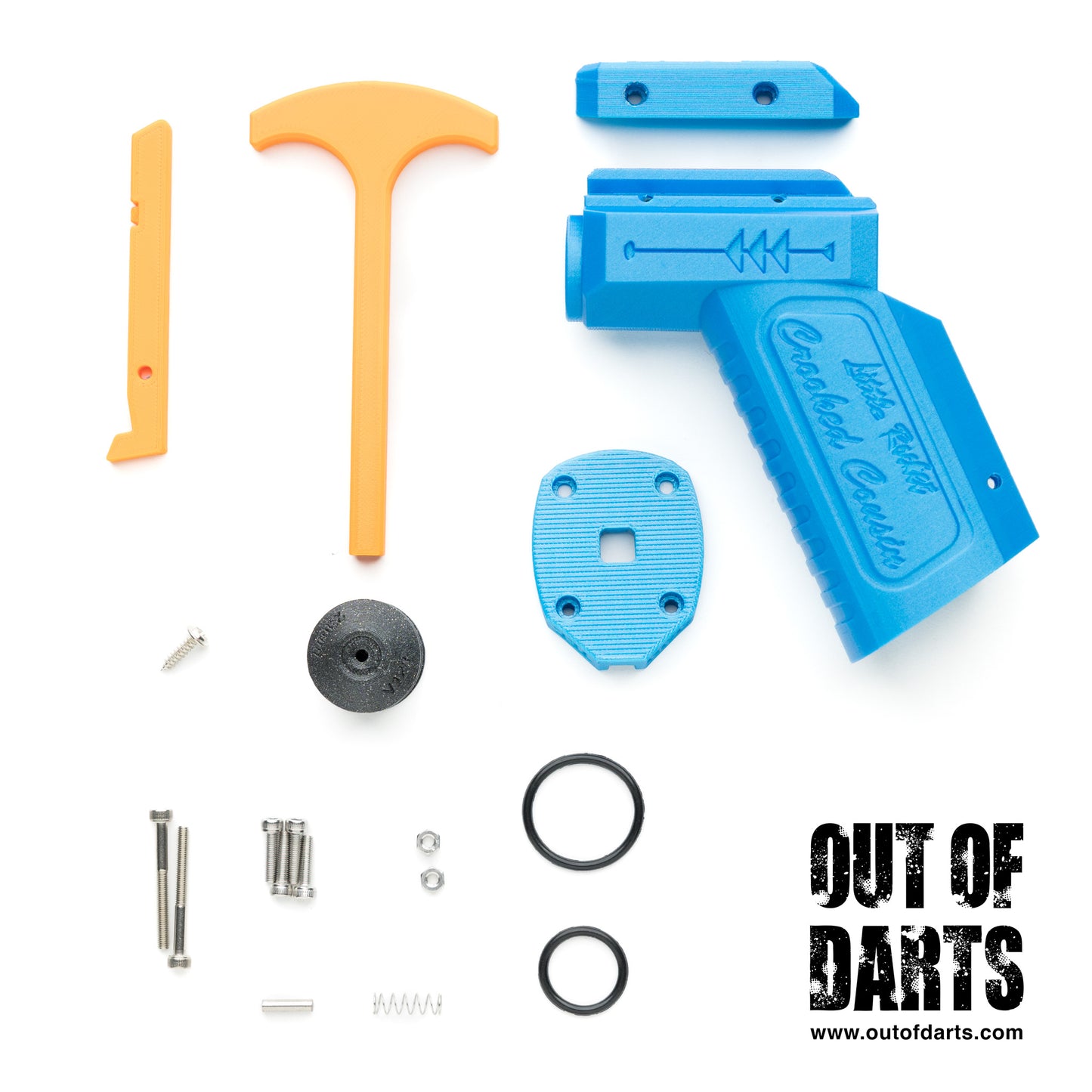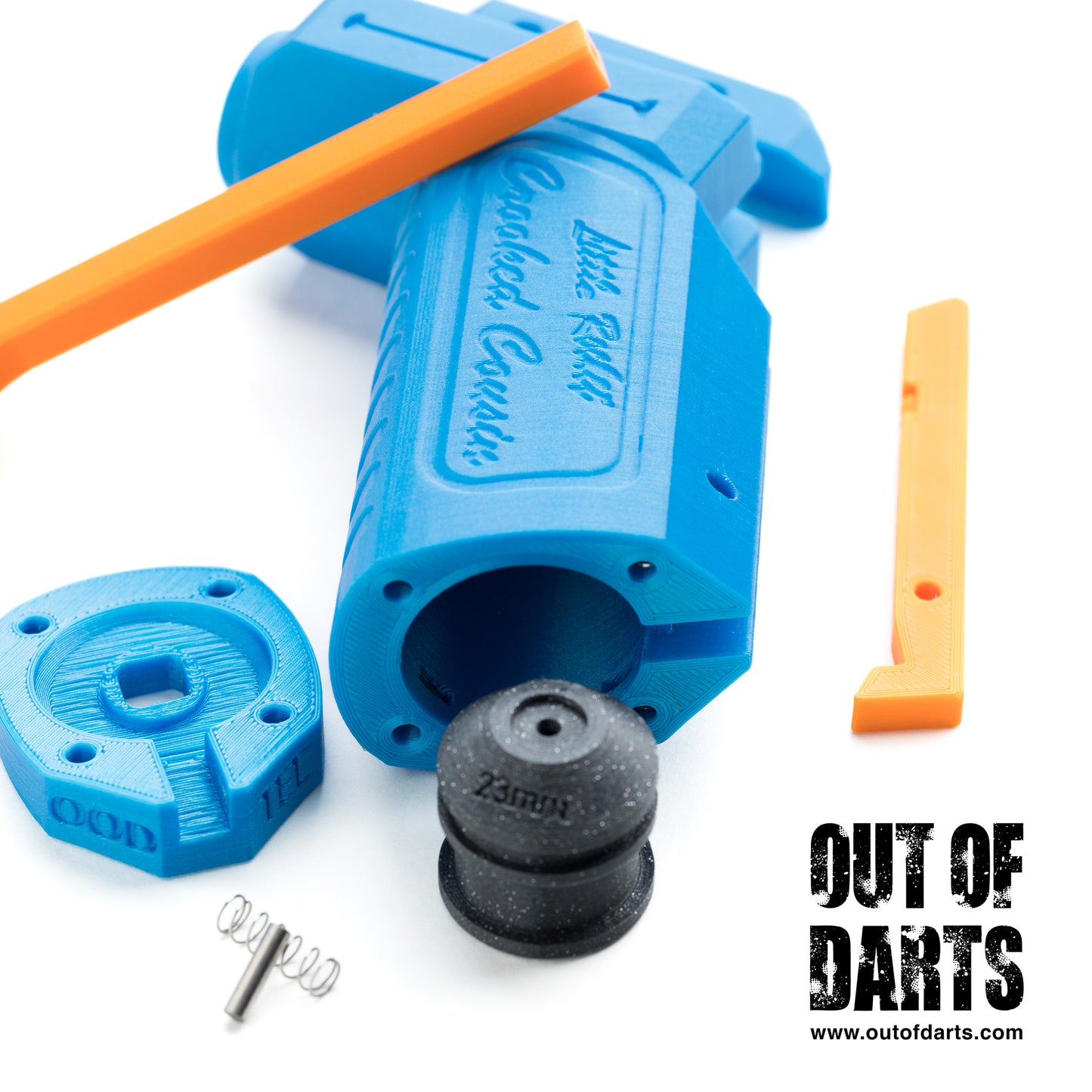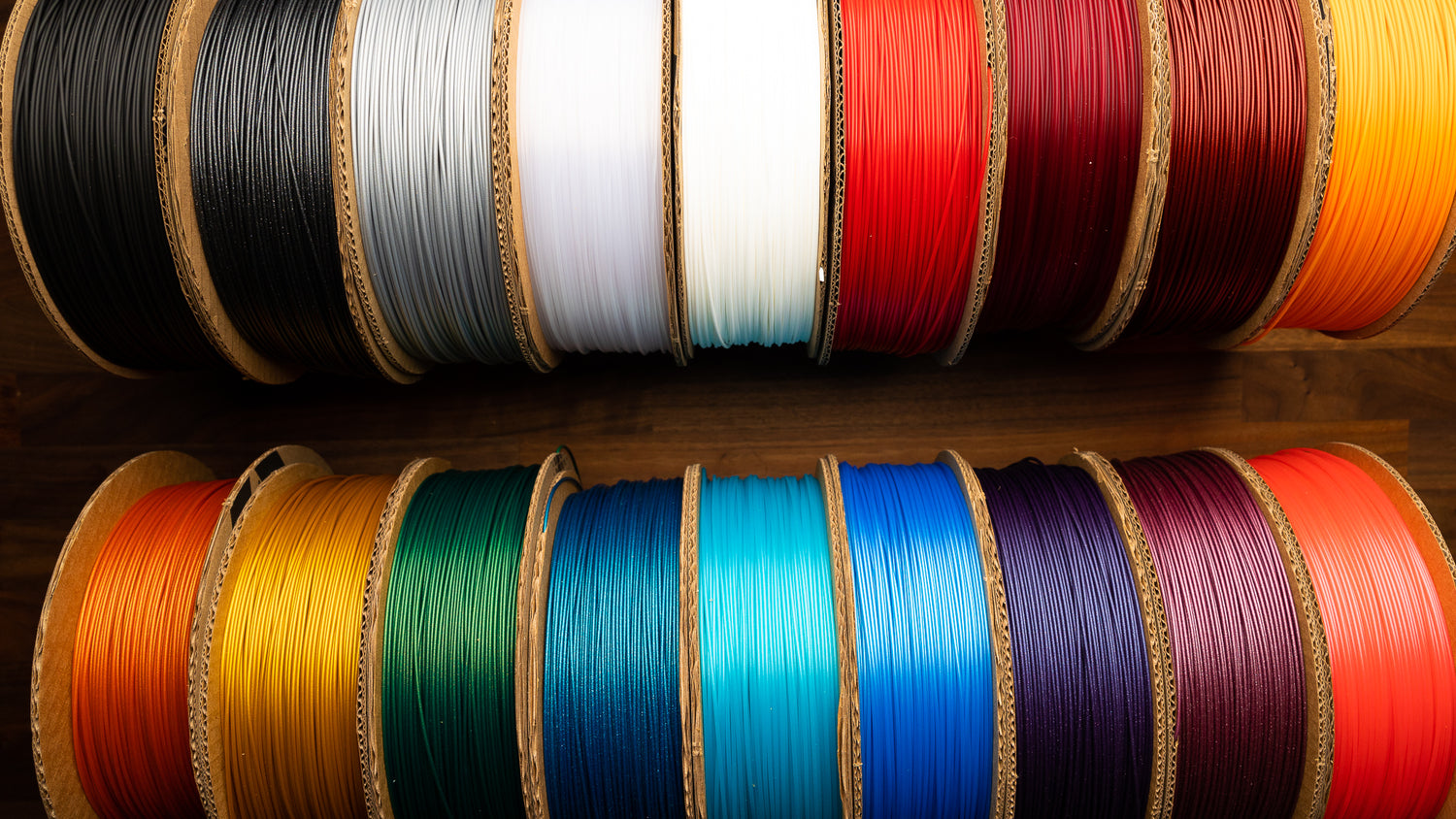 OUR FILAMENTS
We print primarily with Proto-Pasta HTPLA and PLA. Check out our full range of colors here.
3D printed parts should not be left inside hot cars or excessively hot environments.
Crooked Cousin Mountable Blaster
Decide on blaster to use before purchasing
This attachment will not function with any attachment rail placed next to a mag well; due to the angle the magazine gets in the way (see photos) and it's impossible to prime. You can use a barrel extension, but these are a) less stable and b) most non-Nerf brand darts get stuck in longer barrels. Disappointed as these are some of the community's most popular blasters and there is no mention of this incompatibility on the listing or in any videos. I also ordered the "ultra slim standard nerf rail" adapters but I can't figure out how to use them as it's not explained in the manual or video tutorial. Otherwise it was a fun project to put together.
Fantastic attachment
This product is amazing! Best part, customer service was an 11/10 as the priming rod broke as I was messing around with it for the first time, within standard shipping time I received a new rod free of charge. You rock OOD and definitely have a customer for life!!
Crooked cousin
Great quality. Love this little thing. Service was awesome too. I had ordered the wrong rail attachments which the team must have realised and they included the correct piece as well for no extra charge. So grateful they are so on the ball and corrected my dumbness. I order from the UK so would have been an expensive mistake if I had not received all necessary parts in the same order.
Great product. Even better service