Regular price
$95.00 USD
Sale price
$95.00 USD
Unit price
per
Sale
Sold out
PLEASE NOTE: Blasters can only be shipped to customers within the United States and Canada, we are no longer able to ship blasters to international customers.
Any orders that contain a pre-order item will be held until all items are in stock and ready to ship.
PRODUCT DESCRIPTION:
The XYL Unicorn Blaster is the newest entry into the super-stock foam blasting world. This ultra-compact springer features slam-fire, two priming options, and a talon-compatible magwell.
*To use with Koda Mags modification is required to the blasters dart guide.
FEATURES:
• Includes 1.6 spring, perfect for super-stock games
• Average FPS (standard deviation) with included spring and barrel : 138 (5)
• Quick tear-down with two pins
• Talon-compatible magwell
• Durable nylon and Metal construction
• All-metal internals, including a metal sear, trigger box, plunger tube
• Ultra-compact primary
• Pump-action and top prime at the same time!
• Slam-fire
• Prime return spring included
SPECS:
• Material: Nylon, ABS, Steel
• Weight: 2.2kg (full kit weight)
• SKU: BLASTER_XYL-UNICORN
ADDITIONAL LINKS:
Share
View full details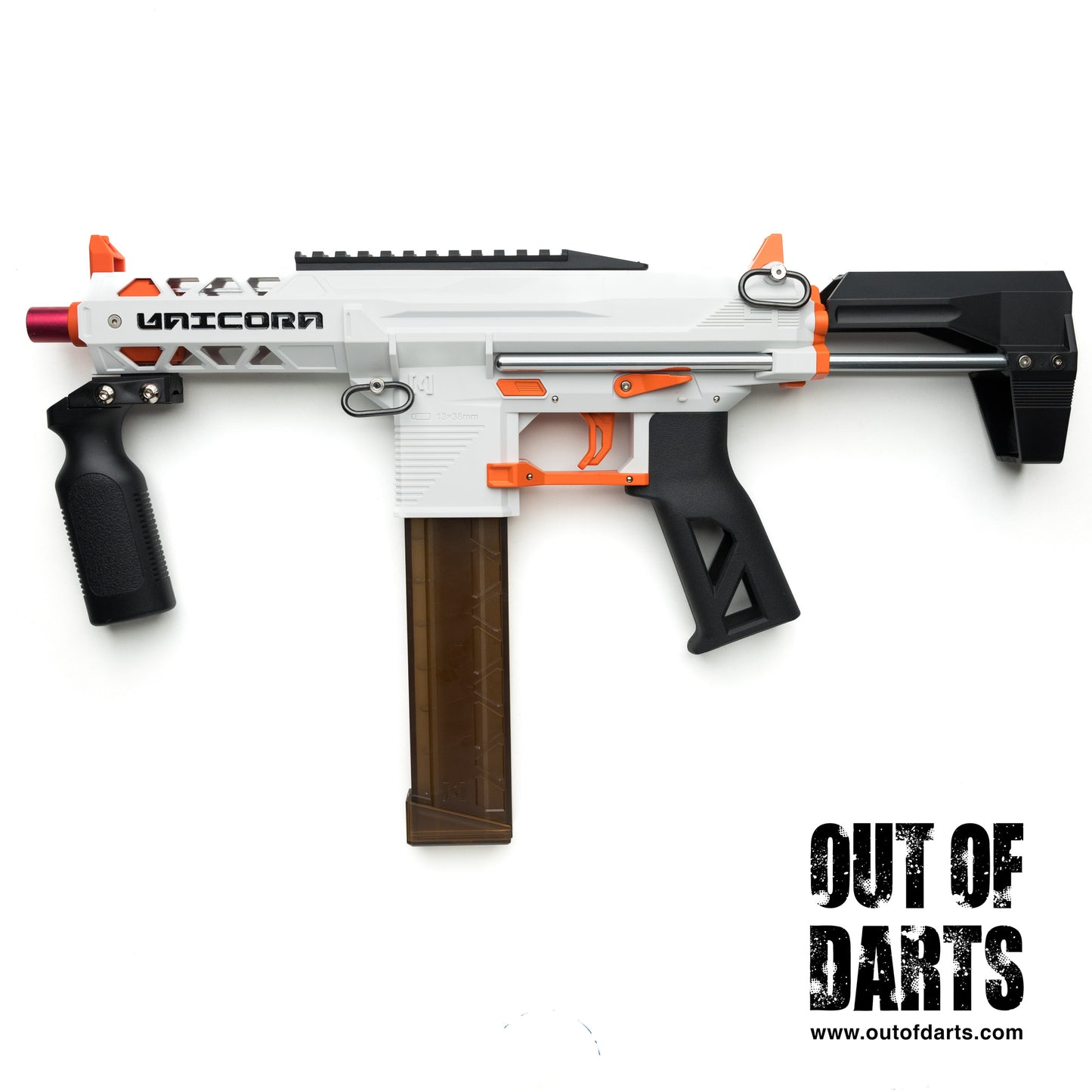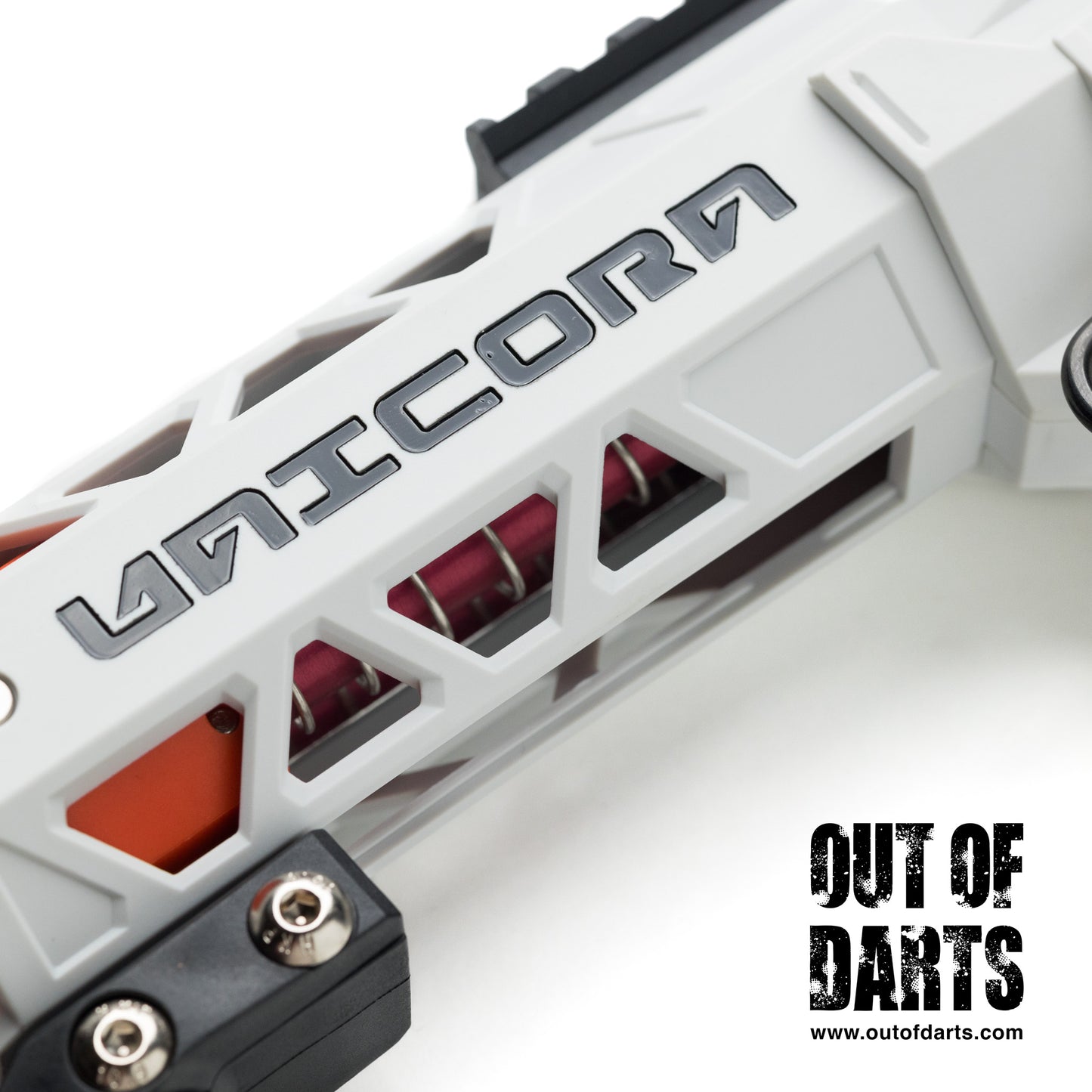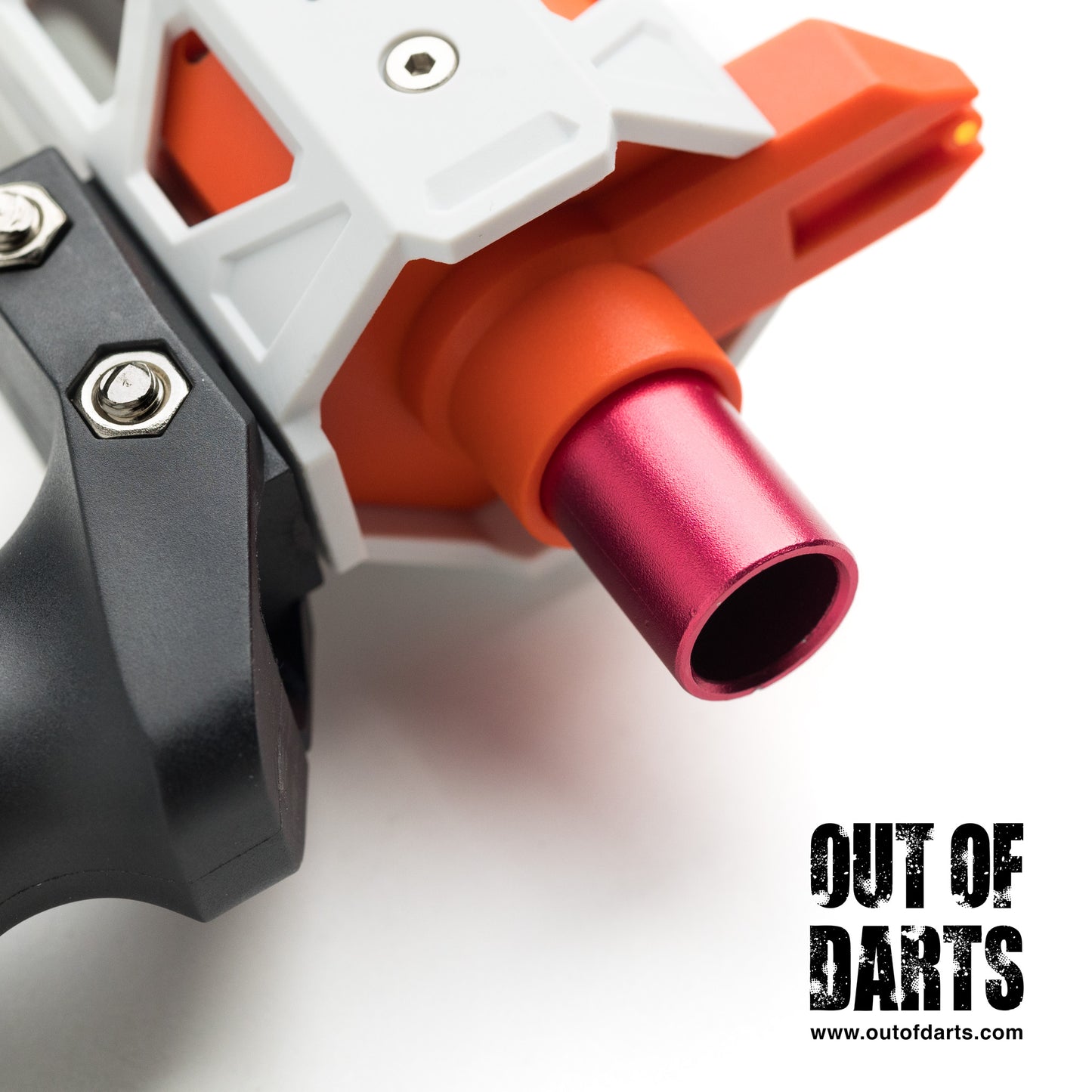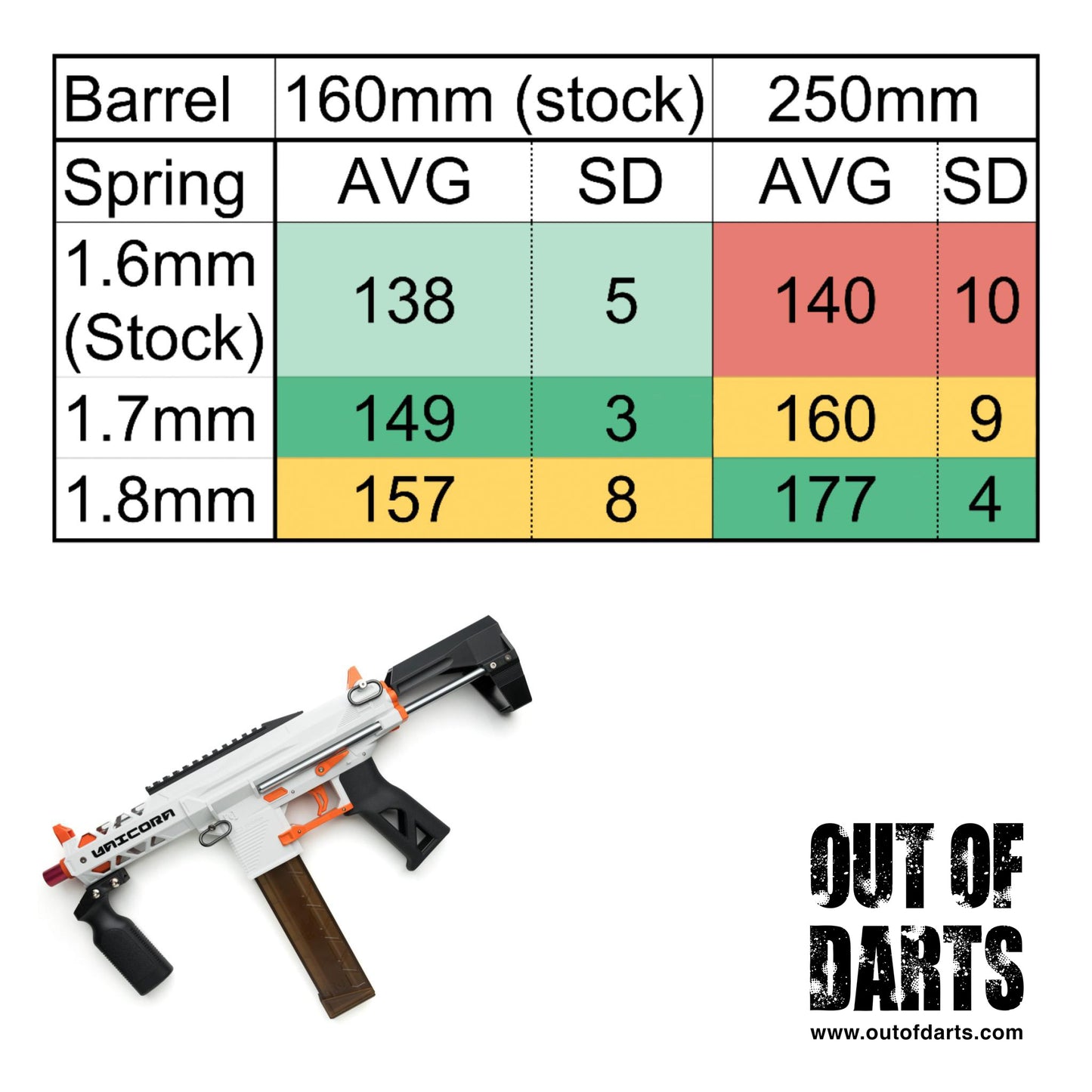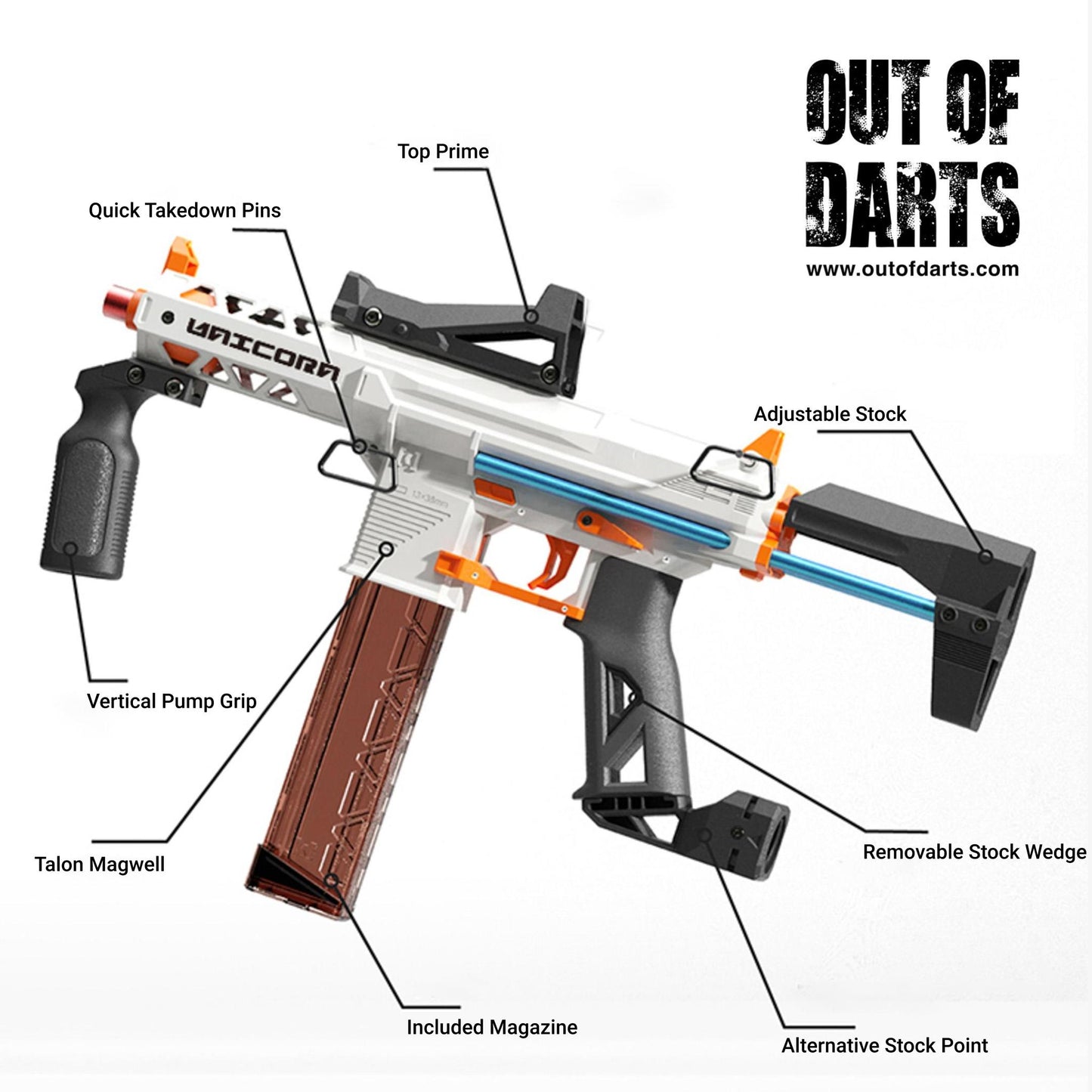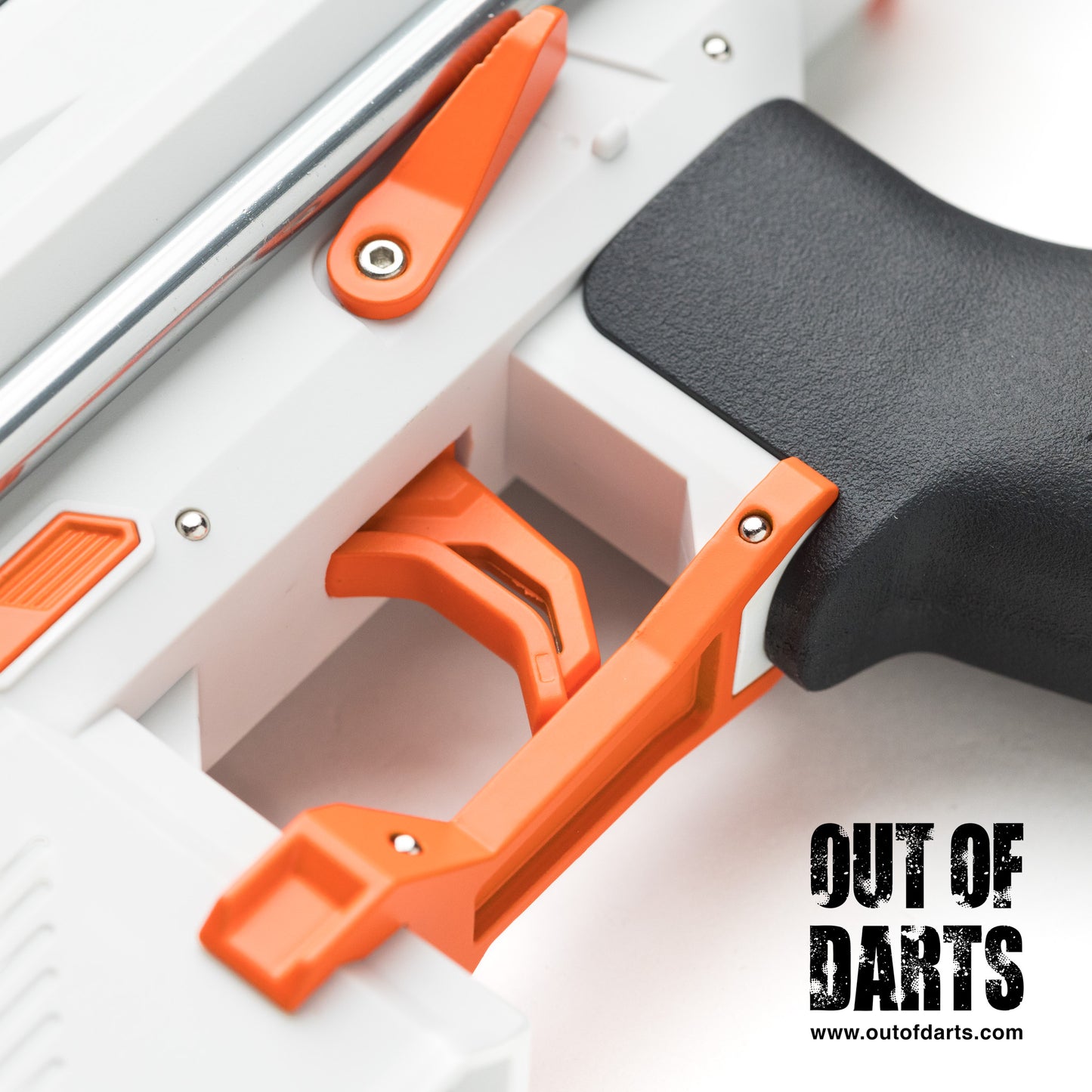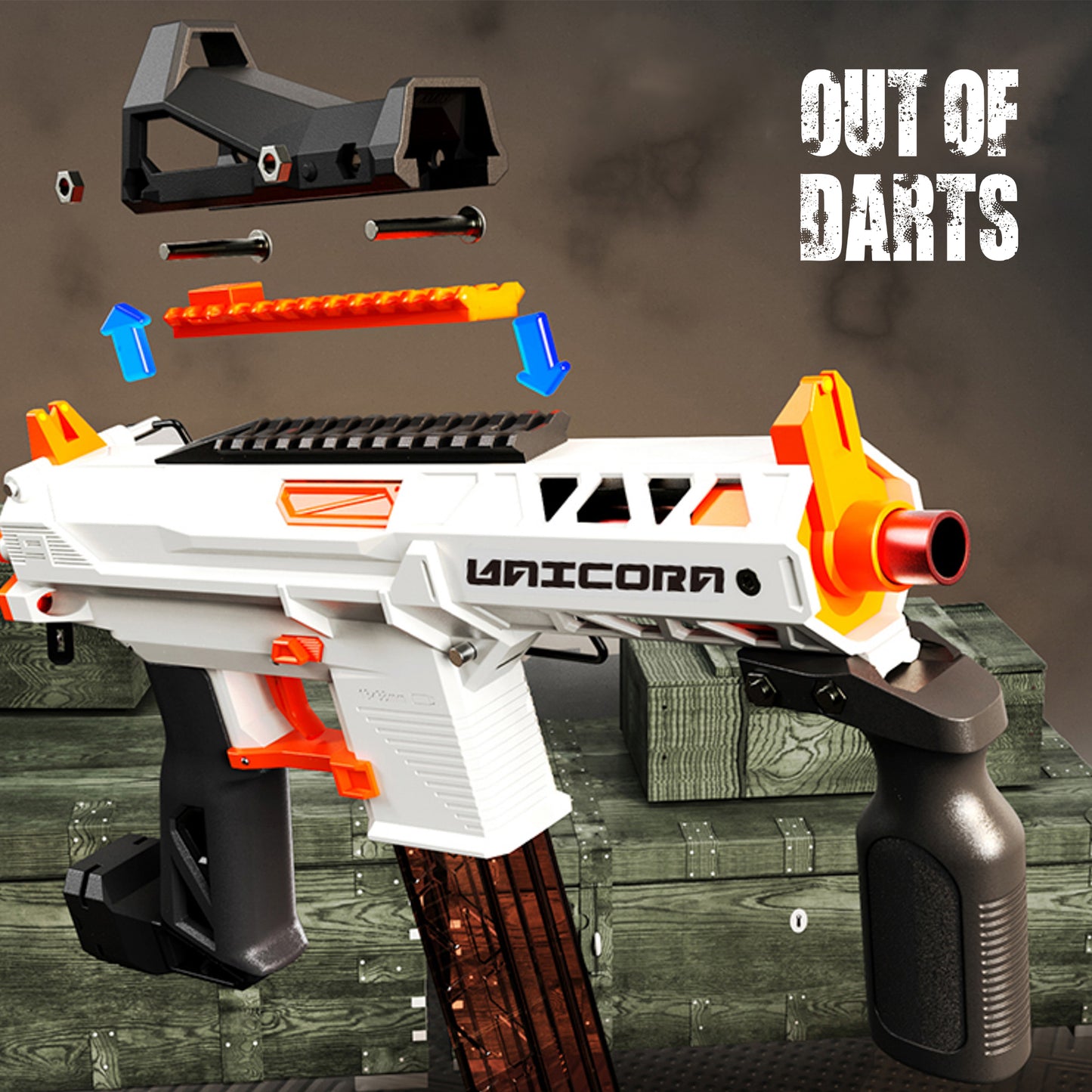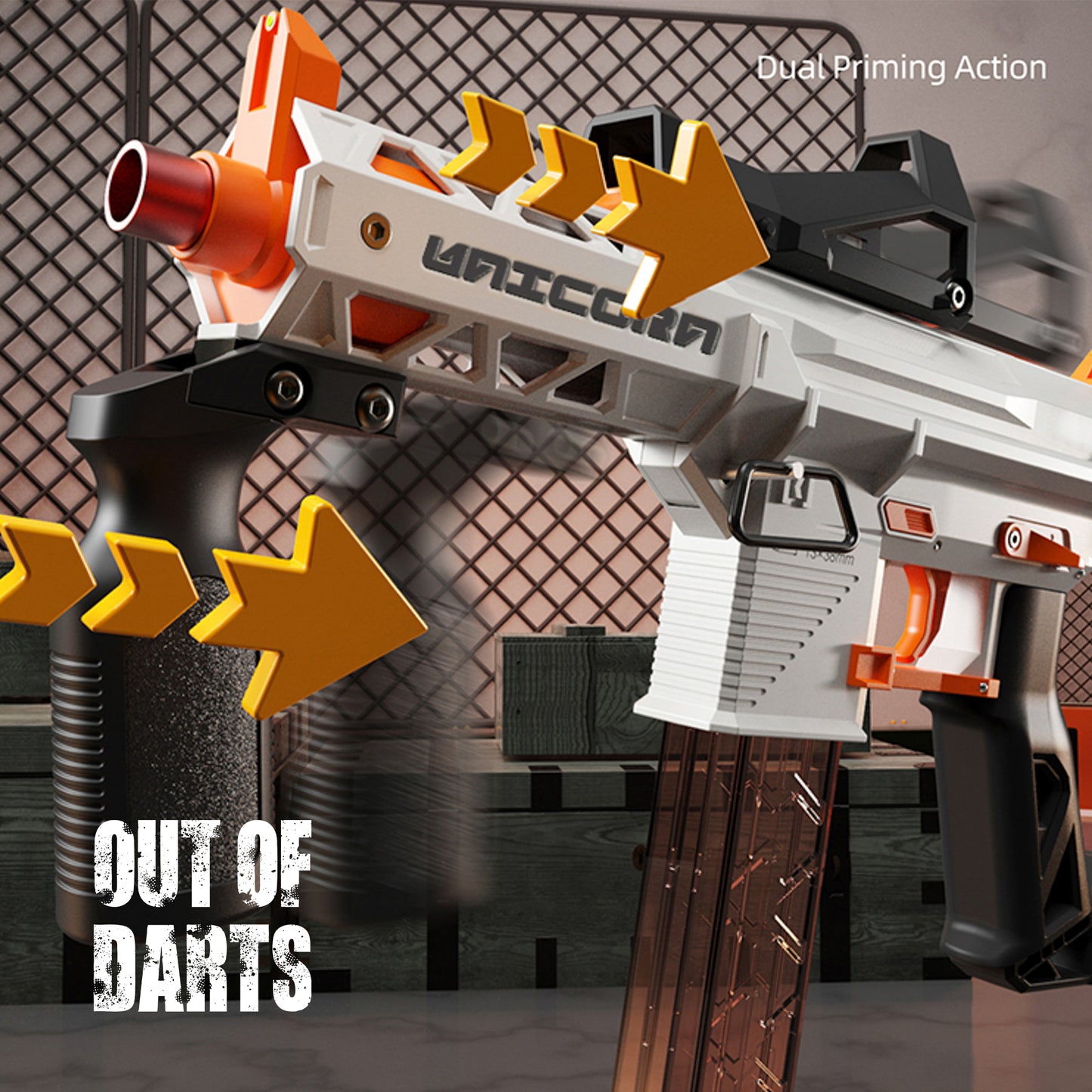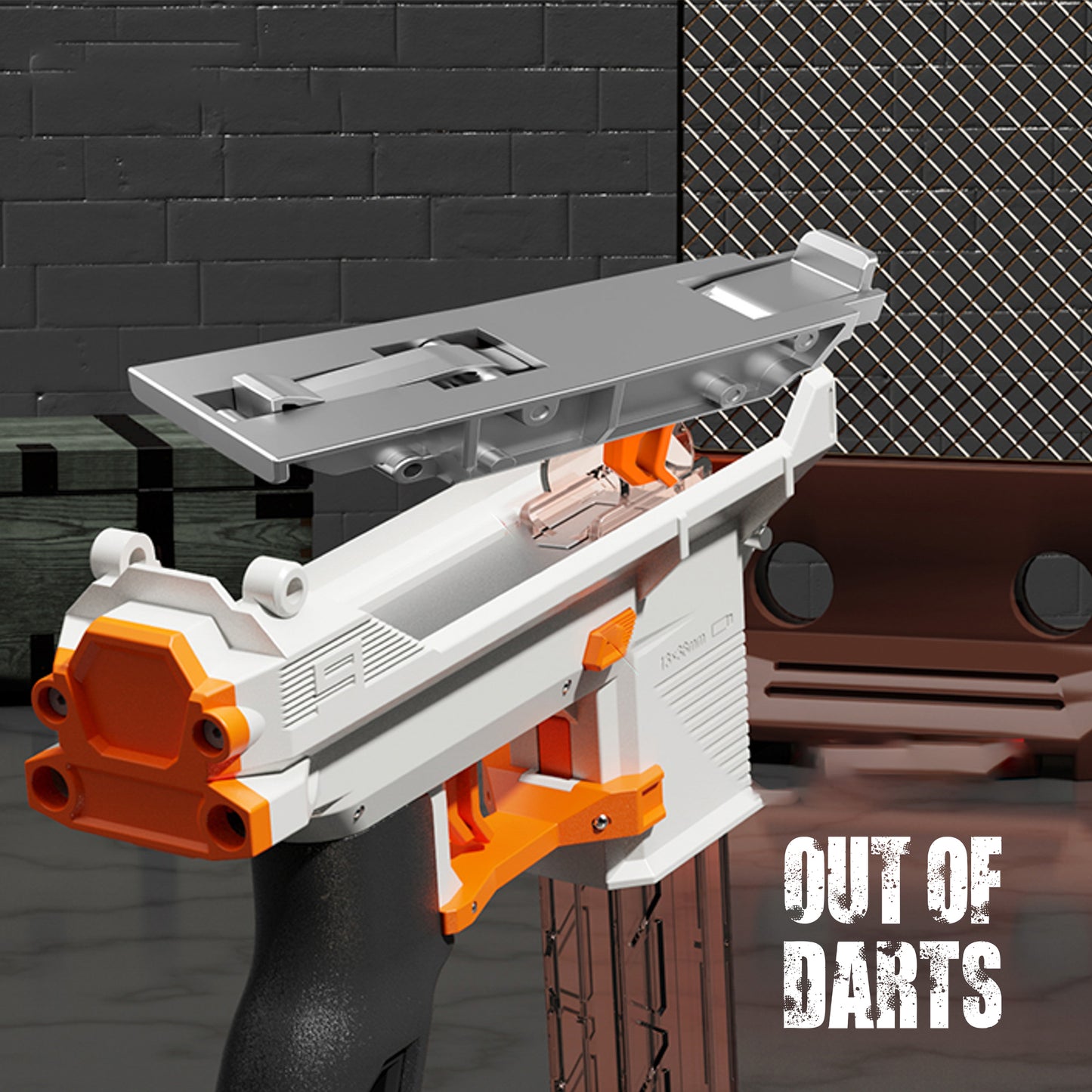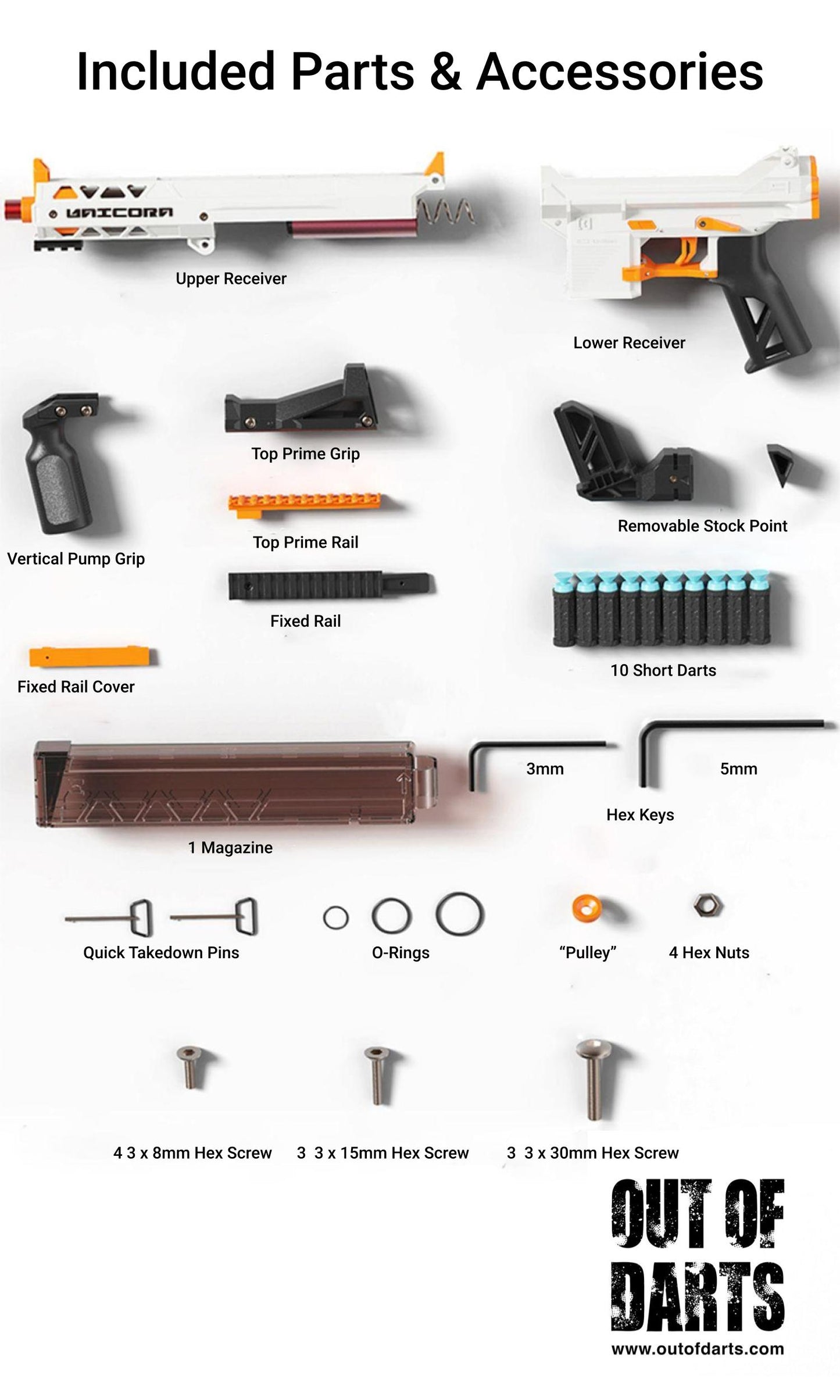 Awesome gun
This is a super nice gun easy to charge springs small and powerful really like it
CQB Work Horse!
I purchased this blaster to review for my YouTube channel, but it quickly became a favorite amongst my collection. Pictures do not do this blaster justice! The Unicorn is super compact and packs a punch that is not only surprising but also super quiet. Since my review I have built a brand new load out around this blaster focused on encounter less than 45', mobility, and objective based game types. I Love this thing.
~ Joe (Backyard Foam)
A good blaster with some issues
Where the unicorn shines is its build quality and compact size. For superstock/Indoor games it performs and handles well, but if you want more performance you'll have to do some work for it.
Due to the milled out section of the XYL barrels I highly recommend swapping to a 16mm OD 13mm ID barrel as they have a far better dart fit, and allows the bearings to contact the barrel which makes the prime slightly smoother.
It also significantly reduces the flex of the pump grip when priming.
(I used a Kuryaka barrel cut to 10")
As a bonus it no longer prefers bamboos, and shoots a standard deviation of 7.
I also drilled an air release hole in the pusher, as well as glued the pusher and rambase together.
Doing that stopped the vacuum loading and helped with consistency, performance, and the airseal.
As for springs, I'm currently using a cut down k26 to achieve 200fps with worker Gen 3+.
It's a pretty stiff prime but to my knowledge the only other way to get the unicorn to 200fps is with the Blackraisins kit.
I have one large problem with the unicorn and that's the stock. The bars appear to be aluminum, while the detent they catch on appears to be a harder metal.
This resulted in the stock bars wearing out to the point they stopped locking and collapsed at the slightest pressure. In one day.
I tried filing the notches deeper but it didn't help so I bought steel rods from a hardware store, but this feels like something that should not be happening to begin with. I am mildly concerned about the detent now, as there is only 1 in the blaster instead of having 1 on each side.
A smaller gripe would be the 2 bearings. There only appears to be 2 bearings in the priming block and there is plenty of room to fit more in several rows which would help with the tough prime.
I'd give it a 3.5* but I like the name so it's a 4*
Wonderful blaster
Love the build - although the final finishing for assembly did cause a bit of annoyance with holes not being the right size on the top. Small complaint in an otherwise solid and fun piece.